Organisations struggle to prioritise areas for change
Organisations are acknowledging that they need to be adaptive and responsive to change, but most struggle to know how to start or where to focus. Balancing the demands of running and evolving the business against a background of uncertainty makes the prioritisation of the outcomes that make a difference a constant struggle. Strategies are formed based on perceived priorities that often miss the outcomes that will deliver the most value.
Understanding when, how and which technology to adopt
Technology will only continue to develop at a faster pace, causing more disruptions than ever imagined. Losing focus on the market and understanding which technology will deliver the outcomes that will enable the company to evolve, restricts new areas of growth. Longer term this can impact their relevance to the customer and the market they operate in.
Competing business priorities lead to disappointing outcomes
When strategies are formed, they tend to be driven by each business function, often resulting in a set of competing priorities. In some cases, duplicate technologies are chosen, or a perceived set of objectives are defined. Very quickly, siloed projects are formed with no clear view of the outcomes they will deliver, or how they will contribute to the wider outcomes the organisation seeks.
Organisations lose sight of what produces value
Designing and delivering real customer and business value requires a laser focus on the outcomes that will succeed.  The demands of getting things done often results in the areas of key value becoming blurred with everyday tasks. As a consequence, solutions sometimes fail to deliver meaningful outcomes, potentially missing opportunities to delight and retain customers.
Prioritising where to innovate
Organisations are consistently being advised to innovate and adopt processes that will lead to breakthrough products and services. By clearly identifying business or customer outcomes that matter – i.e. a stronger market position, high customer satisfaction – the organisation can identify the right candidates for innovation and, with that, the right technology to support this.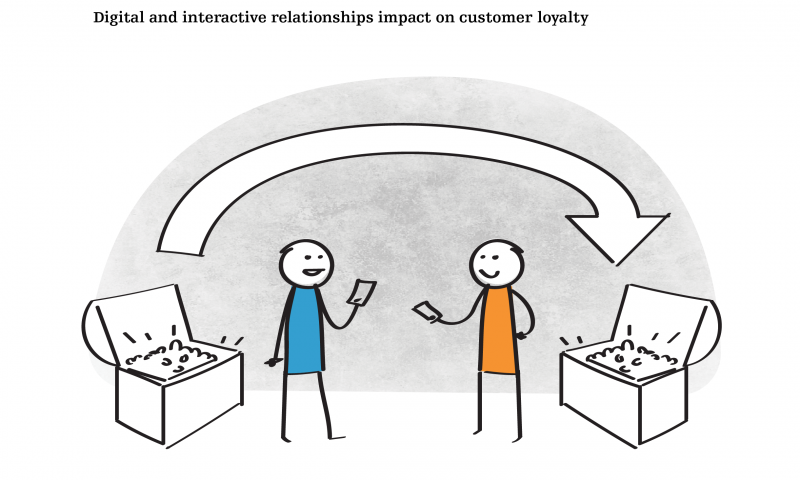 Mini story
Digital and interactive relationships impact on customer loyalty
Internet and mobile devices have changed the usage of online banking services and have completely changed customers' daily lives granting mobility and instant, easy access to banking services. They've also changed customer relationships which have become more interactive, digital and less personal. While close contact, long term relationship and more personalized advice is critical. Customers become less loyal. Customer engagement, loyalty and satisfaction are under serious pressure.
Begin with the end in mind
Focusing on outcomes enables senior management to identify and forecast the outcomes that will be critical to business success over time.  At the outset, stakeholders are asked not to focus on solutions, but to think through the outcomes they require to make the biggest impact. An outcome driven approach anticipates the future by uncovering the desired outcomes at the beginning of the design process, which offer the most value rather than focusing on requirements.
Build a multi-year roadmap of desired outcomes
As technological change continues at a rapid pace, organisations will need to move quickly to meet new customer and market expectations. For organisations to survive and remain relevant to customers, selecting the right areas for change is going to be essential.  Focusing energy and resources on a clear path of value enables the prioritisation of the aspects of change which are worth pursuing, resulting in the delivery of the outcomes that make a real difference to the customer and the business.