As discussed in Part 1 of this whitepaper, servitization is a promising strategy to effectively redesign manufacturers' business models towards more solid revenue streams and profits. Servitization comes with a great number of challenges, of which setting out the right servitization strategy is the biggest. A clearly-defined servitization strategy is proven to be essential for manufacturers to profit from their servitization efforts and investments. In this second whitepaper, we introduce servitization mapping; a tool for manufacturers in a business to business environment that helps to create an overview of existing service offerings in the company and market. Through servitization mapping companies can explore the solution space in which new service offerings can be developed.
Servitization mapping helps organizations to review, explore and align
Servitization mapping is a process that helps organizations to analyze the current situation and serves as a starting point to explore possible servitization strategies. The servitization canvas allows companies to create an overview of their current product and service portfolio per client segment. Additional services that are used by clients to support their core-processes and the offerings of competitors and partners are captured to spot potential new directions. All offerings in the canvas are categorized into different levels of service sophistication (ranging from offering a pure product to a pure service). The canvas exposes a solution space in which the potential of different service-offerings can be explored. The overview that is created by the canvas helps to establish a shared language and understanding within an organization. This allows businesses to align and agree on strategic directions and supports them in assessing which efforts and resources are needed to prepare the company and the market for new service offering.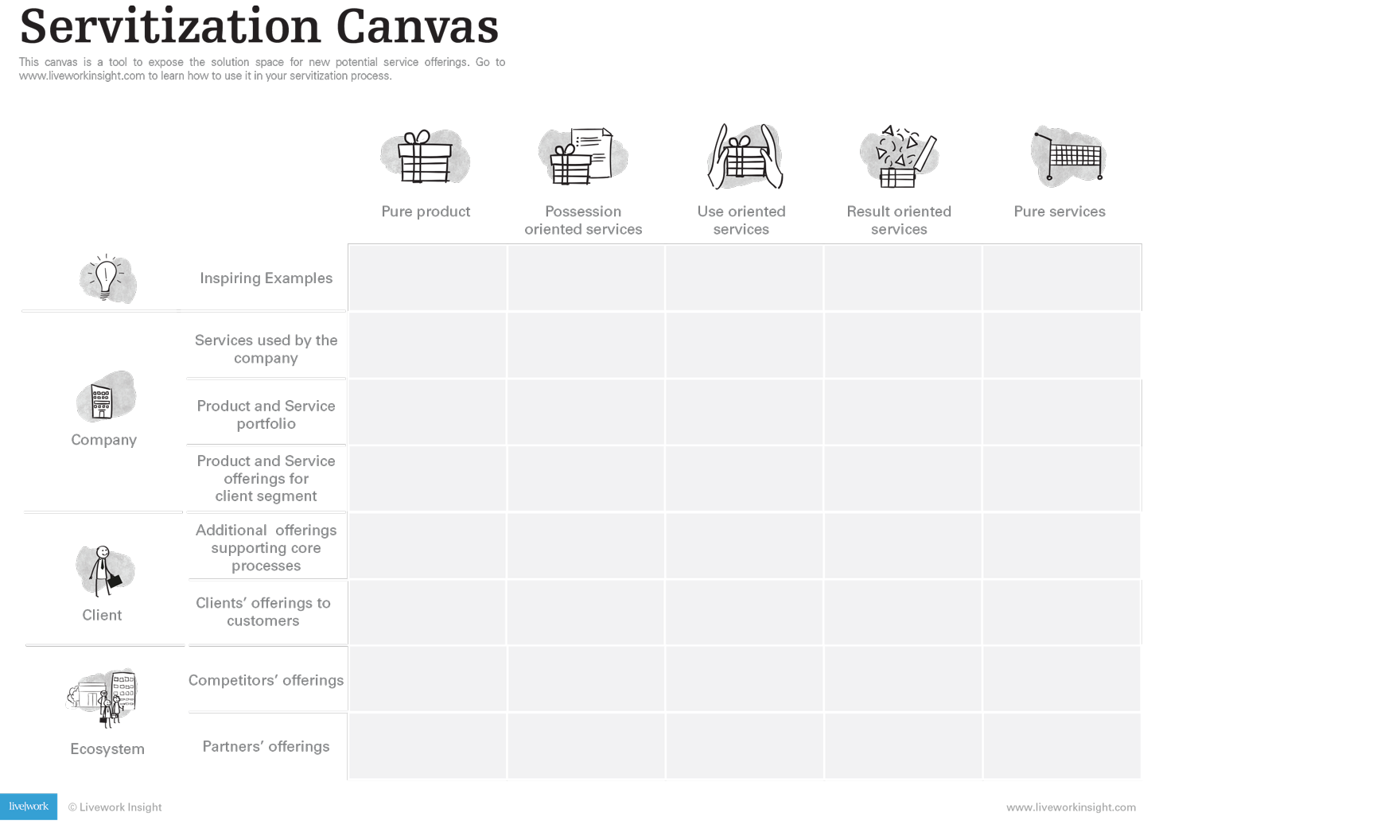 Servitization mapping prevents common pitfalls of servitization
The path towards a successful servization strategy contains many challenges and potential pitfalls. Servitization mapping protects organizations from the following pitfalls:
Ineffectively copying existing servitization examples
Servitization is in some sectors already well-established. Manufacturers in sectors where servitization is emerging tend to copy great examples of product-service combinations that frontrunners in servitization are offering. However, these successful examples are designed within a specific and unique context in which the service provider, partners and customers play a key role. Copying service offerings is therefore considered to be ineffective. To create a successful servitization strategy, it is key to determine the current status and attitude of involved customers, organizations and partners in the companies' own unique context.
>> Download the full whitepaper here <<