Focus on services for higher business performance
Service driven businesses generally outperform their competitors in terms of customer satisfaction. Creating meaningful services for customers, distributors and suppliers can make for a more efficient and cost-effective operation. Assisting, supporting and guiding customers in the early stages of a contract prevents many expensive service failures that impact your business and your clients.
Look beyond your contractual partner
Most businesses have an opportunity to create services that not only support their own customers, but also their customers' customer. Businesses are reluctant to take this approach as this goes beyond the terms of traditional buyer-supplier contracts, but it is in everybody's' interest that B2B contracts are supported by B2B2B services. By delivering such services companies can become more relevant to buyers, users and suppliers and ultimately generate more business as a result of this approach.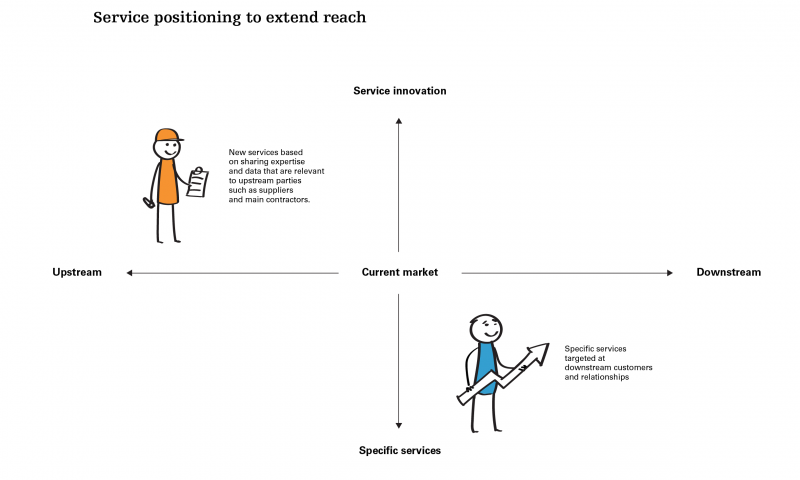 Mini story
Service positioning to extend reach
Creating transparency in the value chain, sharing performance data, or aligning buyers and suppliers are extremely valuable services, for upstream producers and suppliers, as well as downstream manufacturers and sellers. Such service innovations can be based on existing products and services, making this a cost efficient way to extend commercial reach. Specific and customised services can reach indirect business relationships and create new business opportunities in the extended network.
Simplify services to complement products
Bringing a new MRI scan online or specifying modules of an oil platform are complex processes that benefit from buyers and suppliers collaborating and sharing expertise. Collaboration and sharing allow for the removal of unnecessary processes and validation actions – an important first step in designing simple and easy to understand services. Simplified services make customers self-sufficient, reduce the cost to serve and make the service provider more relevant and therefore more important.
Businesses operate in service ecologies
Organisations often enforce strict terms and conditions upon their suppliers and distributors in order to gain overall control and avoid failures. However, it is the lack of visibility of the overall ecosystem they operate in that causes most failures. Creating services for the suppliers of your supplier and the customers of your customers changes the dynamics of a business. Understanding the service ecology enables organisations to engage upstream suppliers, downstream buyers and distributors beyond the formal reach of a contract. Extending these business relationships can result in collaboration in innovation, incident resolution and market development.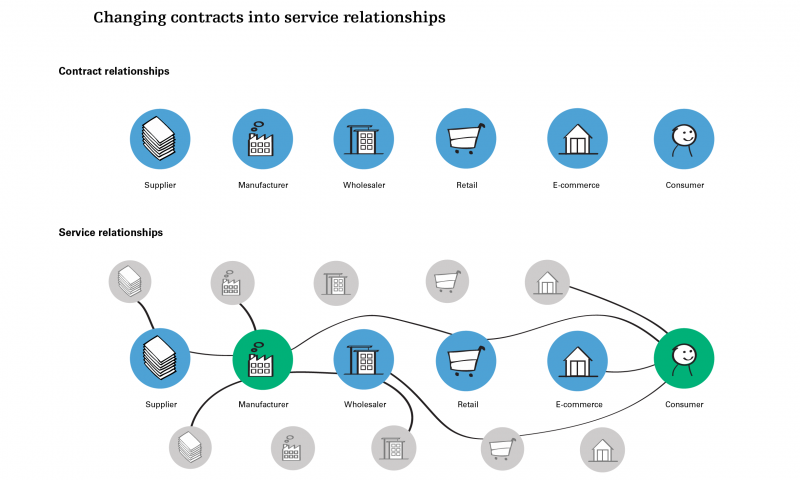 Mini story
Changing contracts into service relationships
Contract relationships are usually between two ore more parties, with sub-contracts in place for delivering the product and service. Service relationships are interdependent which comes to light during a service failure, where tracing the many responsibilities exposes how the service relationship is structured. Operating in a transparent service ecosystem not only prevents incidents but creates value added services.
Reposition your service to create business opportunities
Organisations that want to improve their market agility should consider repositioning and adapting their service instead of their product. Service innovations such as VIP treatment for middle-tier customers, flexible financing options, proactive component replacements, or sharing transaction data can attract new types of customers, without major impact on the core product. Offering such specific services to help your customers in their operations creates new business opportunities and it brings the customer much closer.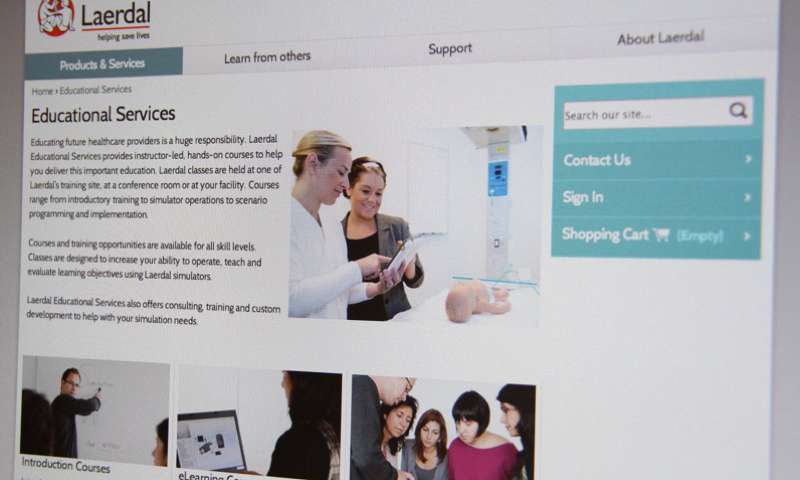 Mini client case
Leardal - Service the sale
Medical equipment manufacturer Laerdal set themselves a goal to double sales through their website. Customer research revealed that there was a large potential to achieve this goal by helping customers manage their existing portfolio of Laerdal equipment online.
Laerdal made it easier for hospitals to buy consumables, accessories, and updates on-line, securing more high-value interactions with sales staff. The result: more sales through great service.
Strategic positioning of service in an organisation
Many organisations can reduce half the costs they spend on services by preventing issues around customer information, scheduling and communication. Service failures have direct costs in support time and effort to fix, but have a long-term effect of losing customers who defect to other providers as soon as their contract is up. Strategically positioned services do not only prevent such costs – they are instrumental in keeping the customers close and creating additional sales opportunities. Well-positioned services can stretch the business to attract upstream and downstream customers that are not in reach of the traditional businesses.
Operate your business in a service ecosystem
Aligning your services to the core business of your buyers, suppliers, distributors and partners offers great opportunities to extend your reach, often without heavy investments in new products, or systems. This approach helps to simplify processes, communication and procedures, reduce expensive service failures. Service positioning changes business relationships from contract based to operating in a service ecosystem. Offering services that reach up and down the value chain creates more and deeper business relationships.