Be bold
Be bold. There was a clear theme from practitioners, whether client-side, agency or consultancy, who were working to develop the confidence required to fill their new seat at the business table. Being a leader, trying to invoke change in a big service organisation has always been challenging – nothing new there. But add the novelty of design, with its right-brain vs left-brain switch, and the cross-departmental collaboration required, many find themselves working hard to go against the grain of their organisational heritage. However, as evidence grows of the impact that service design is having we can be bold about our value and treasure it. Stand up more for the fact that service design is a solution to a lot of problems that organisations have in getting things done and make sure it is recognised.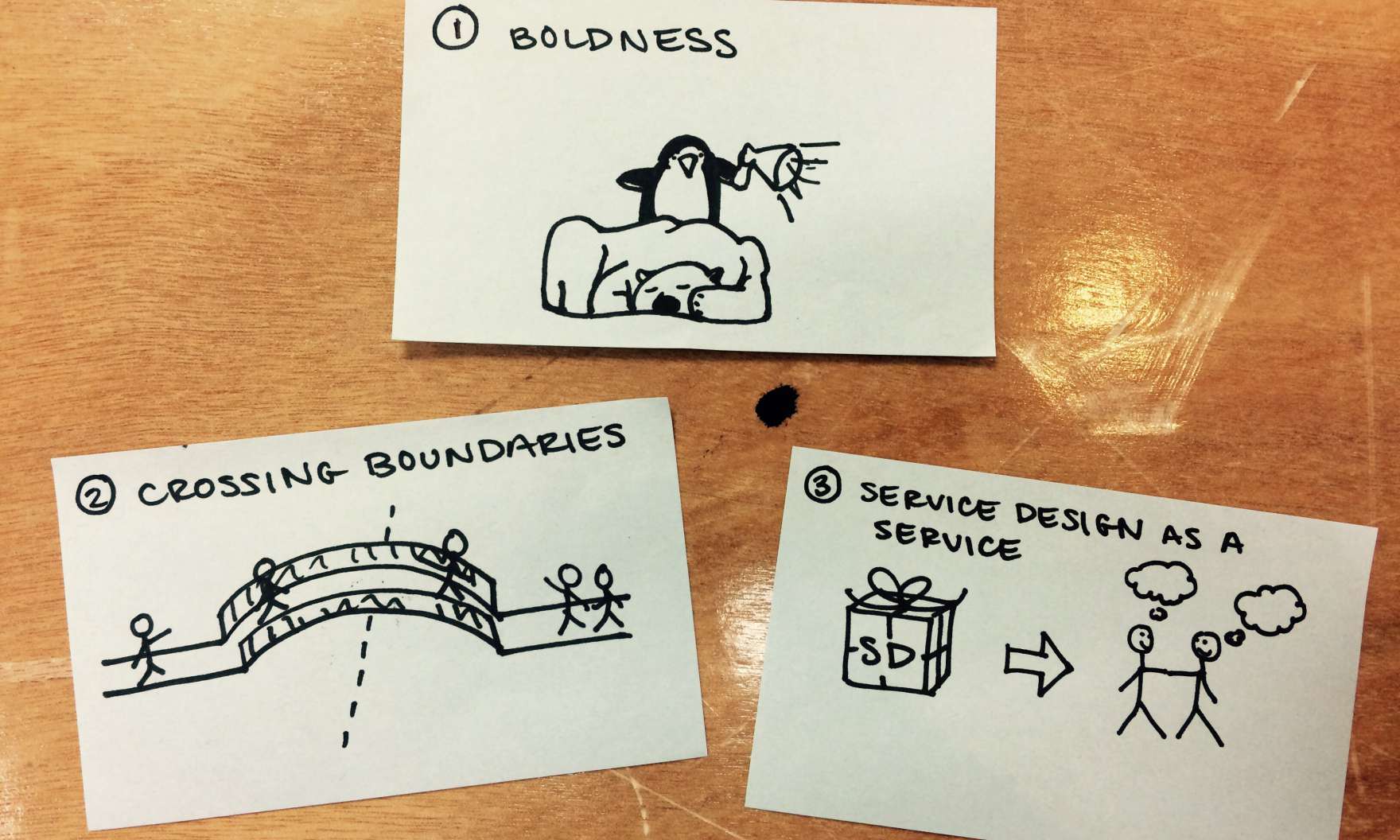 Cross boundaries
Cross boundaries. Service design has always been holistic and end-to-end in its vision for change, but of late we've seen the focus on the  edge of our discipline grow. The further you get with service design, the closer you get to organisational change, and the more you have to learn new languages to cope. The language of change management, of IT infrastructure, of business process re-engineering, talent management, systems thinking. These 'translation points' are increasingly where the magic happens – where rubber of innovation hits the pot-holed road of implementation. The overriding message was, that service design is a boundary crossing activity with a method and toolkit that helps complex and compartmentalised organisations come together and work across their boundaries for common good.
Service design as a service
Service design as a service. A challenge to service design is getting across what it is and its value to people in senior positions. We need to understand that these people are pitched strategy or management fix methodologies on a daily basis. We risk getting into a product war with all the other business school methods that business leaders are bombarded with. An alternative is to see service design less as a consulting product and more as a practice that, through service, has an impact and spreads into an organisation as it has an impact. This impact need not be large at first – it could be the value of drawing a model or concept or telling a user story – as it can grow. As it grows our impact grows. A really good old fashioned service mind-set may be the best way to go about it.
There is so much opportunity for us all right now, and we left the conference hugely excited by the potential and the energy within the service design sector. 
Find out more