Tell the customer's story, know the facts and the consequences
Moving organisations from a product to a service focus, or from inside-out thinking to customer centricity, has significant implications for an organisation. At senior management level, such major reorientations need to be backed up with evidence and a clear presentation of implications for the business and organisation. Telling a story and backing it up with facts and transcending organisational silos whilst addressing functional concerns are important first steps in shifting the fragmented thinking of departments.
Designing solutions for customers requires internal commitment
Service design, design thinking and visual thinking can all bring clarity and simplicity to complex situations and concepts and bring them to life with stories of what customers experience. Designing a differentiating experience or service for customers requires about 20-40 per cent of the effort. The remaining 60-80 per cent is about informing, educating, aligning and committing the organisation. The key to boardroom agreement is creating a customer story grounded in tangible effects and outcomes – however, realising true commitment requires heavy stakeholder engagement. This entails finding answers and addressing concerns about results, the bottom-line, the numbers and how to commit the organisation.
The top-line results of offering excellent service
There is a reason customers respond positive to excellent service. People don't buy the product, they buy the outcome. There is tremendous value in informing customers and setting them up to acquire things such as adequate protection against theft (insurance), optimal travel to a destination despite delays (public transport), recommendations on what to do based on their personal situation (financial services). Even though the effects of better than average service on acquisition, adoption and retention have often already been presented in the boardroom, it is the powerful combination of the customer story, with facts acquired through testing and piloting that makes the case to the board.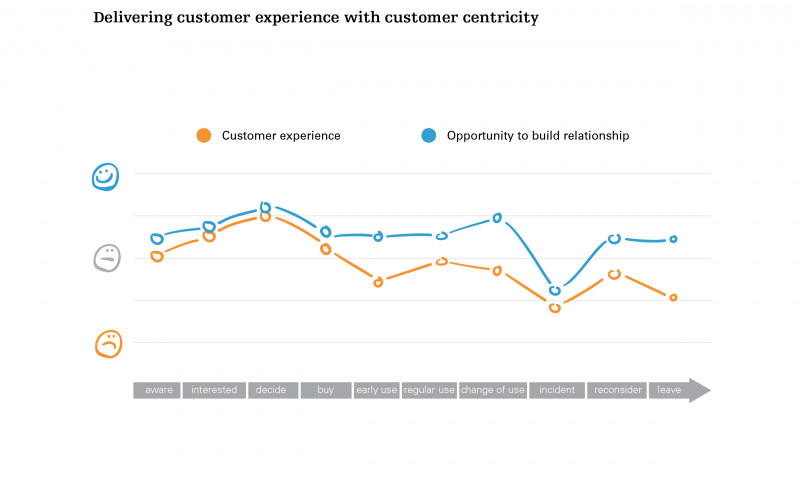 Mini story
Delivering customer experience with customer centricity
Customers can have good experience with a business that is not customer centric. Organisations that take the pain of aligning channels, simplifying products, and streamline processes and systems around customers can achieve bottom line results such as: reduced operating costs due to significant drops in support costs, and higher retention due to high customer satisfaction. This requires a bottom up and top down commitment to customers.
The bottom-line impact of customer expectations
Companies are investing to learn about their customers using various methods ranging from mystery shopping to insights gathering and deep data analysis to find patterns. The key to understanding customer behaviour is knowing their fundamental expectations and the gap between that and the actual experience. Failing to meet fundamental expectations such as 'I buy a mobile service and the business sets me up for use', and 'as a loyal customer I pay less, not more for the same services', leads to incidents and defections. The cost case of 50-70% of customer incidents being the result of not meeting expectations is not enough to sway board members. Taking actual customer stories and translating the opportunity and cost to the business shows the financial implications of focusing on the customer first.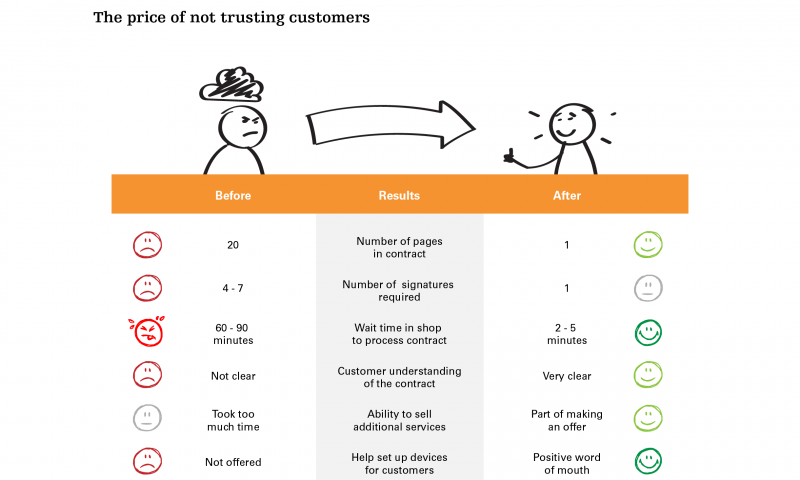 Mini story
The price of not trusting customers
A pan-European telecom operator addressed customer irritations such as "why do I have to sign 4 times for a contract" and "I've been a customer for years, why do I have to fill out my details". Taking the position of "we trust our customers" enabled the operator to significantly reduce number of transactions, approvals and signatures required for a contract. Customer experienced shorter wait times and no "work" when renewing a contract.
Show me the numbers
Measuring the value of better customer or service experience is hard to do if you are only focussing on the financial numbers. Customer measurements such as satisfaction or NPS are an indicator of business performance but don't tell the real customer story. It is far more effective to capture compelling stories of when customers get irritated or why they defect and then put numbers behind it by showing how many customers are affected, or how often this occurs. Numbers that capture a business's performance at the right stages of the customer lifecycle give managers and executives a new set of measurements that informs what a business should do, not how individual departments should perform.
Bring the customer into the boardroom to understand their behaviour
Traditional businesses often respond to newcomers taking chunks of the market by driving down cost, increasing operational efficiency and creating challenger brands. However, shutting down branches and pushing customers into transaction based self-service portals makes things worse for customers and the business. These actions are based on the organisation's view of the customer and but don't deliver much value to them. Bringing the customer into the boardroom and having executives listen and understand why customers stay with a company and why they leave is far more important than designing a new customer product and service. Understanding the why of customers is a robust platform to design gradual improvements in the business as well as radical changes in the organisation that deliver real impact for the customer.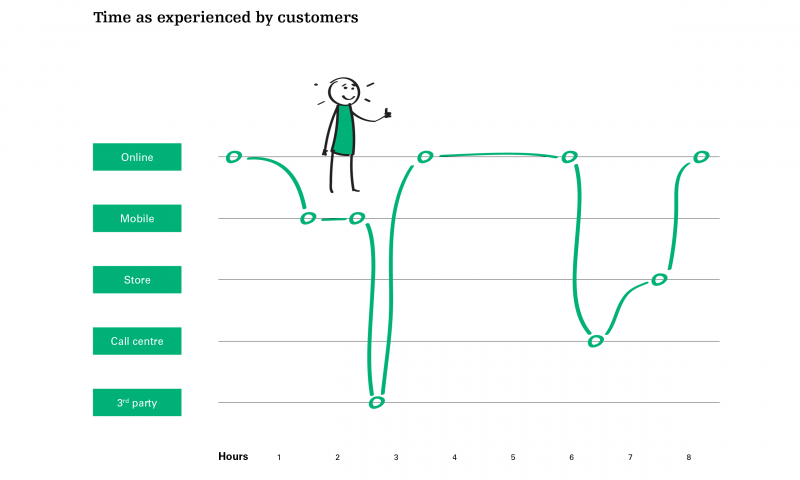 Mini story
Time as experienced by customers
A customer's experience of an issue begins at the moment when he or she is aware of it and starts acting on it. Before the customer actually talks to sales or service agents, he or she might have spent hours or even days researching, trying alternatives and talking to others. The organisation, however, only sees the time this customer has spent queuing at support centres or talking with agents. That explains why some customers get upset "only" after talking with an agent for a couple of minutes.
Service design, backed by facts achieves excitement and commitment in the boardroom
Design thinking and service design can change the dynamics of executive teams and can generate new perspectives. However, it requires a lot of effort and skill to move beyond delivering entertaining boardroom workshops to bringing customer focused insights, solutions and commitments into C-level decisions. Using customers as the objects that represent a concrete outside-in perspective on the business, focuses and aligns a fragmented business around a single reference point. The key is connecting customers and their experience to real numbers, business performance, strategy and operational improvements. Designers collaborating with specialists, internal and external experts and customers can create the story to shake and excite the boardroom and produce the facts for informed decision making.