Changing behaviour using micro moments of friction
Organisations are increasingly keen to influence customer behaviour; from banks that urge people to save for future income to healthcare organisations that encourage healthier lifestyles. At the Design Research Society conference, we shared our research into how this can best be achieved. We demonstrated that micro moments of friction cause people to pause and notice what they're doing automatically – and so enable them to make a more conscious decision. Moments of functional friction, also referred to as rational overrides –  are crucial to changing customer behaviour.
We can influence behaviour more easily if we understand the underlying decision-making processes that determine how people act. Ninety five per cent of the time the subconscious is in charge of people's actions, so people often make automatic choices that are counter to what they might do when more aware. 'Rational overrides' disrupt customers out of these mindless, automatic interactions and enable them to make better decisions.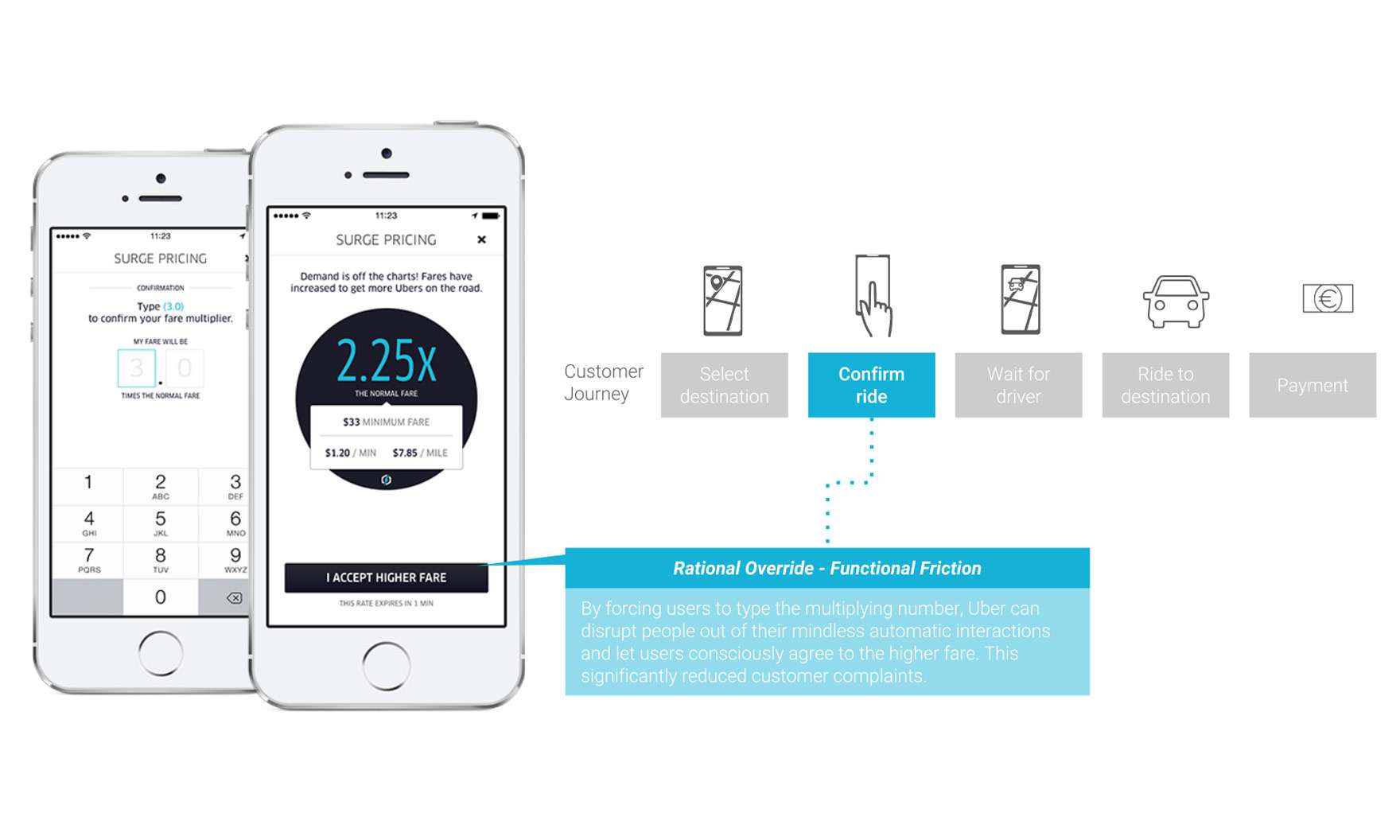 Nudging interventions create frictionless experiences
Organisations have increasingly experimented with nudges –  small behavioural interventions that stimulate the subconscious mind. Nudges help to reduce choice overload, remove unnecessary steps from processes and create frictionless experiences. While nudges have been proven to be effective in quickly resolving adoption problems, smooth channel migration and streamlining operations they are, in many situations, not suitable, scalable nor sustainable across all service scenarios.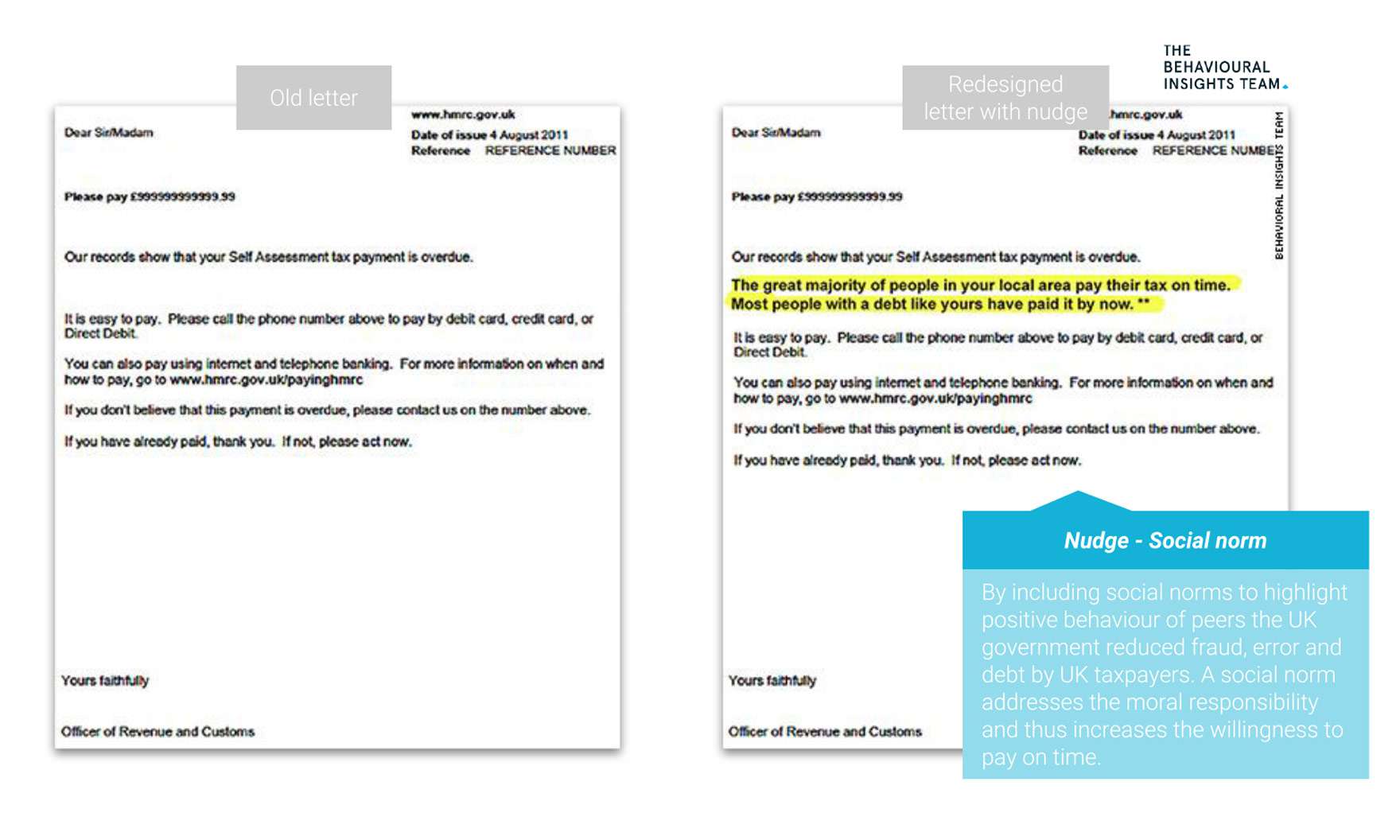 We need to go beyond nudging to effectively change behaviour
Our research has exposed multiple downsides of relying solely on nudges in a service environment:
Nudges only work in a stable context as they're designed to effect immediate behaviour. Nudging customers in a desired direction is only effective within a specific touchpoint and is unlikely to reach beyond it.

Nudges create experiences that, in the long term, make customers disengaged and complacent. Not all interactions require frictionless experiences. Sometimes it's required to help users slow down, become aware and actively make a decision.  

Nudges are for one-size fits all situations as they don't require active input from users. They're only effective when a single outcome is desired. Most organisations serve customers with lots of different needs, so they need a more nuanced, responsive approach.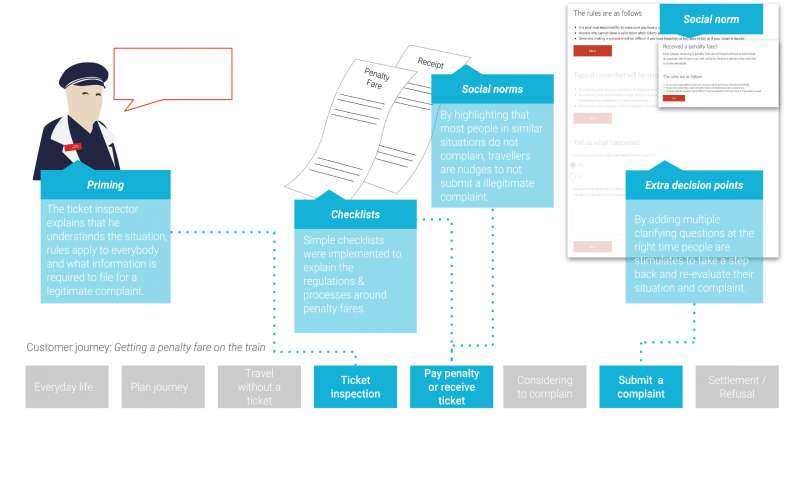 Mini story
Reducing customer complaints using behavioural interventions
A national railway organisation struggled to understand why so many travellers submit unsubstantiated complaints after receiving a penalty fare. We combined behavioural insight with qualitative and quantitative customer data to understand this undesired behaviour.
Various nudging and rational override interventions were implemented at crucial moments and touchpoints in the journey that improved customer satisfaction and reduced unsubstantiated complaints.
It's all about getting customers in the right mindset
We can overcome these disadvantages by getting people into the right mindset at crucial moments in the customer journey. Sometimes it's necessary to override the subconscious, and switch customers to a conscious state of having to make a decision. Rational override interventions prompt moments of reflection and stimulate customers to be active, aware and engaged. Although friction is generally perceived as a barrier, some situations require a micro moment of friction, carefully built-in at the right moment.
Interventions to speed the process up or slow the user down
At Livework we take a holistic perspective of customer behaviour. We strive to see the whole person – as a human, not just a customer. By integrating behavioral insights with customer data we get a full and validated understanding of the customer journey. Based on these insights, we can implement the right combination of interventions to either speed up (nudges) or slow down (rational overrides) the user's momentum. As behaviour is dynamic and develops over time, we go beyond singular, one-off interventions to maximize lasting behaviour change.
Livework has helped various organisations using this approach, from insurance companies to local government agencies – enabling them to benefit from an enhanced ability  to understand, predict and influence customer behaviour.
Sign up here to receive our latest insights