IT systems frequently fail customers
Despite years of heavy investment in systems for CRM, information management, collaboration and churn prevention, there is little improvement in most customers' experience. The push towards (digital) channels is often approached from a process or systems perspective and adds unnecessary complexity for the customer. Organisations struggle to meet basic customer expectations around service because the systems behind most touch points are set up to serve the organisation, not the customer.
Pursuing operational excellence versus customer impact
Technology is often used as the driver for reducing costs and leaning out operations.  While this has a positive impact on the balance sheet, the impacts to the customer are often not considered. Customers are quickly forced down a digital channel, which often results in the other channels suffering. Customers are then left frustrated as their expectation of a path to purchase from channel to channel becomes complex and disjointed, and in some cases not possible at all.
When to inform, when to interact, when to transact with customers
Digital is creating more users than customers, and in most cases people are just consuming information. Organisations often focus on turning these users into customers rather than providing the right things. Mixing up where people need to transact, interact with the company, or just need information creates significant customer frustration. Understanding when payments, bookings, or where customers just want to be informed helps manage expectations, but also ensures the right technology is introduced at the right times.
Agility and flexibility to help meet customer expectations
Understanding the customer context and managing customer expectations can significantly reduce system complexity by separating what should be done for/with customers from system functions. Informing an interested consumer about a new product does not require a direct transaction in back-end systems, but does require the system flexibility to change on the way this information is presented. Knowing the main customer expectations to focus on gives the IT organisation the agility to deliver key business functions faster and with less impact on the organisation.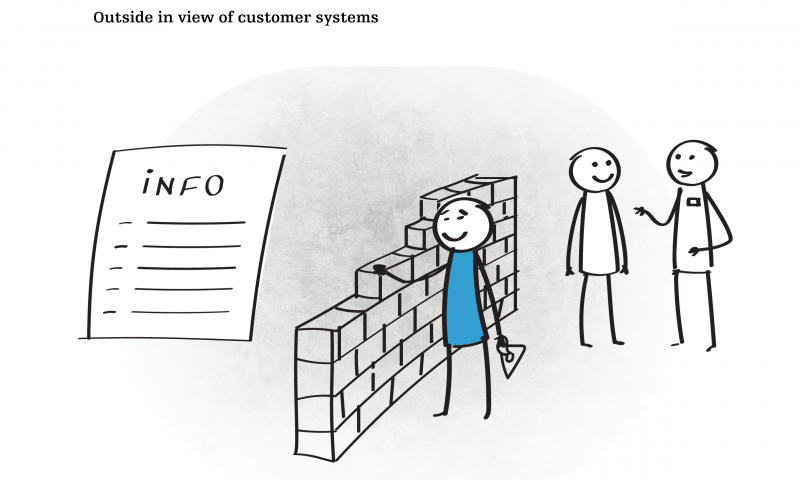 Mini story
Outside-in view of customer systems
Most customer related activities – like looking for a product, or receiving product support – do not require complex transactions to back-end or enterprise systems. By clearly separating systems that – directly or indirectly – provide general information from the ones needed to interact with customers, organisation can significantly simplify their system landscape. Breaking the dependency on heavy and complex transaction gives the flexibility and cost effectiveness to respond better and faster to customer expectations.
How to make high customer impact system investment
Business cases for system investments focus on cost of implementation, development, licences and maintenance versus productivity gains, lower (operational) cost and sales uplifts. Knowing where significant customer impact can be achieved – higher acquisition, adoption, satisfaction – should be translated into non-system solutions. Simplifying procedures, providing relevant information to customers and changing a governance policy can significantly impact on the customers' experience. Such changes are often simple to test, require lower (system) investment, while achieving short and long term customer impact.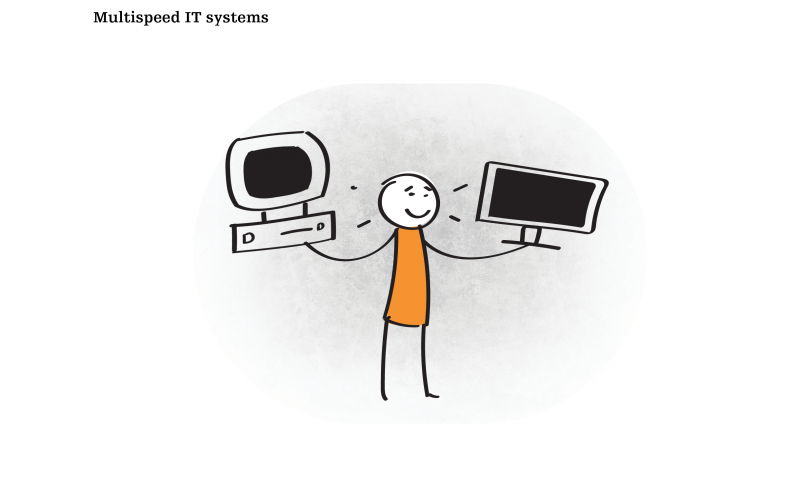 Mini story
Multispeed IT systems
A multispeed architecture enables IT to deliver value to customers. This shift is helping solve the challenge of delivering new features, alongside the older systems, which were previously seen as off limits. By separating the features that support the customer from the older processing systems, enables the rapid delivery of new customer experiences. Through this separation companies are delivering quicker results, while still managing and transitioning from the complex older systems.
Business capabilities roadmap to deliver key customer expectations
It is hard for any organisation to meet all customers' expectations. Knowing which ones are crucial, have high customer impact and/or business value is only the first step. Building a capabilities roadmap based on people, process, policies and systems sets the priorities for implementing tactical and strategic IT solutions. All large system implementations should be evaluated against what has high customer impact versus high business impact. That way ROI can be higher while at the same time reducing risks of large system implementations with long lead times.
Capabilities that deliver customer expectations
Understanding what technology is needed to support the appropriate customer expectations enables organisation to remove the frictions across channels, deliver the right things, but also bring moments of magic to the lives of customers. When organisations focus on delivering on the main customer expectations it leads to a much more seamless experience that is supported by the right system capabilities. This in turn gives the business the flexibility and agility to respond to customer expectations faster, better and in short(er) delivery cycles.