Understand the before, during and after of the customer's journey
These customer centricity benefits are based on an understanding of how customers move in and out of relationships with businesses and the products and services they buy. There is a before, during and after to all these relationships. Our human needs at each of these stages, and specifically at the points of change from one to another are critical to the success of the relationship but also the specific transactions that create value.
Focusing on the customer benefits sales
Businesses that support customers when they are considering their options will improve sales. Again and again we see customers struggling due to the presentation of an offer being unclear and leading them to lack confidence in their decision. For example I might know I need a new phone contract but choosing the package means wading through tariff tables – and consumer products are relatively simple compared to the B2B setting. This is where customers frequently need support making a decision.
Support new customers and reduce cost to serve
Businesses that ensure their customers have a successful set-up and understand a new purchase or contract, will reduce the cost to serve and increase satisfaction. Modern products and services are complex. Customers don't receive value until they have their new thing working as promised. But so many businesses leave the scene one a sale is made. This is a poor strategy as customers then either need more support later or resent what they see as a waste of money and leave.
Work with customers to improve operational efficiency
Businesses that work with customers to ensure that value is co-created and received by them during the use of a product or service will improve operational efficiency. Think about a busy train running on time. For it to keep to schedule, both the operator and passengers have a role to play. Customers must buy tickets correctly and be on the right platform. Businesses can help their customers perform their part of the service better through good service design. The pay-off is a smoother operation.
Help customers make significant changes to be highly valued
Businesses that understand and respond to changes in customers' lives or business situations will increase satisfaction and value. When customers have a change in their situation – be it moving home or growing a business – their needs heighten. Businesses that are able to support them in the change will be seen as valued partners in life or business. Those that don't will be seen as obstacles to achieving goals.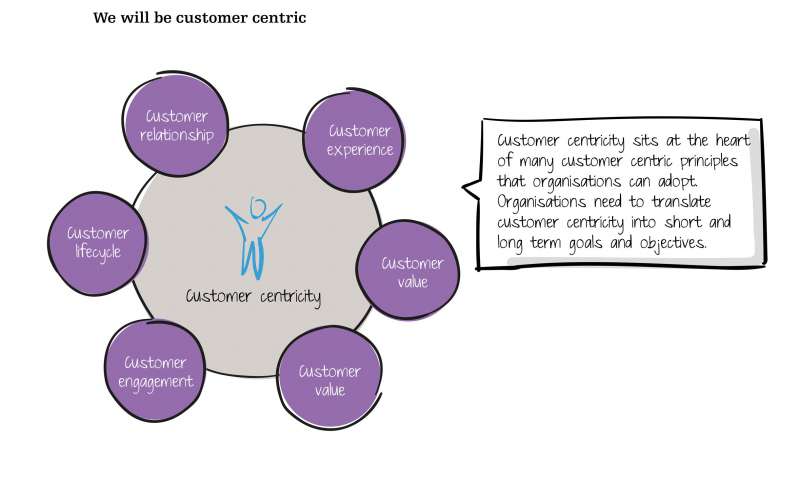 Mini story
We will be customer centric
Truly customer-centric organisations need the backing of both staff and customers, which can be built through corporate policies, internal processes and systems. Customer centricity may lead to cynicism if it fails to secure sufficient attention and long-term commitment from senior management.
Understand your ex-customers to learn how to improve
Businesses that understand why customers leave will understand how to keep others in the future. Often when a person  leaves they no longer exist to the business. Understanding why someone left is valuable to you and to them. You can learn about what could be improved and they will see that you care and may consider you next time around.
Customer experience truths address business concerns
The business case for customer experience is gaining traction but the devil is in applying it to specific business challenges. These truths connect the customer experience to business outcomes and enable us to communicate to different business concerns from sales to operations. We can see the experience holistically and act to deliver specific outcomes.