Everyone wants engaged employees: An organisation runs better with employees who are more productive, loyal and if they're customer facing, actually enjoy helping people. This, in turn, leads to higher financial returns as a business. And of course, happy employees also benefit. They're more resourceful, healthier and positively influence and encourage one another. Nevertheless, only 13% of employees worldwide say they are engaged with their work [1]. How can the gap between the ideal and reality be so big?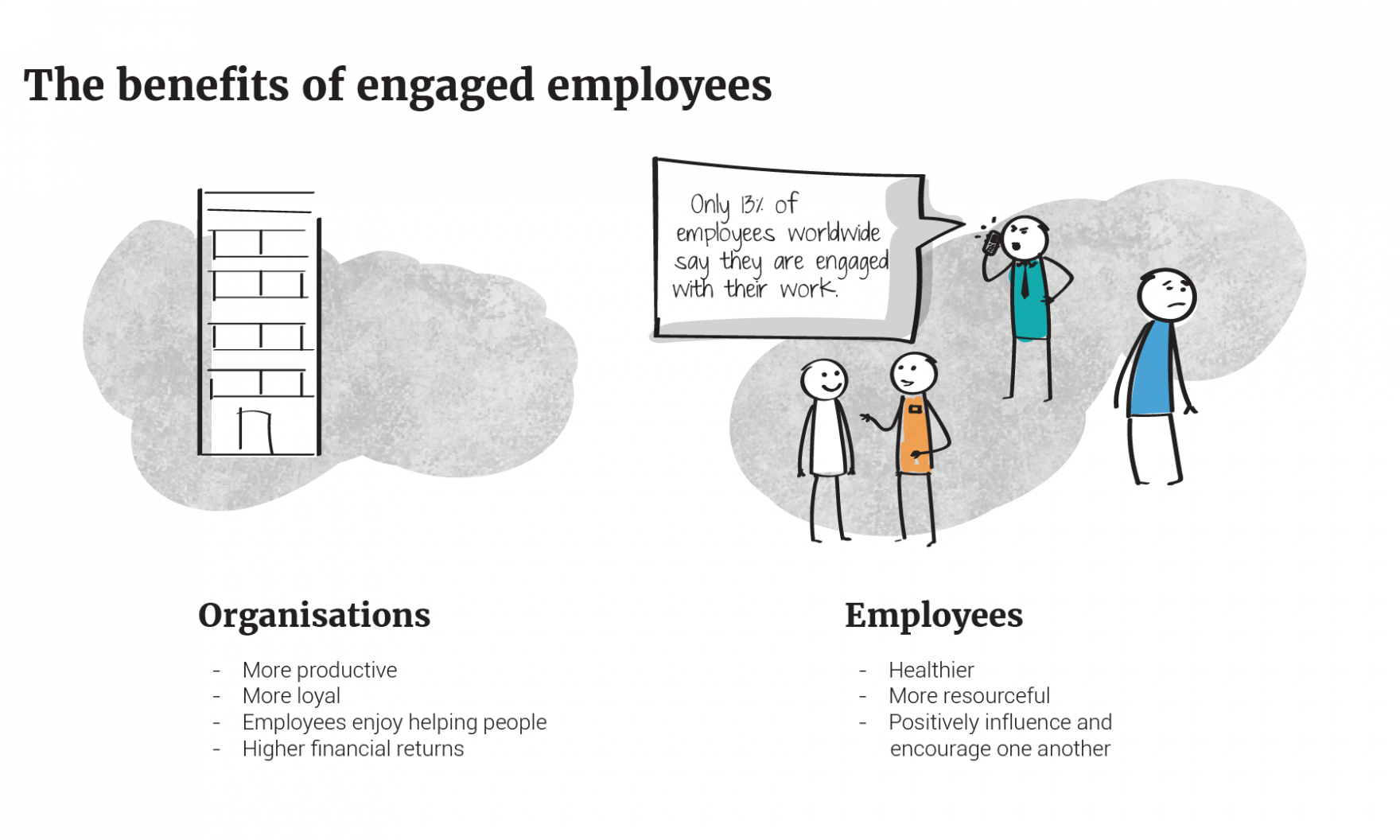 An obsession with metrics is at the core of employee disengagement
Organisations have long seen operational efficiency as a means to establish a competitive business. Consequently, a tendency to quantify everything through metrics has taken hold of many boardrooms. This has permeated all areas of organisations, ranging from sales to production, from IT to HR. However, when the management of people starts to be affected by this trend, they will quickly feel like a commodity rather than valued human beings. Over time, this is what leads to less and less engagement.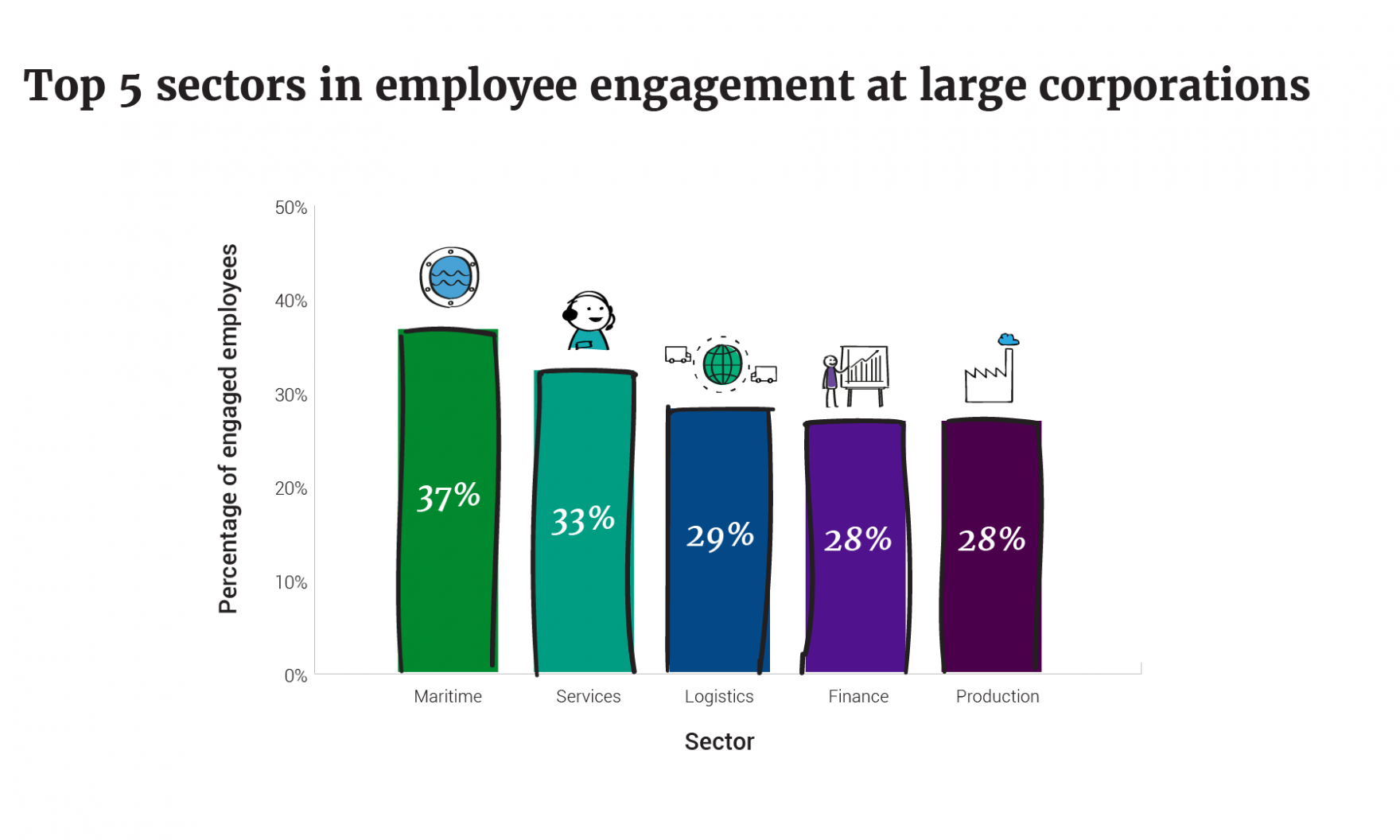 Relationships rehumanise the workspace
People care about the relationships in their lives. In an 80-year study at Harvard studying the lives of both rich and poor American citizens, the only predictor for people's happiness the researchers could find was the quality of their relationships. In a world where people spend a lot of their time working, organisations that want to have happy employees should focus their efforts on building sound relationships. 34% of the happiest employees say their peers and colleagues are what drive their workplace satisfaction the most [2].
When relationships are built, engagement will follow suit. So how does an organisation foster good relationships with their employees?
Purpose: A salary is a reimbursement, employees need something greater to work for
Back in 2009, president Gerry Anderson of DTE Energy saw the value of his business steadily decrease after the financial crisis and found a lot of his employees to be disengaged. After spending years using classical approaches – such as training, incentivisation and stricter controls – to incentivise his employees, he was advised by a board member to focus on creating a sense of purpose.
He began by making a film to showcase how everyone in the organisation, and thus the whole company, contributed to the greater good in society. It featured beautiful footage of what their energy was being used for, reminding them of the central focus of the organisation. With a renewed sense of identity and purpose, employee engagement steadily rose and business results followed suit: DTE's stock price more than tripled from the end of 2008 to the end of 2017 [3].
Reciprocity: support and facilitate engagement
When employees feel motivated by the larger purpose they contribute to, they want to engage: They want to try new things, learn more and improve their skills, take risks, and make spontaneous contributions [2]. This kind of engagement needs to have an outlet and be supported. If organisations want their employees to be engaged, they need, first, to engage with their employees.
This reciprocity is all about creating room for employees to engage beyond solely performing the responsibilities of their jobs. For example, giving them the space to develop their own ideas. Adobe's  Kickbox is a good example of this. It's a box that encourages employees to generate ideas for new products and services by supplying instruction cards, a pen, two pads of Post-Its, two notebooks, a Starbucks gift card, a bar of chocolate and (perhaps, most importantly), a $1,000 pre-paid credit card. It means ideas can be shared when they're fresh and employees feel management are open to their input. The Kickbox is a cultural change agent, disguised as an innovation kit: Aside from generating new business possibilities, the box has created a culture shift towards much more engaged employees and the ability to attract top talent.
Communality: People do more for friends than for colleagues
Last, but not least, people want communities within the workforce – relationships between employees that feel like friendships. This can be encouraged by allowing employees to deviate from work protocols, giving them room to establish relationships beyond their work roles.
Many organisations tackle this by creating digital communities where their employees can interact. This is highly valuable, but should only be seen as a starting point. The biggest contributor to solidifying employee relationships lies in organising events and areas where employees with similar interests and values can meet. At Patagonia, they hire people that identify with their purpose and establish communities through shared interests that their employees value. At their headquarters, this results in an employee turnover of just 7%. In their stores, there's a 25% turnover rate, versus the 43% industry average in the united states [5].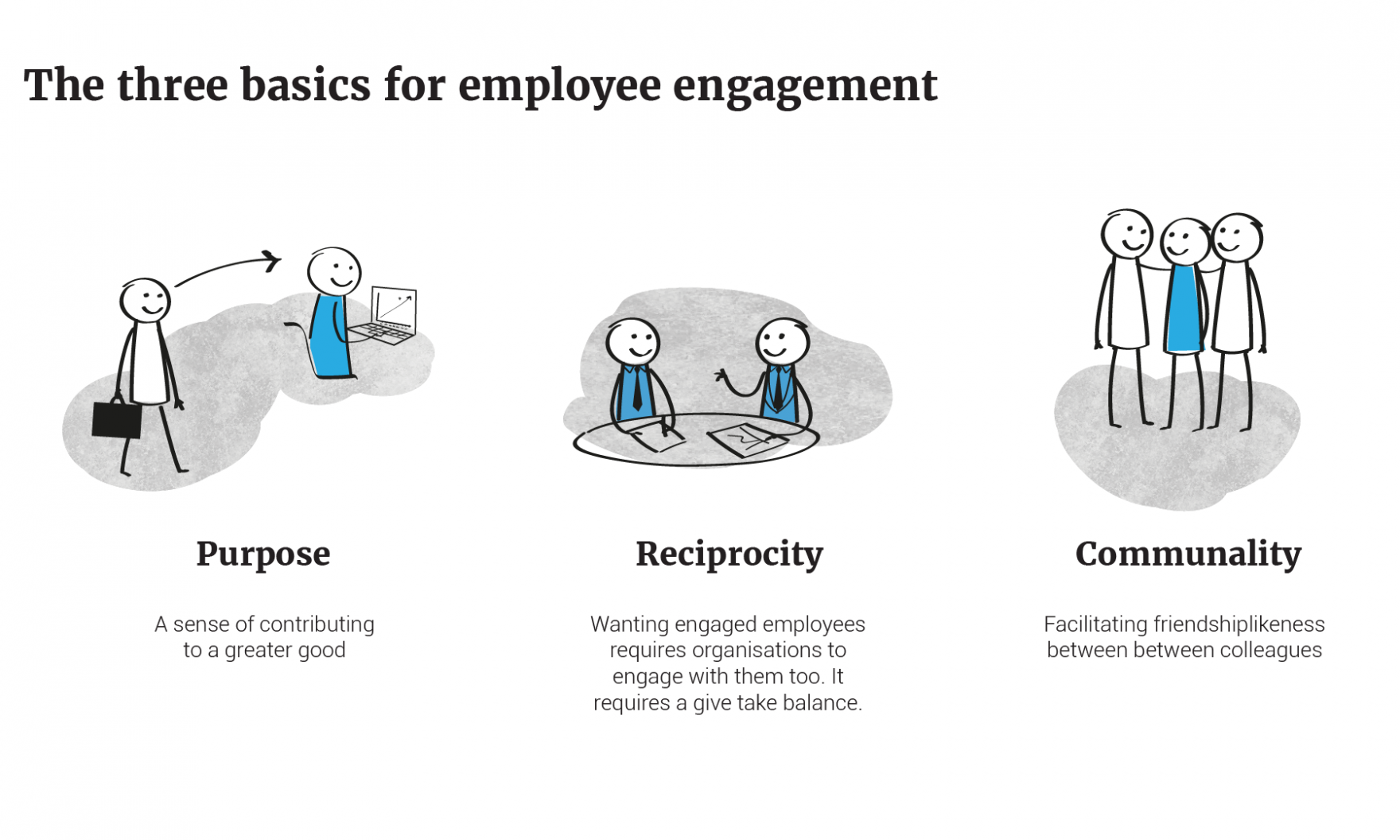 Service design as a platform for employee engagement
The practice of service design has long provided insight into people's emotions and motivations. It has also proved to be a great means to design people's experiences so they work well for all concerned. Livework has combined the practice of service design with the relational thinking of fields such as cognitive science, relationship marketing and employee engagement. We have been able to create the framework – of which purpose, reciprocity and communality are the start – that allows us to create and improve experiences in a way that fosters great relationships between employees and their organisations.
Engage with your employees through relationships and get productivity, creativity and proactivity
Fostering relationships within the workplace is the biggest contributor to obtaining the holy grail:  engaged employees. This can be achieved by establishing a sense of purpose, fostering goodwill between colleagues and building a sense of community in the workplace. When the employee's experience is designed to do these things, their creativity, productivity and proactivity will flourish.
1. https://news.gallup.com/
2. https://hubspot.net/
3. https://hbr.org/
4. https://www.effectory.com/
5. https://www.workforce.com/