The many faces of service design
Throughout 16 years of experience we've applied service design thinking, approaches and methodologies to various business challenges:
Gaining insights into customer behaviour, needs and motivations.
Looking at the points in a service that cause customers irritation and seeing them as opportunities to improve the customer experience – and therefore the business's performance.
Innovating the customer value proposition.
Enabling and training organisations to adopt customer-centric ways of working.
Guiding larger transitions and change management.
But it's not these applications that are unique. In fact, they have become quite common focus areas for businesses in 'the age of the customer'. What's unique is the service design approach we use to tackle each of these challenges.
For internal stakeholders, service design is easy to love but hard to sell
A service design approach to the business challenges mentioned above is fundamentally focused on understanding humans as individuals. It's based on working collaboratively with people from every level of the organisation, using tools that fully explore all the factors at play in the service users' lives. We make prototypes of things early, to try them out and improve them with adjustments based on user feedback. This iterative approach, with tangible real-world outcomes is unique to service design.
It's gained a loyal following over the years, but for many organisations it's still a world apart from business as usual:
More often than not, big companies have a tendency to be product-centric, focusing on manageable units performing linear processes with predictable and measurable outcomes.
No wonder the service design approach has caused many a raised eyebrow on its way to maturity.
Early adopters as internal missionaries
Still, service design has gained quite some traction in a relatively short time. It's done so largely because of early adopters believing in it and bringing it into their organisations. But you can't do service design on your own. You don't just buy it off the shelf and apply it. It's a collaborative approach that requires a lot of engagement, participation and effort from many stakeholders throughout the organisation. So the success of these early adopters has inherently entailed a lot of convincing, nudging, and selling to internal stakeholders.
What's the pitch that gets your colleagues on board?
That depends largely on who you want to get on board in the first place. We've analysed over 100 of our projects and looked at how our direct contact (hurray for the early adopters!) have selected and convinced the right stakeholders, at the right time, to get on board and participate. We've seen how they've pitched service design upwards (to line managers, CMO's, CXO's, CEO's), sideways (colleagues, managers of other Business Units, staff department managers like HR) and downwards (team members, front line staff, call centre staff). And their success depended on the right story for the right stakeholder.
In order to get British Gas to engage with Livework on a project, Angela Mancini (at that time, Head of customer journeys & business architecture) created a one-sheet 'pitch' for her project and took it around both her formal and informal networks. She sought support from key influencers high up in the organisation as well as people in related departments who had the potential to block or sabotage the project if they weren't consulted. When the project got green-lit she made sure to 'keep her friends close and (potential) enemies even closer'. She made sure the least enthusiastic were involved in the actual project so they could experience the benefits of this way of working first hand.
As service design matures, your story must evolve
The better you understand your organisation's service design maturity, the better you'll be able to pitch the right approach to the right stakeholder.
Companies embarking on their first service design project will enjoy the best results if they start small. Perhaps with some basic CX improvements, with a selected group of early adopters, in a part of the company where there's some room for experimentation. An ideal form might be a week-long design sprint. Companies that are further along in their maturity can benefit from a broader approach, focused on more substantial innovation, learning or change. This will involve a varied group of stakeholders, with buy-in from the CEO, business line managers and HR. It will have more direct impact on the operation and may take the form of a year-long program.
Four categories of benefits to help convince stakeholders
Obviously, a solid explanation of service design's benefits is key when convincing stakeholders to invest time or money. We believe there are 4 main categories of benefits of service design:
Service design is good for customers. Amazingly many businesses have forgotten to wonder how their customers think, feel, live and dream. Seeking to really understand the user's experience and improve it leads to better quality of life and happier customers. Use this argument when it's clear that your customers are unhappy, or when customer satisfaction/loyalty metrics are key.
Service design is good for business. It takes a forensic approach to seeing the business from the outside in – this can spot weaknesses or opportunities for change and growth that other disciplines miss. Use this argument when new value needs to be unlocked or when parts of the business underperform.
Service design is good for the organisation. It involves co-creation and collaboration between people in the organisation who may rarely, if ever, get together. It can break down long-standing barriers to change and transformation and lead to more engaged and productive staff. Use this argument when there's a latent need for more collaboration, or for a more creative, innovative culture.
Service design is good for society. We address issues like increasing population, diminishing resources, an ageing population and accelerated technological change and imagine futures that are inclusive, sustainable and optimistic. Use this argument when there's room for a more long term vision or a Corporate Social Responsibility agenda.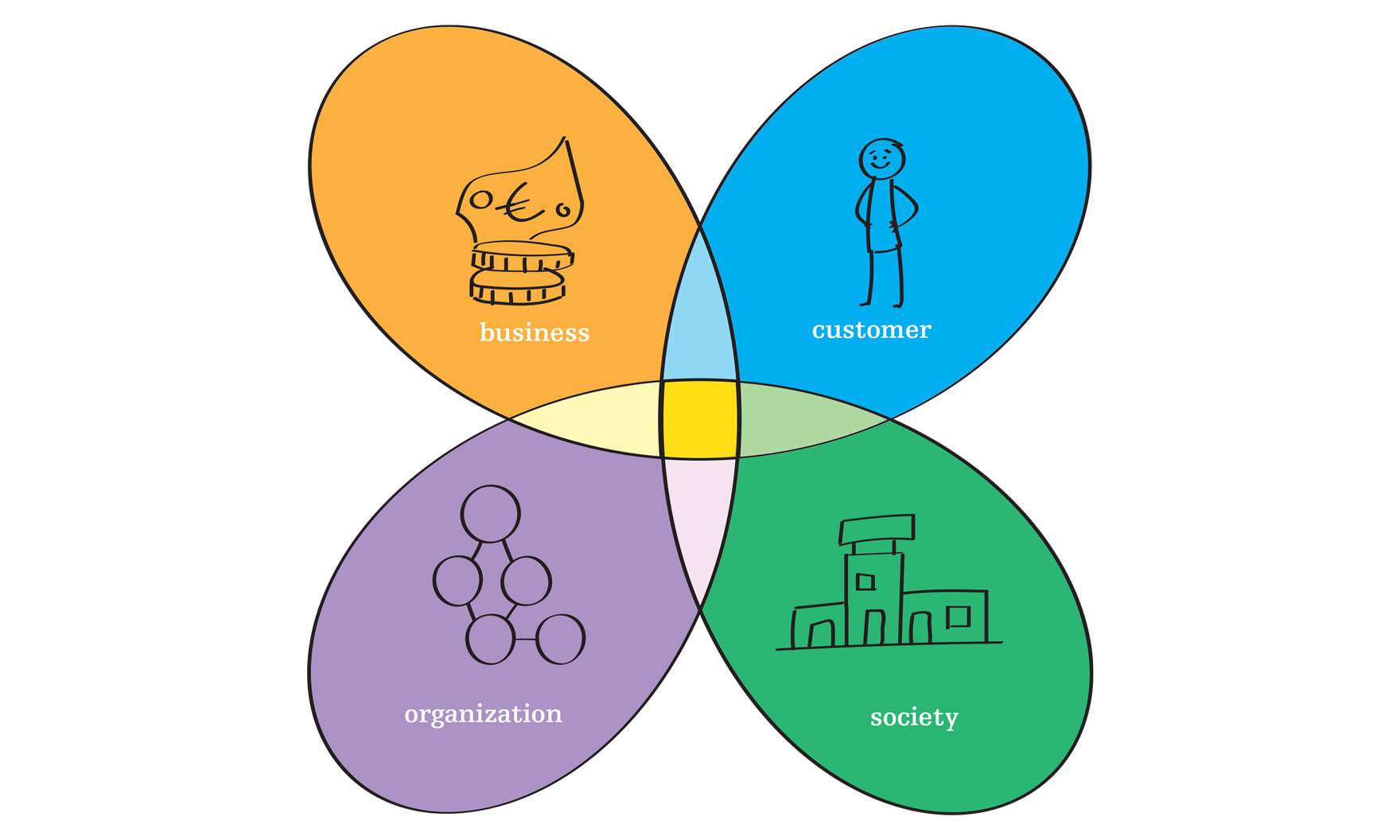 Helping you pitch service design is part of our job
So we will help you. We have developed a tool set and workshop format that will guide you through the process of picking the right stakeholders, choosing a focus and approach that matches your company's maturity level and picking the category of benefits to focus on. Then, in the same workshop, we will help you craft your pitch and practice it.
So if you, like us, love service design but need some help convincing others about it, let's join forces and create some perfect pitches.