Integrating Agile & CX
Sportswear is a uniquely fast-paced, competitive market. adidas's vision is to be synonymous with sports in people's minds. To make this a reality they need to really step into the shoes (or rather – trainers) of their customers and understand their needs. It's because of this that they made the strategic decision to harmonise customer-centricity and agile into one integrated approach.
Livework's Anna Louisa Peeters and Peter Brook (the Senior Director of Global Omnichannel solutions at adidas) recently shared a presentation about this at SDGC18 in Dublin.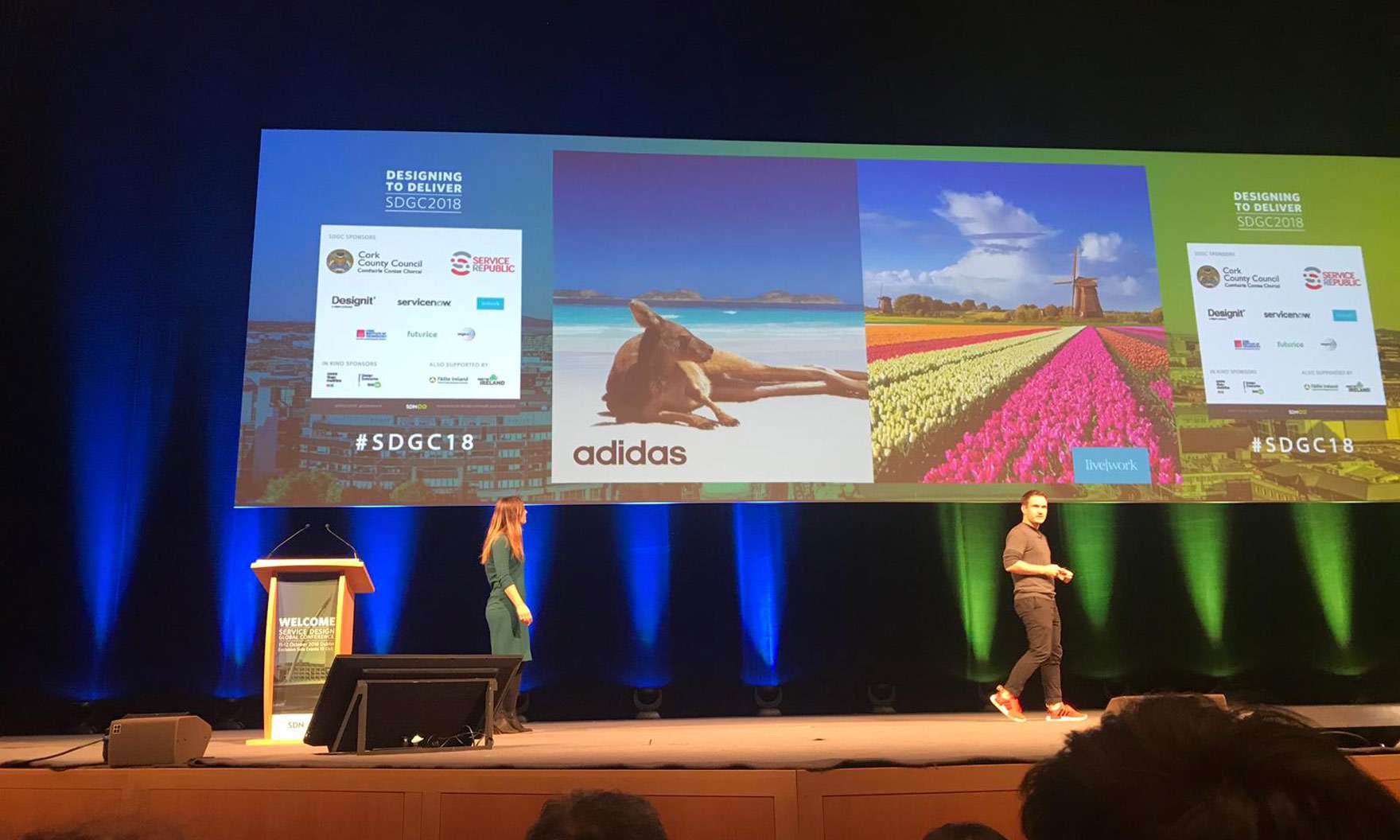 The Agile-CX journey
We're about a year into our work together on creating a seamless agile and cx approach for adidas to deliver their vision. There have been three clear phases so far:
You can't change a script from one day to the next for everyone in the organisation. So we started with a pilot

: We worked with one product team to validate our approach so that we'd reduce the risk of failure for the other teams to follow. Product Owners have been our main audience – they have the role of translating demands and ideas into features that their teams will build.

After the pilot, we were ready to start

scaling up

. We consolidated the successful parts from the pilot into training material and started to introduce it to other teams.

The third phase revolves around scaling up even more and

embedding

the work that's been done so far. To make the new way of working stick.
Balancing the act - the 3 biggest challenges
Our biggest challenge was

bridging the gap between the dream and reality

. Everybody agrees on the value of consumer centricity and agile – the dream is clear and straightforward. However, translating that into reality is a different story. It requires a lot of experimentation and alignment.

Going slow, to go fast.

This one applies on two levels. 

Transformation inherently slows people down while they're adapting to new ways of working. In addition, we're asking the teams to collect more qualitative & quantitative consumer insights around the experience they aim to improve, which takes time as well. Managing the pace is a great balancing act.

Transformation is both about

scaling and tailoring to fit

. 

For alignment and efficiency reasons, the ambition is to scale up. This means standardising a certain mindset and way of working across the board. At the same time, every team is different and has particular needs. What's needed in this case is tailoring to fit different workplace cultures and abilities. We have to balance the needs for consistency and diversity in order to find the sweet spot.
Living the dream: slow down to go the distance
As you might expect with agile, the approach is designed to be flexible and adaptive for different needs. We designed modular training materials that can be 'cut to fit' for different team needs and there is individual coaching where necessary so different roles can get the support and upskilling they need. It's essential to implement a way of working that is specially tailored to the organisation's reality and culture in order for transformation to succeed. Alignment within and between teams is central to the success of any transformation, so bringing people together for collective training sessions and sharing best practice with each other has proven to be highly effective. This kind of informal, practical sharing will spread change within organisations better than any top-down dictates.
Sign up to our newsletter