Practical:
When:
Thursday, 22 September 2022 at 3:00 pm - Sunday, 25 September 2022
Where:

Lou Calen, Cotignac, France
Pricing:

€3.200 excluding VAT
Our clients often joke that working with us is like design therapy: deep conversations working through tough challenges. After hearing that over and over, we have come to a realisation. We think the leaders employing design to transform their organisations don't need another conference, or article listing the top tricks to succeed (though we have those too). We think you need a break. We think you need a space to zoom out, gain clarity, and connect with others who are struggling with the same things.
Earlier this year, we tested the desirability of a Design Leaders Retreat with our network. The responses have been really positive so we've decided to go ahead and make it happen. We've confirmed 22-25 September at a beautiful location in the South of France.
Who is this retreat for?
You've read the books. Sometimes it feels like you've tried everything. But it's just not working as designed. You've made some progress but things feel slower and harder than you'd like. The thing is, you don't need another list of the top tricks to succeed.
You need a break.
You need time to think and reconnect with your purpose and regain your energy.
We all know our best ideas and breakthroughs come when we step away from the day-to-day grind and get some perspective. This retreat is for leaders who are using design to transform the organisation they work in. We're going beyond the talks and templates of a typical conference or workshop. We're bringing together a group of people to slow down and ask difficult questions, the ones that can't be answered by filling in a survey or reading another article.
Questions like:
What type of design leader am I? And what kind of design leader do I want to be?

How do we get unstuck?

How do I prioritise?

What's missing from my current approach?

How are other people navigating this work?
What to expect?
This isn't a fast-paced, intensive session. We're stretching out time so you can think. This retreat will be facilitated by experienced Liveworkers who have seen these kinds of transformations before. We're forgoing the corporate hotel space for a more intimate space in nature, more conducive to thinking and creativity. In between group discussions, sharing wisdom, and hardship, there will be the opportunity to go for a swim, take a walk in nature, get a massage, join a yoga session and enjoy nourishing meals.
It's just as described, a design leaders retreat.
Of course, it won't be all campfires and conversation. We have spent the last five years refining and testing a model to support organisations to transform themselves by design. The model will serve as a foundation for our work together.
We have crafted a detailed agenda based on the needs of various participants. The program is underpinned by the following principles:
Self-care: We will have individual and group activities that will allow you to slow down and regenerate. We'll design routines that will ensure a clear structure of the days while still allowing for serendipity.

Reflection: We will create space for deep reflection on your experience, your desires, your fears. We would like you to reach a higher level of awareness, challenging yourself and uncovering the root causes of what's not working.

Agency: We will design activities and interactions to allow a renewed sense of agency in your skills and abilities.

Connection: All of the above will be underpinned by moments of meaningful connections with others.
This program will take you on a journey from PAST (day 1) to PRESENT (day 2) and FUTURE (day 3). In the reflections and activities we will zoom in to different altitudes, illustrated below by some sample reflection questions:
You as a design leader: What led you to design? What is an early and more recent design leadership experience? How did you get to where you are now?
You as a design leader in your team: What are the key challenges your team is facing? How do you support your team with these challenges?
You as a design leader in your organisation: What is normal in your organisation that is crazy to you as a design leader? What service could design provide to your organisation? What does that mean for you as a design leader?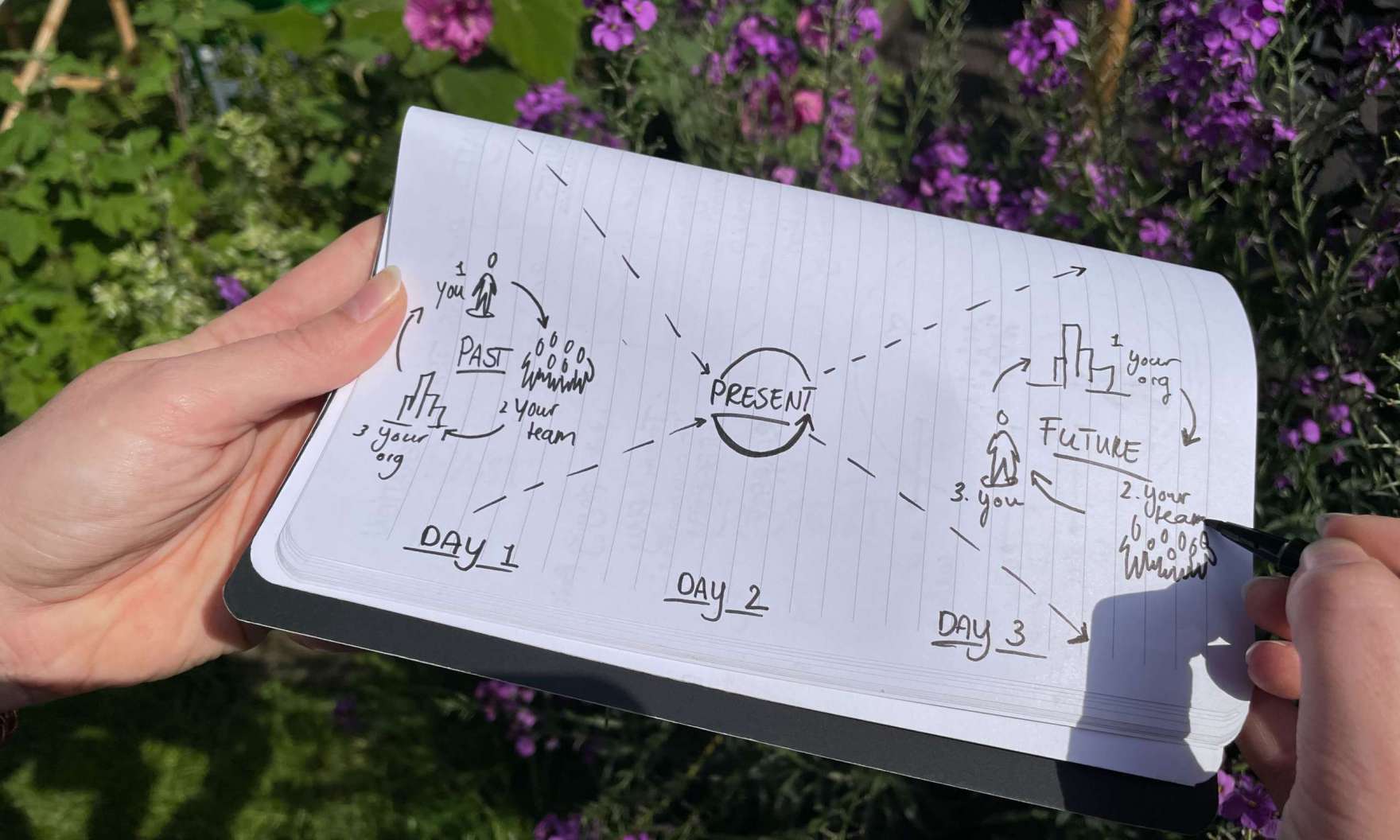 You'll leave this retreat with
A renewed sense of purpose and commitment

Reconnected to why you fell in love with design in the first place

Recharged batteries

A network of peers to support you in the future

Tangible next steps and a path forward
The details
The closing date for the application is July 31st.
Location: Lou Calen, a unique eco-resort in the Provence region of France.

Date: 22 to 25 September. 3 nights and days, Thursday morning to Sunday morning.

Here you find the detailed agenda.

Group size: maximum 15.

Price: €3.200 excluding VAT.

Included: Transfer to/from Aix-en-Provence or Marseille (airport and train station) to Lou Calen and back, 3 nights on full board basis (3 fresh, seasonal meals per day, by Chef Benoit Witz), yoga and mediation sessions.
Not included: Travel to Aix-en-Provence or Marseille. Massages or additional therapies.
Do you want to join us?
That would be amazing. Please be aware this retreat only allows for a limited number of spots.
In a retreat setting, the participants have as much influence on the experience as the facilitators, so to ensure we have a balanced and diverse group, we'd really like to learn a bit about you before finalising the participant list.
To sign up for the Design Leaders Retreat, please fill in this form including 3 questions. We will use this information to select the group of participants, and will of course keep it confidential.
The closing date for the application is July 31st.
Sounds intriguing but you have some questions?