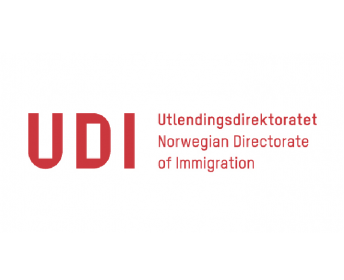 Norwegian Directorate of Immigration (UDI)
Norway
Some services, such as justice and policing, do not meet a customer need but instead deliver a social objective and are defined in government policies. The delivery of these services still needs to consider the human experience to be efficient, effective and humane.
The Norwegian Directorate of Immigration's (UDI) primary goal is for an easy to navigate and efficient service to immigrants. In order to achieve this, engagement with individuals is crucial, and can mitigate lost time, money and added stress for immigrants and the UDI alike.
Immigration policy is ever-changing and complex, creating a daunting legal landscape for immigrants. For instance, for a husband trying to move to the country where his wife and children live, it can be stressful to follow the process and avoid costly legal mistakes.
Design service to be independent of policy
Livework employed data and quantitative analysis to find the patterns and commonalities in the experience across factors such as nationality, age and life stage. We looked at complaints, joined staff on-site, and understood where misalignment between expectations and the actual experience caused frustrations for people. For instance, one third of users surveyed had major difficulties dealing with written language.
The opportunity for UDI was to deliver its services in a way that makes the process understandable, predictable and easy to use, regardless of the policy in effect. We consolidated the common themes of our work into ten principles as a clearly outlined approach and important considerations for developing and delivering services for UDI users.
Principles guide implementation
The Norwegian Directorate of Immigration's (UDI) needed to re-think the way it delivers its services to immigrants – adhering to the policies, but also providing an efficient, effective and humane experience.
All project mandates now needed to state benefits and challenges for users before receiving approval from the board of directors. It is obligatory for all vendors to follow and support the same path. Furthermore, the principles have be transferred to The Ministry of Justice and Public Security, The Ministry of Children, Equality and Social Inclusion and The Ministry of Foreign Affairs, keeping the same goal in mind for the whole justice system.