When we, as designers, see that people enjoy the services we have created, we tend to accept this as proof of quality. But this proof is rarely sufficient to justify the expense of design for our clients.
This article by Livework founders Ben Reason and Lavrans Lovlie was originally published in Touchpoint Journal, Service Design Network (Volume 2, No 2, September 2010).
They have other metrics that drive their activity: usually profit or cost efficiency. They need tangible indicators to measure the performance of the service. They need to demonstrate return on investment. They also need performance indicators that will enable them to understand exactly how to improve their service and to stay ahead of competition. This prompts the question: what are truly service-native ways to model and measure the value of design.
People Make Business Tricky
We are keen believers that Service Design is a driver for more efficient service delivery, since it places value for the customer at the heart of business development. When organisations focus on customer value, they find it easier to remove processes and costs that do not directly benefit the customer. They are also more likely to invest and excel at those experiences that make their service unique to customers. The challenge is to find ways to model the economics of service delivery in order to justify a customer-oriented perspective. In this respect, the most interesting development in business theory during the last few years has been the emergence of 'Lean Consumption'. This service-?oriented offshoot of Lean Manufacturing places emphasis on reducing waste for the customer rather than for a manufacturing process. This provides a strong argument for design to play a role in increasing the value of services.(1)
Another challenge is that it appears simpler to model the economics of a product manufactured in a value chain than of a service delivered by a network of actors. When you include the customer as part of the value-producing team – as in self-service banking – the complexity quickly becomes overwhelming. There are more unpredictable variables to service delivery than to manufacturing. It is easier to create a robust revenue model for a re-designed razor or a new design for a potato-chip bag than a new design for an insurance-claims process. In order to argue for service design as a business-critical activity, we need simple and useful models that show how money flows in a system, and how this is directly influenced by design decisions.
Service-Native Business Modelling
Two defining characteristics of service delivery provide us with a framework for integrating business modelling with the design processes:
Services need to adapt to people's changing needs over time.
People interact with services across multiple touchpoints. Transformed into points of cost and revenue, these characteristics provide us with a truly service-native way to model a business case and measure the results.
1. Cost and Revenue through the Customer Journey
By breaking down the business model across the stages of a customer journey, it is possible to model where costs can be reduced and revenues can be accrued in relation to where value is created for the customer. The method proposed in this article is not 'new'. In fact, it results from minor adjustments of practices used by many Service Design agencies. In a sense, much of the 'novelty' of this method lies beneath its surface – in establishing an academic rationale for each step.
2. Cost and Revenue across Touchpoints
By breaking down the business model across touchpoints, it is possible to model in which channels costs can be reduced and revenue can be made while creating value for the customer.
This framework integrates business modelling with the design process. It enables us to use a service blueprint both to design the customer experience and to model and measure the flow of money in the service.
It allows for zooming into the economics of a single interaction with the customer, and it shows the big picture. It enables managers to prioritise which interactions to invest in, and analyse whether the whole service proposition will provide return on investment.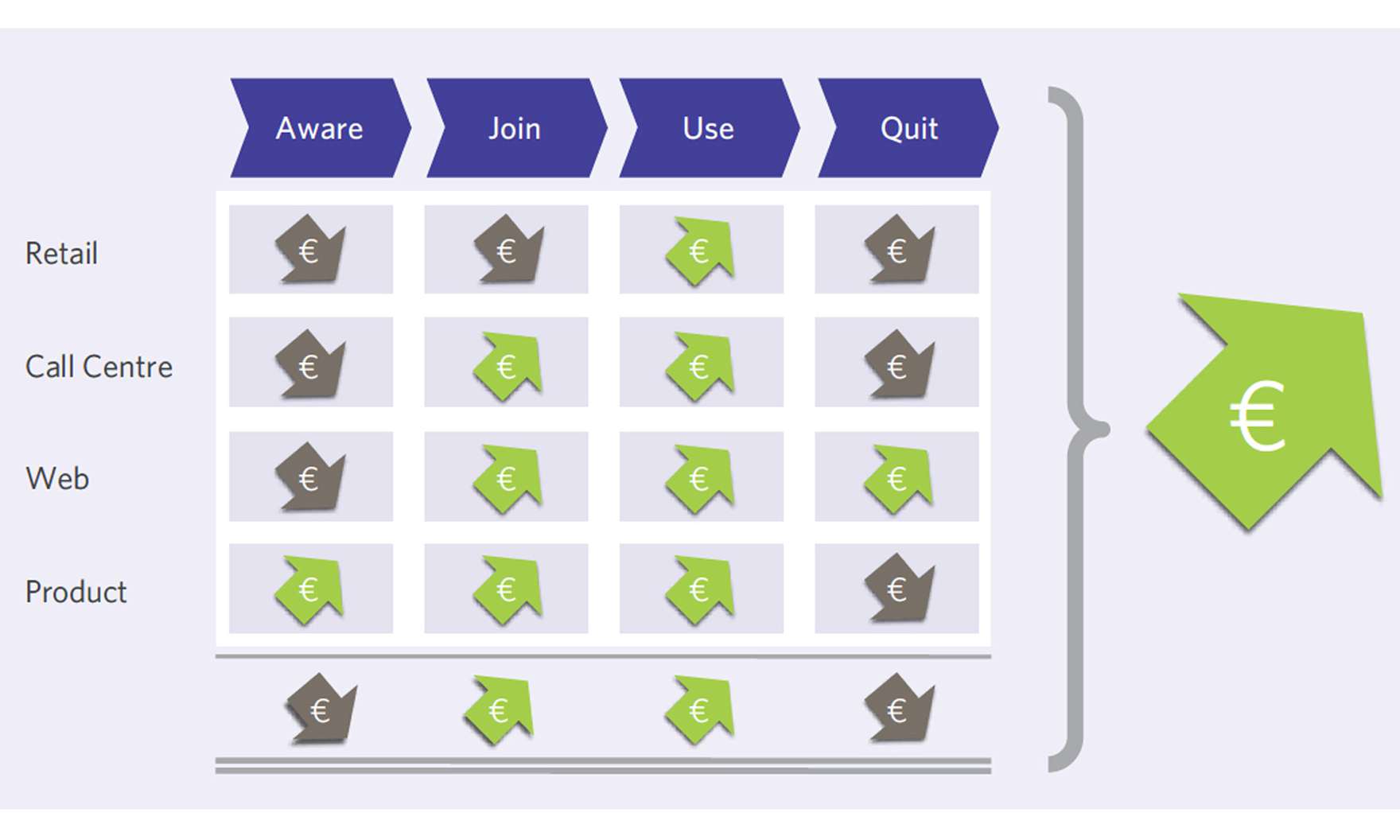 The Business Case for Reduced Unemployment
Although the model presented here is simple, it has proven to be useful in complex cases. One of these is a project that Livework carried out in the northeast of England with the City of Sunderland to reduce unemployment. The city found itself in a particularly challenging situation where out of 37,000 workless people only 5,000 were actively seeking employment. We were tasked with re-designing the journey from worklessness back to work. This also required us to present business cases along with our design solutions.
In public service design and innovation, success cannot be measured by competitive advantage, but rather by the value it brings to society. This is hard to measure, particularly in the multifaceted network of a community. In this case, however, we were able to first present a credible business case for investing in a service pilot, and to later measure the results of the pilot in order to argue for a large-scale deployment of new services.
Make it Work
Sunderland is a city in the North East of England that has suffered more than most from the decline of heavy industry in the area. Affected by losses in both the coal and shipbuilding industries, the city has some of the highest rates of unemployment in the UK. Many people have never worked and come from families where generations have not know reliable employment.
This setting provided the context for a project Livework undertook in 2005. Working with the City Council and supported by One NE, the regional development agency, our brief was to re-design the journey to work for the long-term unemployed, especially those with complex reasons for their unemployment such as bad health, substance addiction or responsibilities as carers. We were asked to look at the whole journey and specifically to approach a solution that was primarily informed by end user needs. Our research involved in-depth fieldwork with a small number of individuals within a specific ward of Sunderland. We shadowed their days to understand how they lived and focused on the interactions they had with services such as healthcare, social services, job centres and voluntary groups. From this work, we were able to construct an ideal-but-realistic blueprint of what needed to be in place for these people to make their journey back to work. Importantly, the journey is based on overcoming barriers and is informed by our insight that people are not able to think about work until their more pressing needs – health, housing, etc. – are under control.
The blueprint – based on user needs – was then used as a common structure around which all the partners on the project could organise. Health teams were able to see how they contributed to employment by getting people well again, whilst rehab programmes could connect to employment resources to help their clients' progress. As the case study below shows, all the services came together to support an individual to become self sufficient.
Our blueprint made clear improvements in the user experience of employment support services. It also helped managers focus their resources on where they were most effective. However, we also needed to demonstrate that the activity was cost effective overall, and for each specific activity. We needed to show that the blueprint was financially viable. In public service design and innovation, success cannot be measured by competitive advantage, but rather by the value it brings to society. This is hard to measure, particularly in the multifaceted network of a community.
The Case for Investment
We based our business case for investment on the blueprint designed during this first phase of the project.
There is no specific number for how much one workless person costs society, but we were able to find that the state spends between £10,000 and £40,000 per person out of work per year in benefits and other social costs. We knew the rates of worklessness in Sunderland, what services were offered along the customer journey and what it would cost to redesign these services. We now had a metric for calculating the value of our design intervention. We calculated that a reasonable goal would be that for every £1 invested, there would be a £2 saving to the public purse: a 200 percent ROI. If scaled up, the benefits would be massive: one hundred people in work would create a minimum £1m in savings per annum. Sunderland City Council believed in the potential defined by this initial project and, on the back of it, we shared our insights and concepts in workshops with more than 200 operational council employees to enable them to improve their services.
Making it Work
Our blueprint made sense on paper, and we had aligned the service activity to a cost-benefit model. But we also needed to demonstrate that it worked in practice. To do this, we designed a pilot that would apply our principles on a small scale to test them before taking the service to the whole city. For the pilot, a number of compli?mentary services – both public and voluntary sector – were commissioned to work with us to test the blueprint. All parties would use the journey to work as their model and collaborate to ensure that their clients had their needs met in the order that we had outlined. Although simple, we had achieved the goal of re-designing the services based on user needs.
During the pilot, the fact that it takes time to help people into work became tangible. We realised that whilst some people would make it into work, others would only begin their journey, perhaps overcoming a major barrier but not finding a job. We knew that there was value in this activity in the long term – and also immediately within the funding term of the pilot – but we needed to show this value to the project sponsor.
At this point, we applied the method described above to align costs and benefits to the service blueprint. We were able to uncover the saving made to society from reduced homelessness or addiction and apply them to individual cases. We also knew the cost per person of all of our partners in the pilot, so were able to make a cost-benefit calculation for each step of the journey.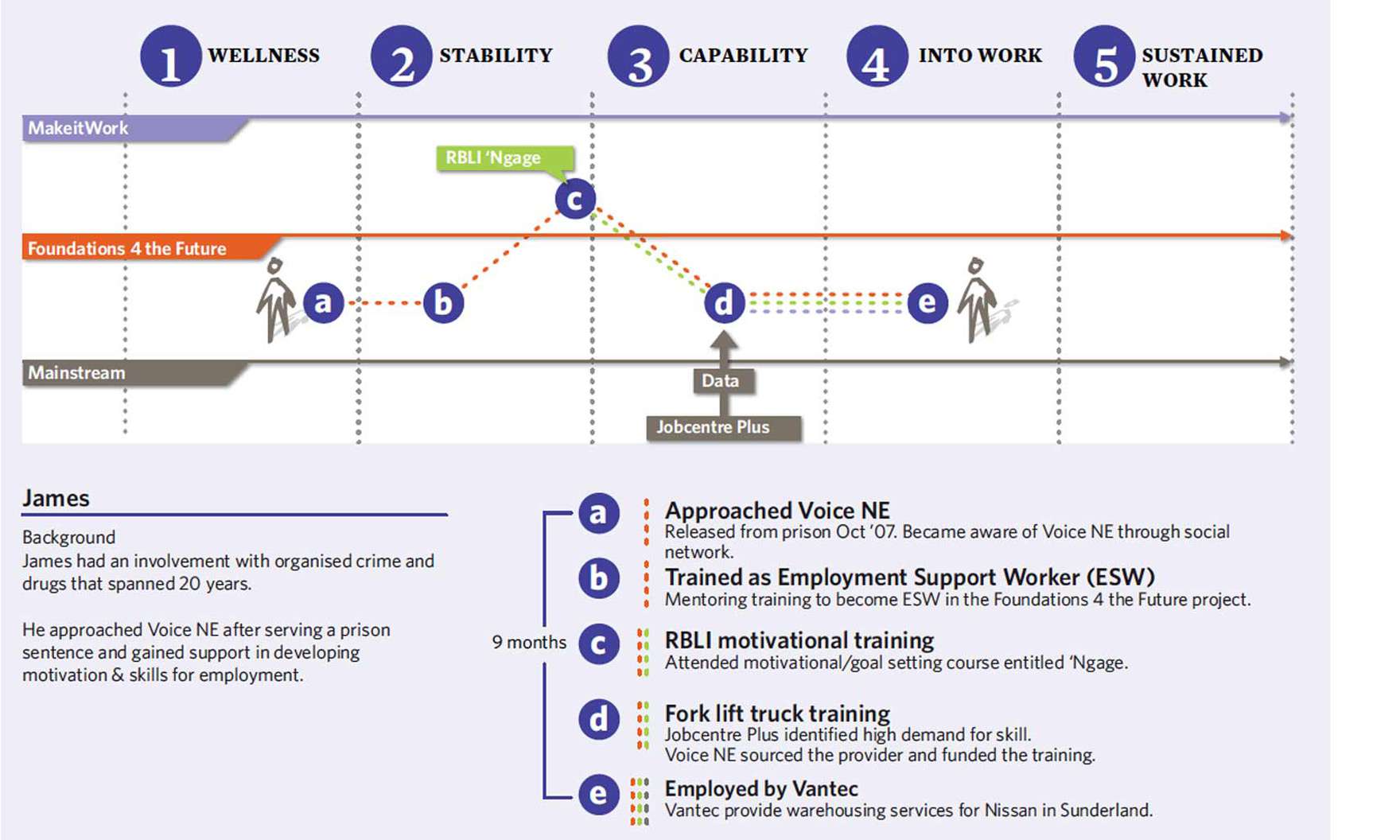 The Return on Investment
Over a period of nine months, a range of organisations in Sunderland partnered to pilot a series of service concepts with 238 workless 'clients'.Of these, 19 people had come into permanent employment during the pilot. Just as importantly, 38 people had gone from being unable to work to being capable of working, and 72 people in total had jobs safeguarded. The results showed that the redesigned services could bring huge benefits to the community.
The Revenue Potential
After completion of the pilot, we were able to use the data collected to estimate the costs and success rate of the design of the new services. To model the revenue potential, we broke down the average savings for society per user into five well-documented categories. The model included economic costs such as:
Estimated benefits costs – what the city saved in individual benefit payments
Estimated exchequer losses – the tax people would pay when in work
Economic output losses – the value people in work would create for their employers
Health and social externalities –value attached to improved health and reduced social problems
Personal cost impacts were also included in the model, even if they were hard to estimate and are not traditionally counted. The personal price can range from social exclusion through to excess mortality.
Savings for Every Step of the Journey
It is easy to assume that return on investment would only happen when people found permanent employment, but this wasn't he whole picture. Using the business model, we could show how the City of Sunderland would be able to save money for every step a client took along the journey back to work. As an example, we could shows that a person who manages to overcome mental health problems and progresses towards work would save the community £4,000 simply by being capable for work. Savings would rise up to £20,000 when the same person managed to get into permanent employment.
Based on the pilot, we now had data on what the costs of service provision were along the customer journey, as well as for different target groups. We also had data on the success rate of the new service design, the estimated savings and could calculate return on investment for a full-scale launch of the new design.
In conclusion, the service pilot showed that at a cost of £180,000, the community had saved £435,000. This gave us concrete numbers for estimating return on investment for a full-scale launch: 240%.
The Bottom Line
'Make it Work' showed us that we could use the same framework – the service blueprint – to design the customer ex-perience and to model the business case. This project demonstrates a highly complex case involving a broad set of stakeholders, and in a public service context where performance cannot simply be measured in profit. Using the framework of a service blueprint gave us the opportunity to model a service-native business case and merge it with the design process.
Footnotes
1 Womack, James P. and Jones, Daniel T. Lean Consumption, Harvard Business Review. 2005