Management and IT consulting firms, as well as large corporations, have started bringing human-centred design capabilities in house through the acquisition of design agencies and design talent. At the same time, Service Design agencies are using Business Design to increase the business relevance of their projects for clients. This is happening in response to a growing number of organisations struggling to find solutions to achieving digital capabilities, meeting customers' expectations, and delivering a consistent quality of service across different channels. This article shares a number of observations about how the Service Design studio Livework is tackling the shift toward Business Design. It also describes the consequences of this transition in relation to the agency's processes as well as the outcomes for clients.
This article by Marzia Arico was originally published in the book DESMA Avenues, 2015 (http://www.desmanetwork.eu/desma-avenues/)
Management consulting firms are acquiring design studios in droves. Design is trending in business. Management and IT consulting firms have started a race in acquisitions of strategic design firms, bringing human-centred design capabilities and talent in house to improve their digital offer. In July 2015, the IT consulting giant Wipro acquired the strategic design firm Designit. In May of the same year, the management consulting firm McKinsey & Company acquired Lunar. In 2013, Accenture acquired the design agency Fjord. This is to name but a few. While business experts acquire design capabilities, design firms are broadening what they do, in order to remain competitive and relevant to their business clients.
Service Design's relevance for pressing business challenges
I've always been fascinated by the potential of design to impact business. When I joined Livework in 2013, the company was undertaking a profound transformation towards increased business relevance. My arrival couldn't have been timelier. In this article, I will share observations from the last two years, during which the team worked on developing an understanding of how service design could become instrumental in tackling some of the most pressing business challenges. Looking at the projects that Livework has been running since my arrival, there are three major business challenges clients are looking to solve: (1) Digital Transformation (2) Customer Blah (3) Cross-channel experience.
Digital transformation
Companies founded in the past two decades are built within, and for, the digital age. For those businesses that have been around longer, developing digital advantage is a daunting and urgently needed task. Creating digital advantage is not as easy as it may seem; it requires more than digitising a service or building a new app. A sound digital strategy involves a deep understanding of customer facing activities, and also a strong integration of internal functions, namely IT, operations, supply-chain, customer support, sales, HR, and finance. Today, digital activities are often fragmented within the organisation, with senior management unsure about who should own the digital transformation – is it the CTO, CIO, or CMO? Digital enablement brings with it the need for new culture, skills and roles within the organisation. Unfortunately, the pressure to hit short-term revenue targets prevents businesses from making the long-term investment in digital transformation. Many organisations lack a clear understanding of the ROI of digital projects. Finally, digital programmes often end up impacting existing, legacy IT systems, which many organisations aren't ready to change for either political or structural reasons.
Customer Blah
Customer Blah embraces all managerial mantras related to customers. For example, "get closer to the customer", "listen to the voice of the customer", "become more customer-centric". Solving this challenge may be a more daunting task than the previous one because it requires truly listening to, understanding and embracing customers' expectations. Virtually every organisation on the planet collects customer feedback via surveys and focus groups. These methods have the limitation of being closed systems that force people to respond to a specific request. The results rarely generate new information – the feedback mostly validates what the organisation already knows.
Cross-Channel experience
Only customers have the pleasure of experiencing organisations as a whole. By visiting a branch, 'phoning the call centre and trying to shop online, customers get to experience the whole organisation and its silos. Each department works for customers, but no single one truly knows them. Providing a smooth and holistic experience across all the different channels, whilst ensuring consistency of quality, requires a fundamental shift of thinking, from internal processes to customer experience – from inside-out to outside-in.
Service Design studios vs. Management Consulting firms
These are no new challenges. Many organisations have been struggling to find solutions to these challenges for years. The majority of them opt to seek help from traditional management consulting firms, which often tackle them through a quantitative approach and "off-the-shelf" solutions. As a consequence, organisations can be left with solutions that are difficult to implement, as they are not tailored to the organisation, or solutions that simply do not meet customers' expectations. Other organisations opt to seek help from Service Design agencies. In these cases, businesses are often left with a great concept for customers that fails to take into consideration the current organisational capabilities for service delivery. A survey run for a global research project called "Design for Service Innovation & Development" reports that 51% of the projects run by Service Design agencies never get implemented. The agencies' contribution is often at the Idea Generation and Customer insight phases (Sangiorgi, et al., 2015). At Livework we call this "corporate entertainment": generating ideas to entertain and inspire an innovation department in an organisation whilst being fully aware that these ideas will never see the light.
Embracing Business Design
As a consequence, Service Design agencies have started a transition toward a more business relevant language and offering. Today, almost half of the Service Design agencies around the globe offer Business Design as part of their offering (Sangiorgi, et al., 2015). Livework is one of them. Business Design is now a complementary capability added to any Service Design project to the point that every project gets assigned both a service and a Business Designer. This is done to ensure that every project meets customers' expectations, leverages business drivers and metrics and takes into consideration the organisation's policies, practices, processes, people, and systems. Livework is in the midst of this journey. As part of the team that's leading this transition, I'm researching the value added through Service Design – what it is and how to measure it. At this stage, I will share observations on what it means to run a service + business design project in practice, what the consequences are for the agency that delivers it, and the gains from the perspective of the client organisation. My observations are restricted to the experience of Livework Studio, the partner organisation in my research project, however, I believe that some of the aspects that I will share in the following section will resonate with other Service Design agencies too.
Inside a Service Design project
A Service Design project puts the customer at the centre of any intervention. Understanding the customer and designing a superior customer experience are central aspects of any Service Design project. An eager reader of design thinking or Service Design publications would expect the process of the project to alternate between stages of divergence and convergence. And this is exactly what it looks like to an external observer analysing the process. In reality, however, what often happens is that the exploration continues without a real moment of convergence of the information.
Figure 1 shows a simplified diagram of a Service Design project by Livework, as seen from the inside. The initial stage of exploration looks at developing a deep understanding of the customer from the outside-in, it also involves the organisation in the process to better understand the customer experience from the inside-out. Without clear boundaries being defined by the organisation, the project keeps diverging into an insight phase, which will eventually inform the idea generation and concept development. The result is a number of possible deliverables that often do not leverage on business drivers, and that do not take into consideration the consequent impact on policies, processes, practices, people, and systems. Moreover, the organisation is left with a number of concepts, which are tested to work extremely well with customers, but are not tested with the internal organisation. When no clear ownership is agreed upon, there will be lack of clarity on who should move concepts forward. Without clarity on leadership, vision, budget, or business case, the outcomes of a Service Design project are difficult to implement.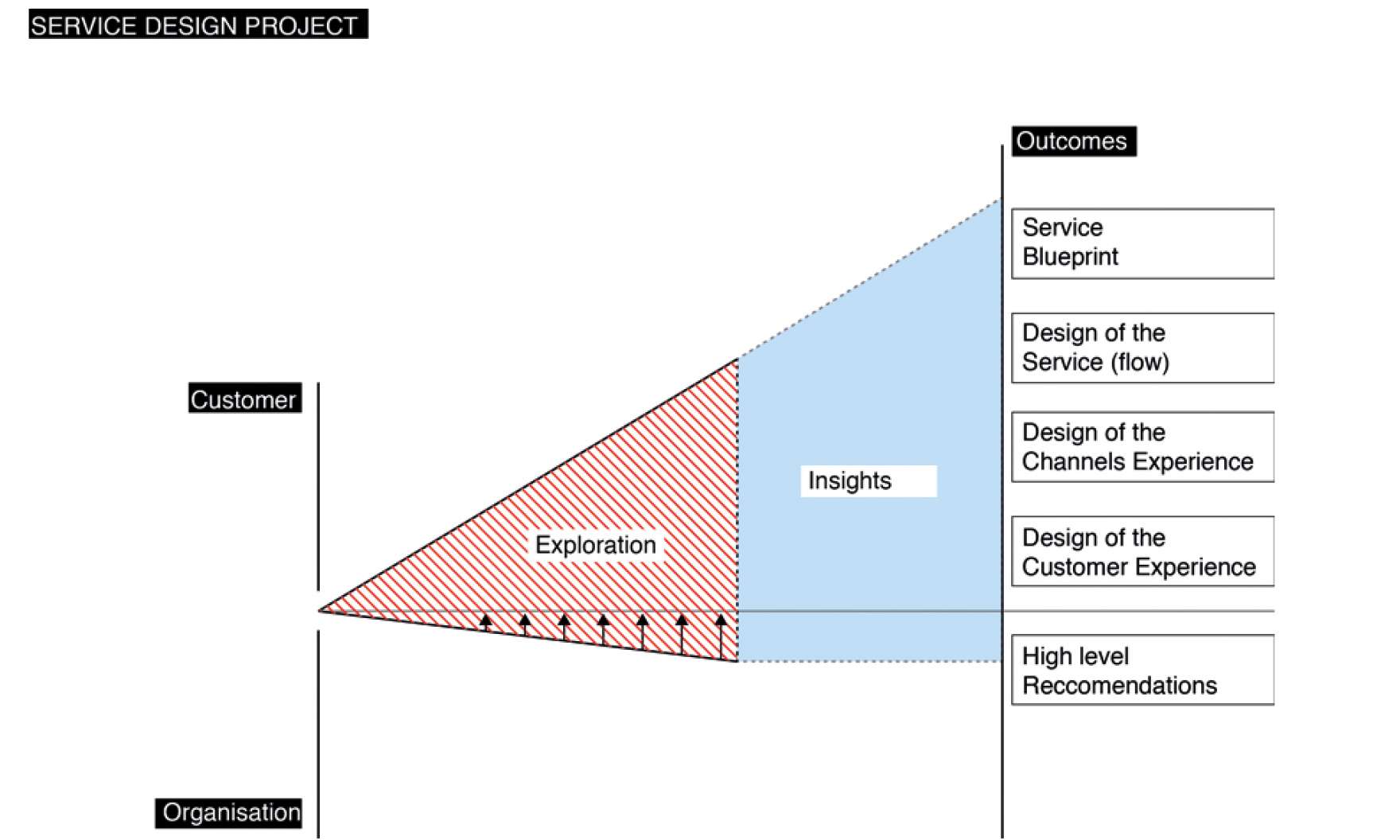 Inside a Service + Business Design Project
Figure 2 shows a simplified process behind a project that combines Service Design and Business Design capabilities. The customer remains central and becomes the lens through which the team looks at the business as well as the organisation. The process explores three angles, it focuses on:
Understanding the customer
Understanding business drivers and measures
Understanding policies, practices, process, procedures, people, and systems
The business and organisational understanding provide the natural boundaries for the Service Design project. The deliverables are three important activities (on the right side of the graph):
1. Justifying choices by building a business case model. This supports the sponsor in the client organisation in selling the concept internally and ensures implementation.
Visualising the desired customer experience. This is particularly important in order to create a shared service vision internally at the organisation.
Building a plan for execution and implementation based on current capabilities. This will produce quick results.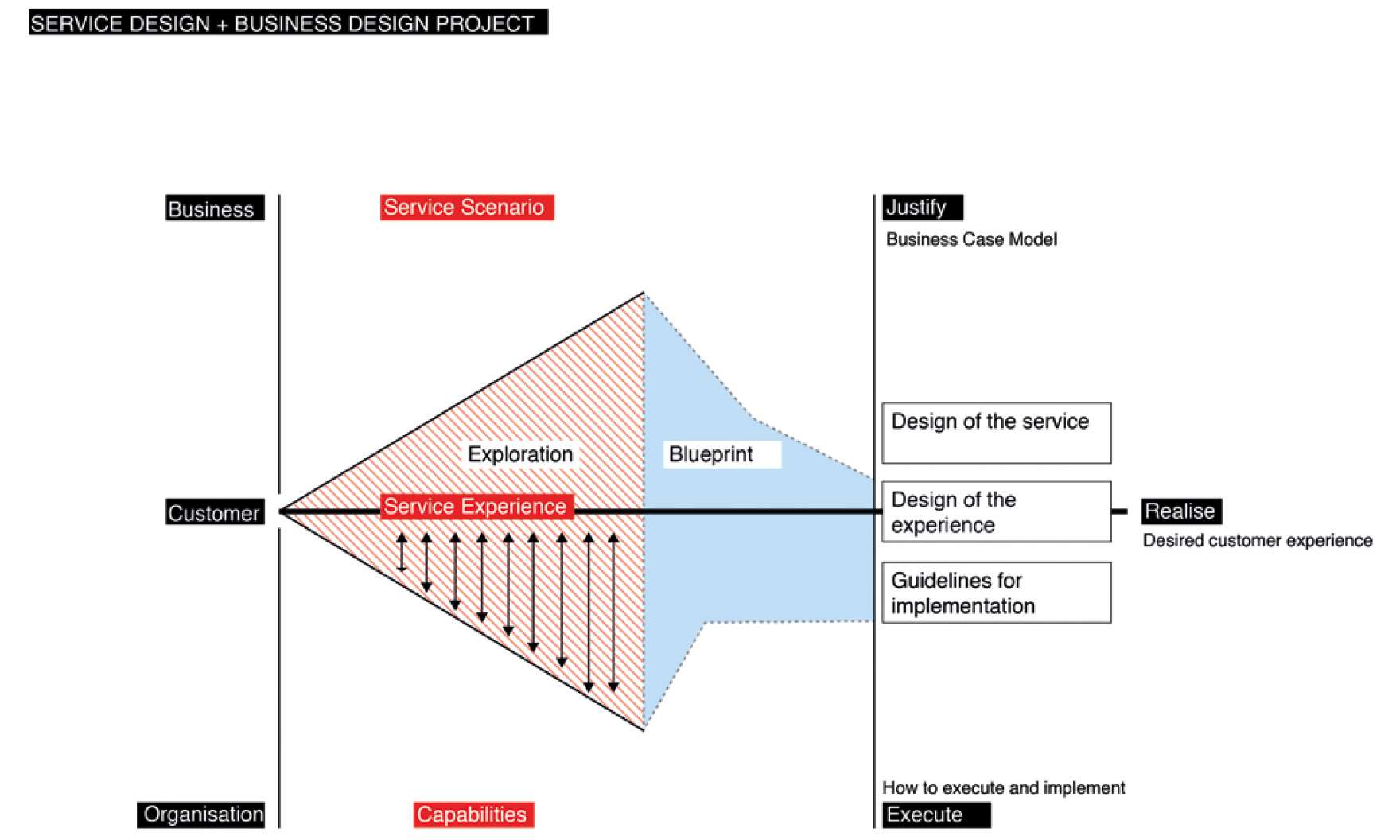 Vodafone: A Service + Business Design approach
Let's have a look at what this means in reality. Vodafone, one of the largest telecommunication companies, approached Livework with a cross-channel challenge. As discussed before, cross-channel experiences are one of the three areas organisations struggle to get right. Livework suggested tackling the challenge using a service + business design approach. The team, a mix of service and business designers, developed in-depth customer research whilst also ensuring they gain a clear understanding, at a very early stage, of the business drivers and practices, processes, policies, people, and systems in place at Vodafone. One of the many insights that emerged from the customer research phase was that when people buy a new 'phone online they prefer to collect it at the store rather than receiving it at home. It turned out that they want staff to help them transfer their data from their old phone and to get advice on how to use their new device. The receipt, set-up, and early-use stages of a new 'phone subscription are the major sources of pain for customers in telecoms.
A regular Service Design project, which looks solely at the customer experience, would have designed a solution that includes the option of collecting the phone at the nearest branch, but Vodafone was simply not set up for that. There was no way, with the current system in place, to know which phone was at which branch. Their system was set up for home delivery. Therefore, the company was unable to inform customers where to go to collect their brand new phone. Suggesting adding the option of picking up the phone at the nearest branch would have meant costly and time-consuming work on Vodafone's IT system. Moreover, employees at the branch were there to sell, not to serve customers. Their KPIs were around contracts closed and upsell, therefore they had no interest in wasting precious time helping customers set up their 'phones. In other words, proposing the possibility for customers to collect their brand new phone at the nearest branch would have impacted on the company's systems, policies, and people (Figure 3). As a result, the project would never have been implemented. Through gaining an understanding of how the company is set up and how staff are rewarded, the recommended service scenario suggested the possibility for customers to order their 'phone online and to assign one of Vodafone's branches as the delivery address. Moreover, a new metric was added to the front line staff's KPIs, which rewarded post-sale support, even if the sale happened in a different channel from the physical shop where they were based. The solution had zero impact on the systems, and very little impact on policies and people, enabling Vodafone to pilot the new scenario straight away with 10,000 customers.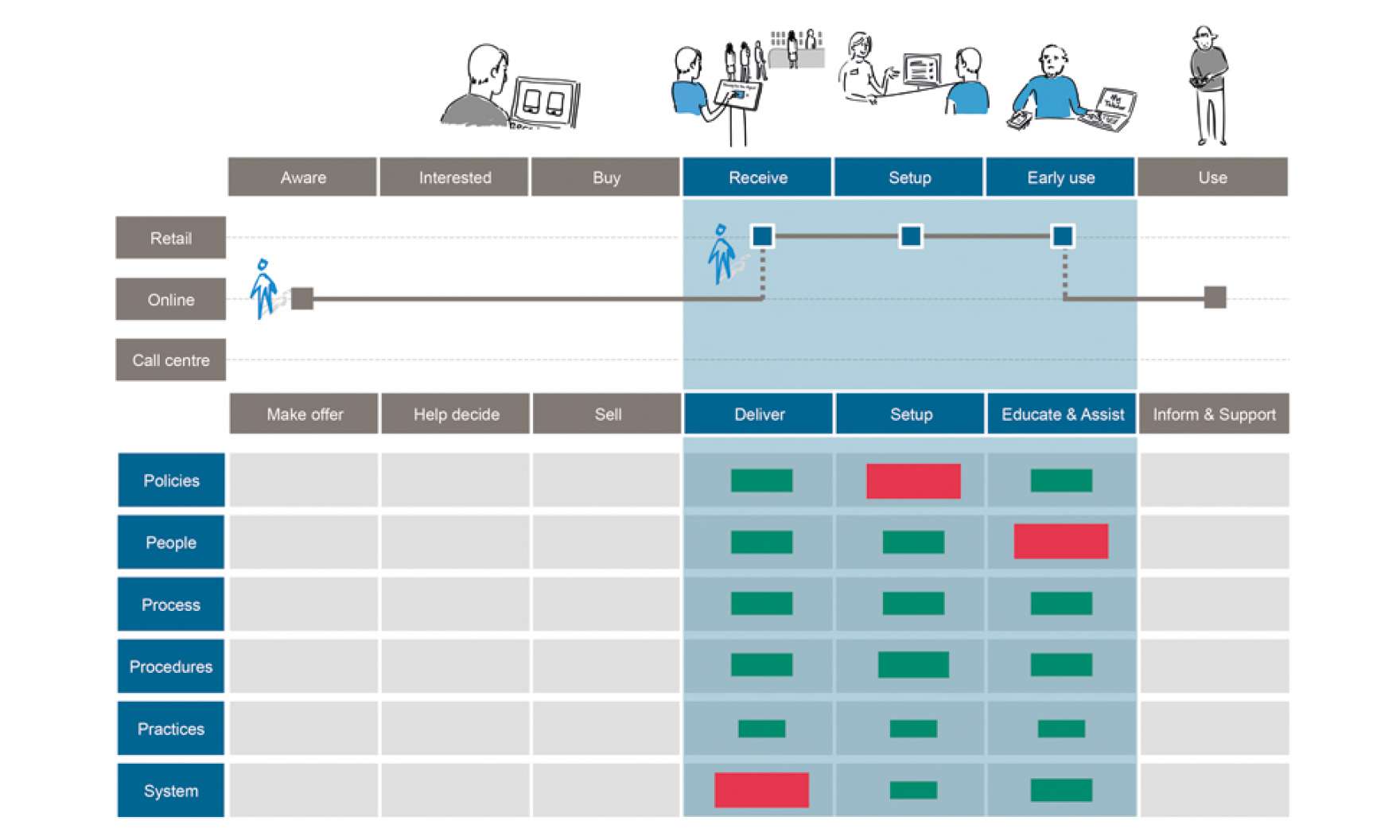 Is the future looking bright?
Organisations worldwide are facing profound challenges related to digital transformation and customer understanding. These challenges are increasingly undermining their capacity to remain competitive in their market – and uncover the tension between what customers expect, and what organisations actually deliver to them. The solution to these challenges does not only reside in the design of better services for customers, but also in understanding how to transform the organisation to deliver the services. The process of tackling these challenges requires a combination of capabilities that leverage both service design and service transformation.
A number of service design studios across the globe are investing in building such a combination of capabilities. Service design agencies are often small – half of them employ less than ten people (Sangiorgi, 2015), and it's plausible to think that this transition will happen quickly and will soon become visible in the implementation rates of projects, as well as in the way they're measured against the impact they produce in the organisation. But, what will happen in organisations as big as Accenture or Wipro through the acquisitions they have made? Will the design capabilities they have acquired permeate through into something tangible for their clients? Or will they get lost in the huge machine they represent, going back quickly into business as usual? I guess we'll discover sooner than later. Either way, this transition represents an important opportunity for the service design practice to grow, and a learning opportunity for those who believe in the potential of service design in business.