The past 13 years Livework has helped over 250 companies in different sectors to build the relationships and improve the experience of customers. While most of our clients have several initiatives to increase customer satisfaction they would not call themselves customer centric. Customer centricity is not only about how you treat customers, but how you think, behave and are organised internally.
You are not customer centric if you have to ask customers
As customer centricity is becoming a recognised way to achieve competitive advantage, organisations ask themselves how customer centric they are compared to their competitors and businesses in other sectors. This is the wrong question as those organisations that are committed to customers invest in continues improvements in their relationship with customers instead of benchmarking themselves.
KPI's affect behaviour not outcomes
Organisations reorienting themselves towards customers usually create a set of measurements to establish where they are and set targets for things like customer satisfaction, NPS scores, churn (prevention), increased sales and up/cross sells. Such KPI's affect the way staff and departments operate and behave, but all these indicators can change without the company becoming customer centric. Even worse scores like NPS might improve while customers have the same (poor) experience.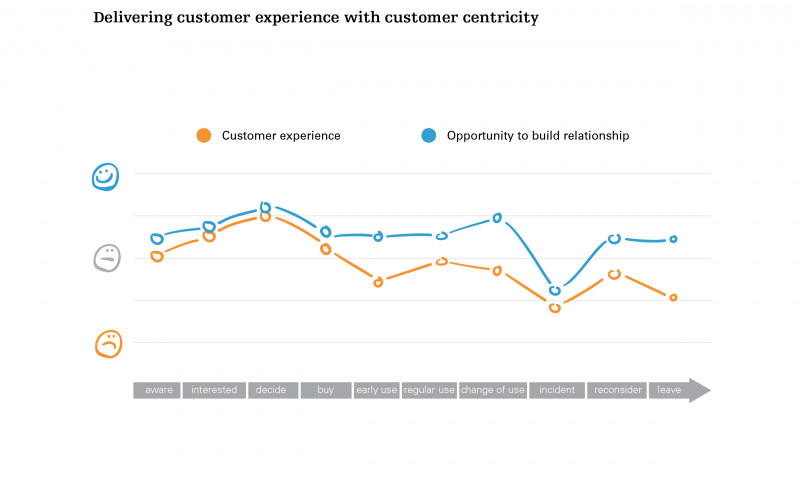 Mini story
Delivering customer experience with customer centricity
Customers can have good experience with a business that is not customer centric. Organisations that take the pain of aligning channels, simplifying products, and streamline processes and systems around customers can achieve bottom line results such as: reduced operating costs due to significant drops in support costs, and higher retention due to high customer satisfaction. This requires a bottom up and top down commitment to customers.
Be customer aware before becoming customer centric
Organisations starting customer centricity programmes sometimes forget to become customer aware first by investing in understanding the customer. Interestingly, in our work with clients we find that most organisations are well aware of what customers want and need, but often have the information is fragmented across departments, or just dismiss customer feedback as irrelevant. "Showing" the customers' experience is a somewhat painful but necessary first step towards customer centric thinking for most organisations.
Have an honest internal discussion
When Livework facilitates workshops, participants are often surprised and sometimes shocked to learn what the organisation does – or does not- do for its customers. Individuals and teams feel that they do their best for their (internal) customers. It comes as a shock to find out how little effect this has on what customers experience in certain phases of the customer lifecycle such as post-sales, or maintenance phase.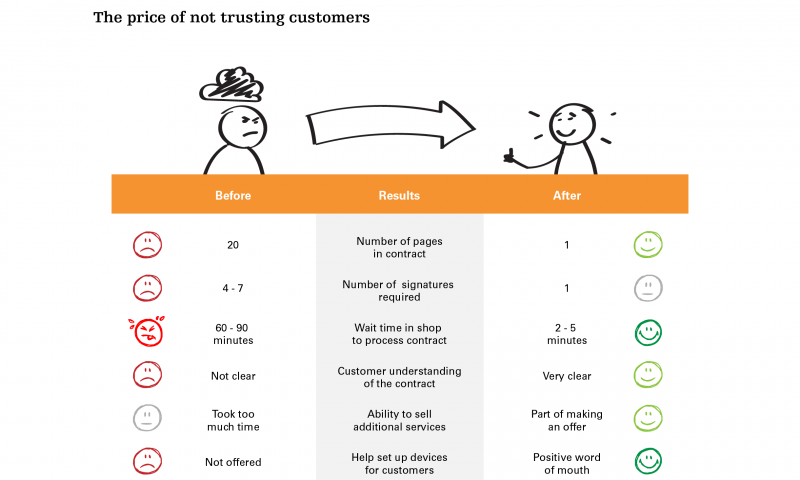 Mini story
The price of not trusting customers
A pan-European telecom operator addressed customer irritations such as "why do I have to sign 4 times for a contract" and "I've been a customer for years, why do I have to fill out my details". Taking the position of "we trust our customers" enabled the operator to significantly reduce number of transactions, approvals and signatures required for a contract. Customer experienced shorter wait times and no "work" when renewing a contract.
Act on what customers have been telling you
Dig up all the bad things an organisation does to its "poor" customers is not very inspiring and "fixing" problems often causes new issues to arise. It is better to respond to what your customers are asking and complaining about. Put resources behind clear opportunities for improvement, or finding innovative ways to service customers. This can yield a surprisingly high return on investment due to higher adoption by customers, less operational failures, or better informed and equipped customers.
Celebrate customer centric practices
In every organisation there are front line and back office staff who have ways of achieving great results for customers, despite flawed systems, processes and procedures. Recognising what makes a difference for customers and the business means that these practices can be adapted to work for other business units and departments. Livework leverages the experience and creativity of knowledgeable staff create and validate ideas. We help establish routines for organisations to tap into the key resource needed to build a customer centric organisation: empowered, knowledgeable staff.
Don't focus on measurements, focus on the practices
Customer centricity is not about benchmarking, or measuring customer satisfaction. It requires more than intent to place customers in the centre of virtually all decisions, processes and procedures. Customer centricity is about the day to day behaviours and practices of staff and management. Identifying and embracing customer centric practices can have a tremendous effect on a business' bottom line.