The benefits of being explicit on how immigration policy works

Unlike a commercial service, the Norwegian Directorate of Immigration's (UDI) primary goal is not to please individuals, but it still needs to engage them to succeed. If the engagement is poorly considered, then both the immigrants and the immigration service bear the cost in lost time, money and reservations. The service needs to be easy to navigate for an efficient and effective use.
This article by Liveworkers' Ben Reason and Anders Kjeseth Valdersnes was originally published in Touchpoint Journal, Service Design Network (Volume 5 Number 2, September 2013)
The experience of immigration is fundamentally defined by the policies that the country sets into law. Immigrants need to navigate these policies, which will define both whether they will be successful in their ambition to immigrate, and the rules they will have to comply with during the process. Identified below are seven steps to effectively designing for immigration policy and related procedures that are also applicable to other complex public services. The steps are derived from work conducted by Livework, a service and business design firm.
1. Start with the big picture
Early in 2012, UDI seized a golden opportunity: knowing that the following years would include organisational restructuring, new local offices, a new visual profile and a new website, the directorate wanted to ensure that the needs of its users became a common thread across all initiatives.
Livework took on the challenge to define the principles of how the UDI's complex service should interact with its users. To do so, we too, needed to start with an understanding of the big picture.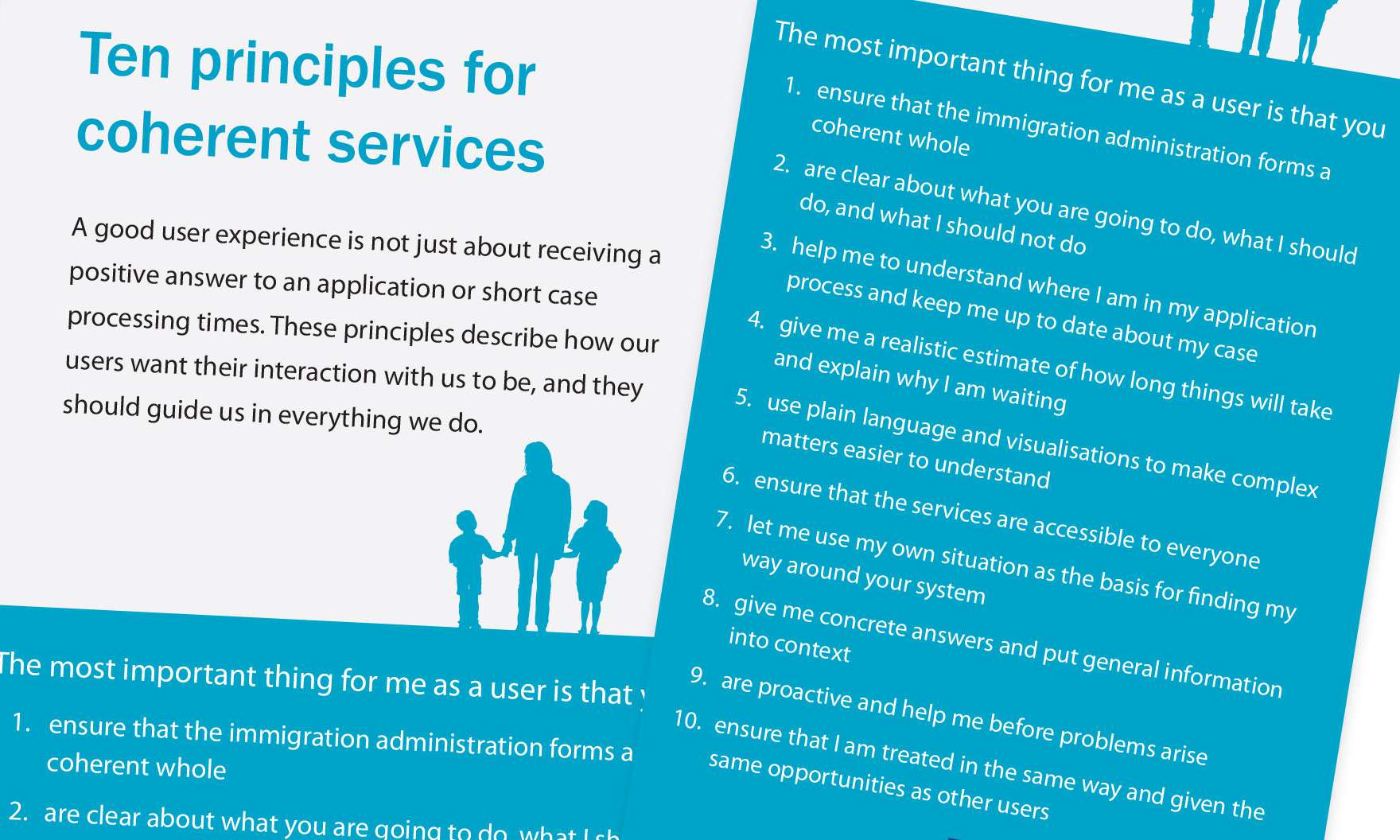 2. Listen! (even though you already know most of it)
It was evident that qualitative user insights alone could not do justice to the incredibly diverse group of people who are in contact with UDI every year, so Livework employed data and quantitative analysis. To find the patterns and commonalities across factors such as nationality, age and life stage, Livework ploughed through years of surveys, reports, and statistics. We looked at complaints, and joined service staff on-site to truly understand what frustrated people and how their experiences aligned with their initial expectations. For instance, one third of the users surveyed had major difficulties dealing with written language, a struggle that was not a surprise to the surveyors. How this difficulty affected the overall performance of the services, however, was less clear.
3. Design service independent of policy
Policy is determined by the Norwegian parliament. It is ever-changing and complex, creating a legal landscape that immigrants can find daunting. For instance, a husband trying to move to the country where his wife and children live can find it quite stressful to follow the process while trying to avoid costly legal mistakes. A clear solution to such problems is to change immigration legislation so that it is clear and simple. However, because this is out of the scope of service designers, the tremendous opportunity for UDI is to deliver its services in a way that makes the process understandable, predictable and easy to use, regardless of the policy in effect. For instance, for immigrants like the husband above, UDI employ specialist caseworkers to help them navigate the maze of applicable laws and amendments.
4. Identify and communicate clear service principles
Early in the project, Livework considered how we could promote our findings and conclusions to the whole organisation. We needed an approach to guide each and every decision that would affect the UDI service. To develop this approach, we needed to identify clear, logical and well-communicated service principles. Livework did so by consolidating the common themes of our work into ten principles that clearly outlined the most important considerations when developing and delivering services for UDI users.
5. Share the responsibility
Because of the nature of UDI's services, it is rare that users have a strong desire to use them. Its service is always one of necessity, and successful service design for UDI is very much about managing expectations. The task for every touchpoint in UDI should be to empower its users. Generally, in any system that is service related, being transparent about how the processes works is a good idea. When using a system that is the sole determining agency that decides whether a husband will live with his family or not, it is essential. Livework's recommendation was that UDI must, in all communication, be explicit about what it will do, what a service user must do and, of equal importance, what a service user must not do (for example: don't leave or continually reenter the country while your application is being processed).
Liverwork's other recommendation to UDI was that responsibility should be placed on the experts. As stated earlier, the directorate knows the rules better than anyone else, so it should take the responsibility to actively solve problems before they grow bigger. In addition, because it serves people from many different cultural backgrounds, it should ensure that everyone is treated equally and is provided the same opportunities regardless of the applicant's resources, network, understanding or persistence.
6. Be predictable
One of every bureaucracy´s perceived worst enemies is waiting time, and UDI is no different. It puts a significant emphasis on reducing waiting times and the caseworkers are under constant pressure to decrease the backlog of applications.
From a user point of view, it is well documented how most people perceive waiting: not knowing why you're waiting makes the wait all the more frustrating, and not knowing the length of time you will be waiting makes it feel even longer. UDI's users describe waiting as pressing the pause button for your life, and more than half of all contacts to their service centre were from users inquiring if there were any updates on their case.
Almost as important as reducing waiting time is being explicit on why and for how long the user will be waiting. The principles designed by Livework also guide UDI to give people notice when their case progresses, and provide the applicants easier ways to check the case status themselves.
7. Unite the whole service ecology
Livework's first principle for UDI was possibly the hardest one, asking it to make sure the whole immigration administration worked together. In one way, this extended far beyond the limits of its mission, but to become a citizen, people will need to deal with range of public services including embassies, the police and the government. Since UDI sat at the centre of this complex system, it was best suited to make sure each actor set the right expectations and that all agencies provided correct information to the applicants. Uniting such a complex organisational infrastructure around one set of principles is a very tough challenge.
Fortunately, after Livework developed the principles for UDI, the principles took on a life of their own. With dedicated commitment, the communication department and service coordinators promoted this list of its users' ten most important needs. All project mandates now needed to state benefits and challenges for users before receiving approval from the board of directors. The principles were now a part of every tender that UDI put out, making it obligatory for all vendors to follow and support the same path. UDI began spreading the principles through eLearning courses for all employees, also available to all embassies, which are most often the very first touchpoint for many new Norwegian citizens. This year, the principles will be transferred to The Ministry of Justice and Public Security, The Ministry of Children, Equality and Social Inclusion and The Ministry of Foreign Affairs, keeping the same goal in mind for a larger part of the service ecology.
The beginning of a long journey
The challenge for the UDI was to place users and their needs at the heart of service development. By committing the organisation to a shared set of principles, they now had a clearer view of what matters to applicants, regardless of policy. At the same time, the principles gave the whole immigration administration a shared language to carry out new initiatives. In summary, the Norwegian Directorate of Immigration is now better positioned to makes the process of becoming a new citizen less painful.