The COVID-19 crisis demands that we constantly shift our perspective between macro and micro, from concepts like exponential growth, social distancing and mortality to the experience of illness, loneliness and bereavement. It also requires a balance of attention between the present and our prospects, from addressing urgent needs to shaping sustainable futures.
This article explores ways to animate high level systems concepts with insights from human experiences. We use a lifecycle framework to integrate these two views so that we can collectively adopt behaviours and use services that can sustain us through this crisis as we navigate our way forward.
It is not a finished product, it's an invitation for collaboration. Please contribute, edit, signpost, borrow, and remix.
Combining high level systems concepts with insights from human experiences
Much of the official information about the COVID-19 outbreak is offered in system, population or medical terms. Governments have published fact sheets and high level recommendations on concepts like social distancing. Journalists have also contributed to the public understanding of the virus and potential courses of action. Tomas Pueyo for example, wrote a very clear and argued piece about "why we must act now". All these sources inform the actions of individuals and public and private organisations. 
In addition to these sometimes abstract perspectives, we encounter personal stories on social media that reflect the lived experiences of citizens, parents and healthcare professionals. Unfortunately, these personal perspectives end up buried, fragmented and lost, rather than embedded into a system where they can be discovered and used to inform and scale the efforts of decentralised communities and centralised authorities. 
The system and the human views appear to be developing and documented in parallel, rather than being integrated. As a result, systems-level responses can often neglect the human experience, and more individual human originated solutions can fail to sustainably scale to support others. Ineffective services and unnecessary duplication waste critical time and resources, and prolong unnecessary suffering.
A lifecycle framework to integrate the human experience
How can we combine the human experience layer with the frameworks and recommendations established by government institutions? We tried to make a start by drafting this lifecycle framework . The lifecycle describes the key phases people move through during a pandemic. By taking this end-to-end perspective we can proactively look ahead and anticipate people's experiences, needs and challenges in the phases to come. We can connect lived experiences to the systems they animate, and connect existing solutions (local or international) to the needs they meet.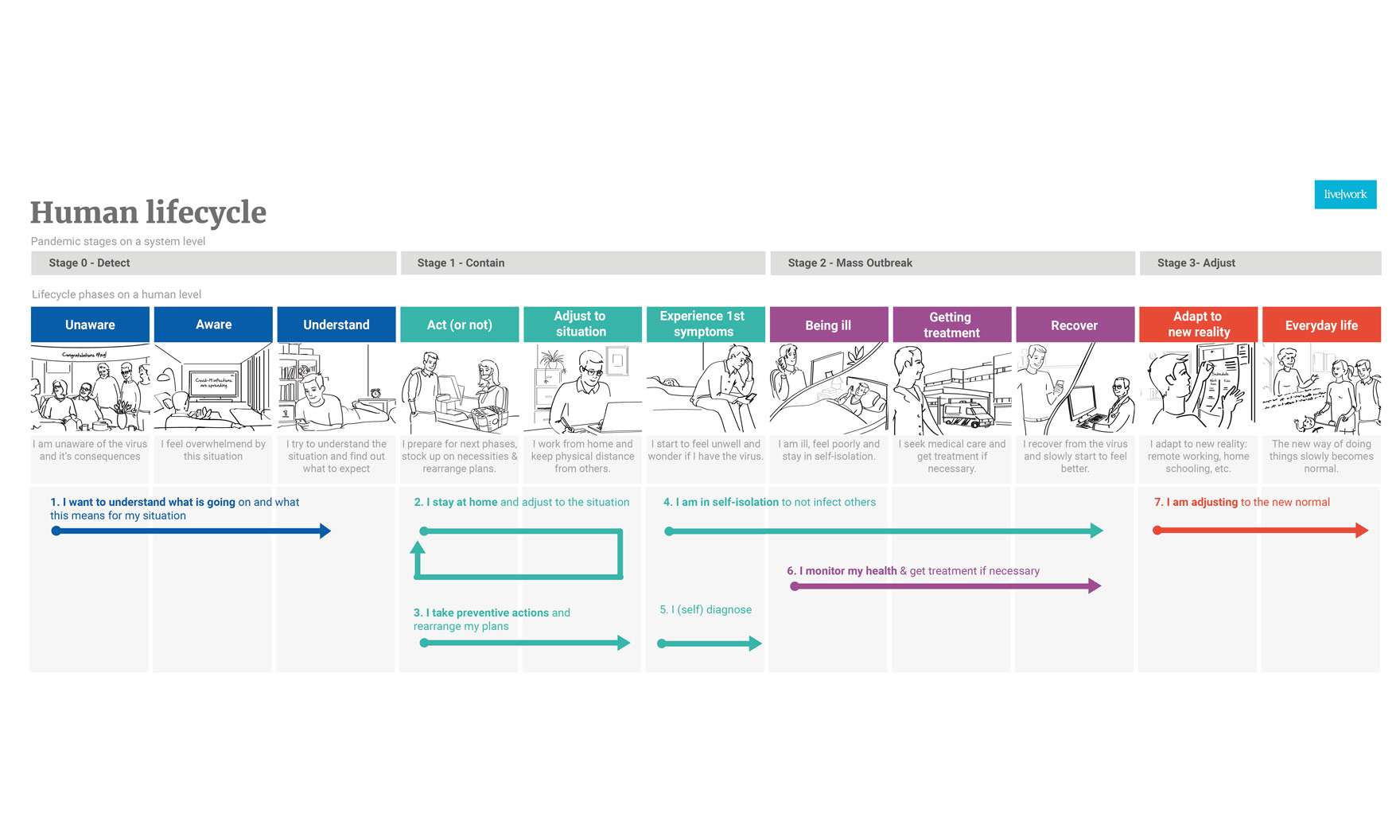 The phases and key journeys describe a "generic citizen" experience: What do they feel, think and do? What do they need? The overview is in no way complete or comprehensive. There are many different journeys, actors and scenarios involved in this crisis, and they should be articulated by the broader community of users, researchers, designers and delivery organisations. Ultimately, we would like to map the unique experiences of healthcare professionals, key workers, parents, carers, vulnerable individuals, business owners and policy makers. We are also interested in articulating the collective journeys of households, colleagues and other kinds of communities. But for now this is a start – based on a combination of personal stories from social media, our experience in the healthcare sector (working with PHE and the NHS), and input from the behavioural science literature. We thought it would be best to open it up in its raw form because we hope other teams are doing the same and there is an opportunity to join our efforts.
Pivot from reactive, fragmented initiatives to proactive, integrated services
Creative, social and smart initiatives are popping up to rapidly respond to people's needs. For example, online symptom checking services are created to alleviate some of the fears experienced by people who think they are infected, and to support healthcare workers to identify and advise those who are most at risk or in need of medical support. 
We have been collecting initiatives and services in a detailed overview of the lifecycle . Many of these initiatives have grown organically rather than systematically. Different teams/authorities/countries have been trying to solve similar challenges from scratch. As countries are in different stages of the pandemic, we have the chance to share experiences, observations and initiatives that may be of benefit to others. By actively sharing we can pivot from reactive, fragmented initiatives to proactive, integrated services.
Understand the shift in human behaviour
To develop and deploy services that can support people through the changes in the difficult days ahead requires more than copy and pasting successful examples. It is essential to incorporate the effects of the unique context, situation and differences in behaviour. 
For example, we have seen rapid technological developments to create contract tracing services to stop the spread of the virus. Inspiring examples from Singapore and South Korea are being reviewed while privacy experts try to find ways to make this service compliant with Western European privacy regulations. While the technology and privacy aspects are important, we should pay equal attention to the human experience. How are people going to adopt the service, trust it with their data and comply with instructions?  
 We are in unfamiliar contexts and in a period of time where people are out of their automatic behavioural patterns. We are looking to collaborate with organisations to understand how behaviours and needs are changing and how they shape the ever evolving new 'normal'. How will people work, travel, eat, manage their health and spend their leisure time in the future?
An invitation to contribute, edit, signpost, borrow, and remix.
For us, this first draft creates some structure and hopefully helps our community and clients to understand, prioritise and act. It is not a finished product. It is a framework to build on together so we can make best use of our time, energy and resources. 
We invite you to share the best information, initiatives and services you know of and add them to the lifecycle. We can collectively create resources to support both centralised and distributed teams and communities as they navigate the present and shape the future. We can help adapt proven responses to unique environments and populations. We can also help public and private organisations be more joined-up in their initiatives and proactive in their outlook, so that our collective time and energy can be strategically apportioned to address diverse needs in the short, medium and long term.
Please feel free to add user research, create additional detailed lifecycles, borrow the structure, or otherwise remix this work to meet the needs of the communities you serve. If your organization is considering how to respond in these uncertain times, we are happy to hear from you and work together.
Join the Community Collaboration Session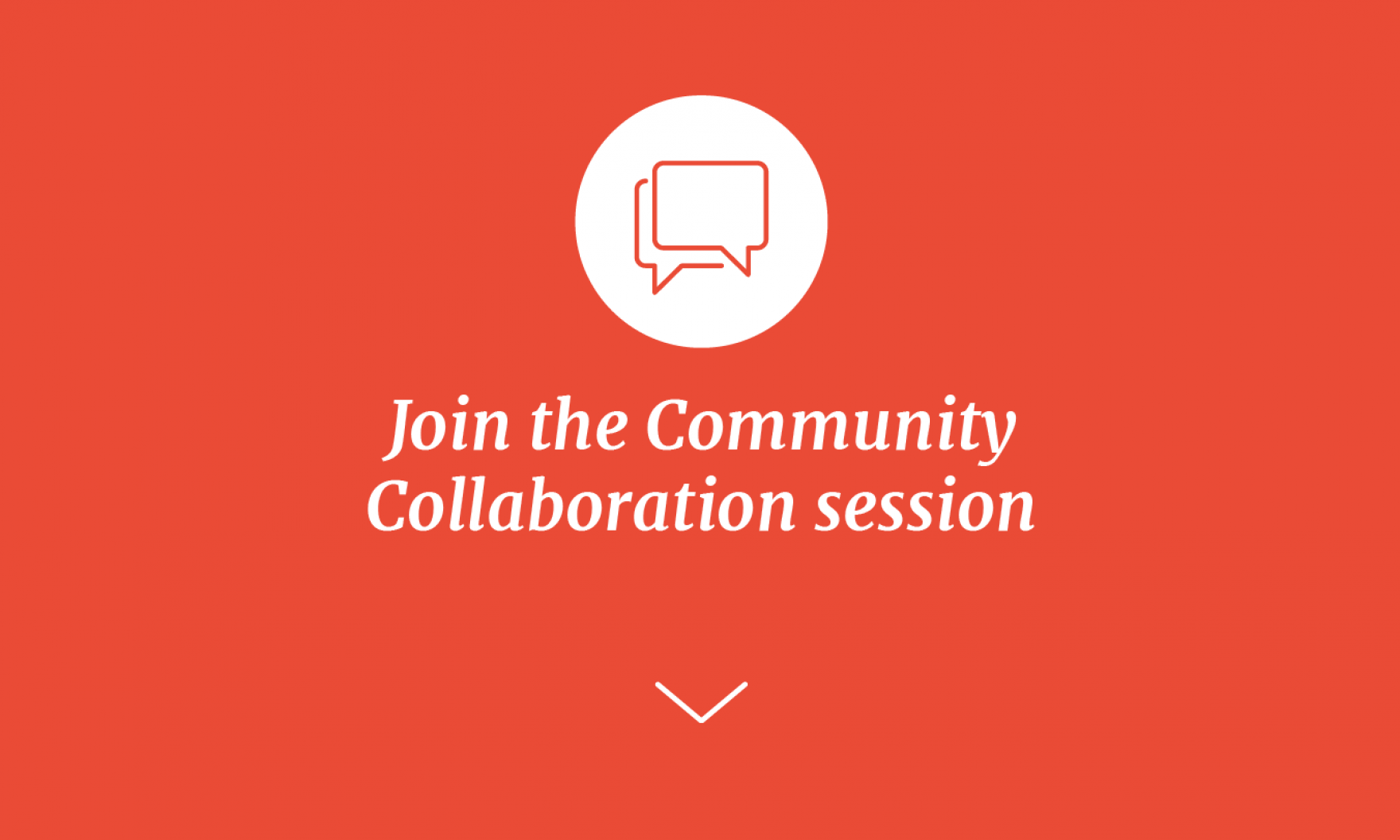 Join the Community Collaboration Session
We have seen great responses to this article.
We would love to encourage the application of the ideas and tools. We are planning to host a Community Collaboration Session on 30 April 12.00-13.00 BST.
Objective: Build a collective high level view of live and planned projects and services, connected to the needs they meet across the journey.
Outputs: A map of projects, initiatives and teams.
Outcomes: Improved alignment among organisations addressing the COVID-19 crisis. Strategic allocation of resources within and across organisations. Less duplication of effort, more sharing and collaboration. Awareness of examples and resources to build on. Highlighted underserved populations, needs and journey stages. Improved efficiency and quality of work.
Are you willing to contribute? Please let us know, so we can see if we can reserve you a spot. You can sign up by sending an email to contact@liveworkstudio.com