CX professional: are you the low hanging fruit, or do you pick it? Customer Experience teams can be invaluable for the organization right now. Too often, however, they are not strategically positioned to make a difference, resulting in them being the low-hanging cost-cutting fruit, rather than pointing it out.
But do not worry, if you do it right you will come closer to your goal in these times: a customer-centric foundation under meaningful, data-driven savings and investment decisions, prioritization of strategic initiatives and operational excellence.
Are you the low-hanging fruit or do you pick it?
Society is slowly opening up again, but much is still uncertain. The only certainty we have is that an economic crisis is inevitable. How deep and for how long? That is yet to be seen. We all know what an economic crisis means: increasing unemployment, consumers who spend less and companies that invest less. And once the government aid ends, cost savings in many cases become unavoidable. Of course there are also winners, but the pie is irrevocably (temporarily) smaller.
Cost savings become the sacred goal. The marketing budget is often the first to be cut, whether or not that is the wisest thing to do . At the same time, the major operational and investment budgets come into view. High cost-saving initiatives are prioritized. The effect on the customer experience is forgotten for the sake of convenience. Often because it is unclear what the effect is or is seen as "nice to have". CX is not strategically positioned, despite the fact that customer focus can be found in all strategic parts of the organization. If you don't pay attention, the customer experience will be greatly damaged.
On the other hand, if you do it right, you will create a customer-centric foundation for the organization and you will emerge stronger from the crisis as an organization and a CX team. It is important that you now get out of the starting blocks and point out where the low-hanging fruit is, instead of being it.
Forget what you know and kill your babies
Before getting started, it is important to be aware of the fact that everything you gave credence to prior to the corona crisis should now be called into question. A lot has changed as a result of the shockwave that has ripped through society and the world. Your customers have also been affected. At a time where nothing is certain, this also applies to many of the "truths" that you have acquired in recent years.
This means that you have to be prepared to "kill your babies". Projects that you have been fighting for for years may not be the right projects in this new reality to make a difference for the customer and the organization. If you cling on to what there was before the crisis, chances are that you will neglect what CX stands for.
Instead of relying on what you think you know, as CX experts, you can be of tremendous service to the organization right now, based on evidence, to discover new truths and use them as the basis for the short and medium term strategy.
Step 1: Back to basics
The first thing a CX expert has to bring to an organization is the voice of the customer. It is therefore wise to ensure this voice is heard loud and clear. Nobody knows what the facts are currently, so it is best to bring them to the table.
Satisfaction measurements and NPS surveys serve as a basis, but are not enough. Customer behavior has probably changed. It is therefore important to map out how and to what extent. Among other things, you want to know whether more or less use has been made of certain channels and touchpoints. And whether this mainly concerns interactions of customers or of non-customers. Whether certain products and services are more or less popular and whether they are used to a greater or lesser extent. Which customer journeys show the most changes and can it be expected to be temporary, or is it sustainable?
You can make good use of a customer lifecycle and journey framework for this analysis . If you don't have that yet, now is a good time to lay that foundation. With a few workshops and some preparation you can create a good starting point in Excel, for example, so that everyone in the organization can work with it. You can also start with an important journey, but ask yourself how convinced you are that this is still an important journey.
With the framework you can quickly identify where the impact of the corona crisis is greatest. It is information available throughout the organization, not arranged by silo, but from the perspective of the customer journey.
From the moment you have this data gathered in one place,  it is in my opinion important to continue to monitor the weekly development in a dashboard. This way you can spot trends and continue to feed the organization with this information.
Step 2: Co-create short-term interventions that serve the customer and the company
With information regarding changing customer behavior and experience, you are not there yet. The business itself undoubtedly has other priorities from before the crisis. You also need to map these carefully to take them into account when determining where (and when) investments in CX interventions are necessary or justified. 
I like to combine all these and the data from step 1 in the matrix below by Bill Price (Author of The best service is no service ) to go from data to insight.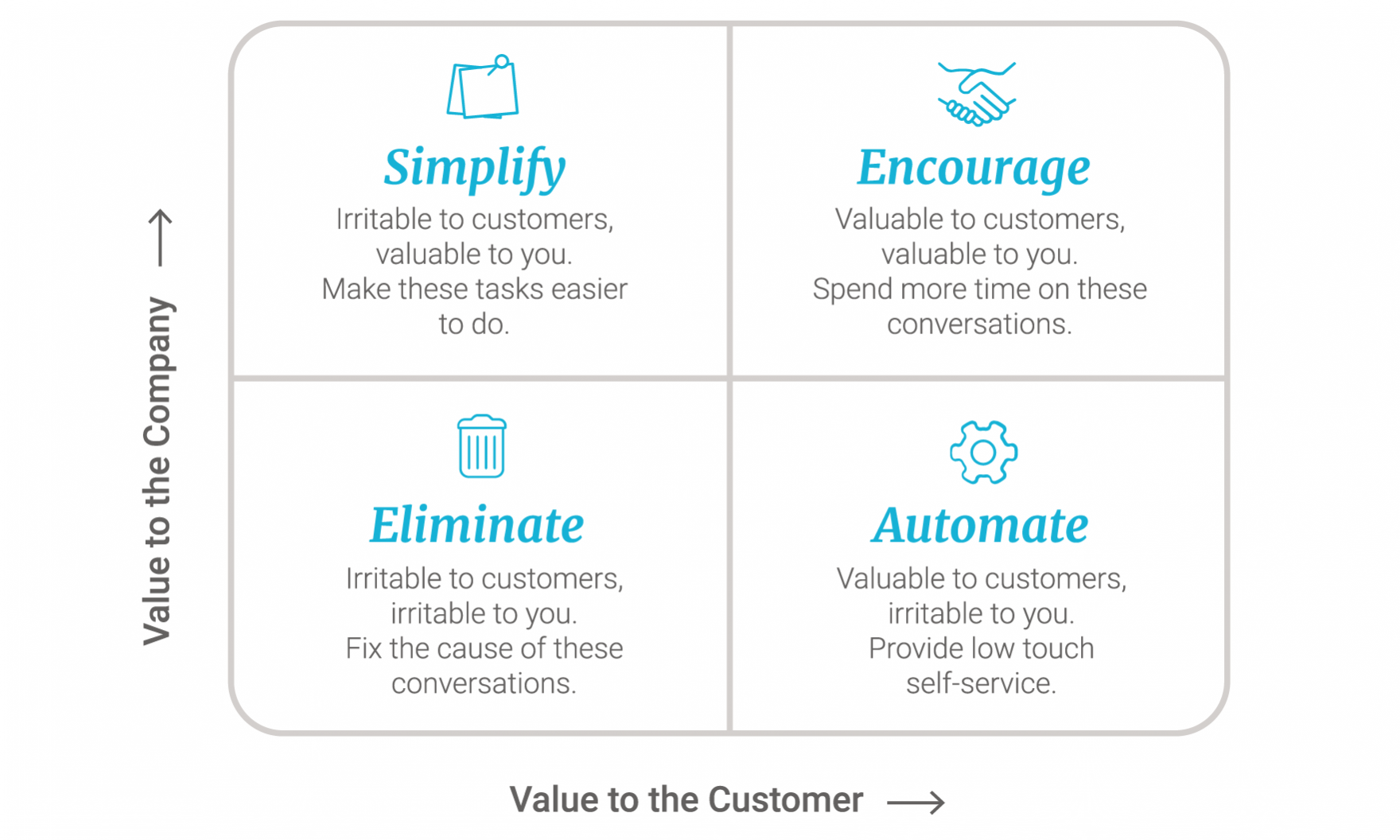 In this matrix, all (common) interactions / journeys are plotted onto two axes: value for the organization and value for the customer. The beauty of this matrix is ​​that it becomes apparent that both interests can be united and the desired strategy per quadrant is very clear. This gives the organization guidance in times where it is lacking.
Bring as much hard data as possible to properly fill in the matrix. Moreover, hold workshops with internal stakeholders and, for example, carry out interviews or a focus group with customers, to include qualitative information in your scoring model.
Once you have completed the matrix, you can – again together with your stakeholders – develop a roadmap of interventions that will have an impact this year for the customer and the organization (the low-hanging fruit). It also serves to stop on-going initiatives that have insufficient impact. This way you free up time and money for those things that really matter now.
There are undoubtedly things on your wishlist that have more structural impact, but only for the longer term. Since there is still so much uncertainty about what the future holds for us, it is possible to make wise decisions about them later on.
Once you have completed the roadmap, use the rest of the year to actually implement the interventions, monitor developments and work on a fundamental review of the medium-term vision and strategy.
Step 3: Develop a way of working that facilitates decisiveness
Once the first steps are carried out correctly, the CX acquires an important role in informing decision-making regarding interventions and investments that directly affect the Customer Experience (and which do not?). 
When the crisis is overcome, people and organizations like to return to the old familiar ways of working and making decisions. In order to achieve your goal, it is important to go through and make the tools that you have developed (the life cycle and journey framework, the CX trend dashboard, the matrix and your priority scoring model) structurally part of the way in which your organization makes decisions.
This way of working together to make choices also deserves constant attention. Think carefully about which stakeholders should sit at the table and who should be involved in the decision making process. You do not concentrate on customer focus alone, but together. By giving CX a clear strategic role in the governance of your organization now, you are laying a solid customer-centric foundation that you will benefit from for a long time to come.
Step 4: Prepare for the next phase with service scenarios
If you start with step 1, there will undoubtedly be people in the organization asking you for a clear north star. The main reason that you don't start by defining the north star is that valuable time is lost to have an impact in the short term. In addition, the first three steps give you the data, insights and support needed to define a good shared vision and strategy. Service scenarios are an excellent starting point for this. 
On the one hand, service scenarios offer a (visualized) vision of the service and service concept of the future, while keeping open various options or possibilities that depend on the way the future unfolds. Think, for example, of options that are only developed when it is clear at what speed new channels are sustainably embraced, or that certain products show growth. These scenarios then serve as the basis for experiments that help test and validate assumptions in your scenarios in the real world .
 The figure below shows how this could work from our own practice: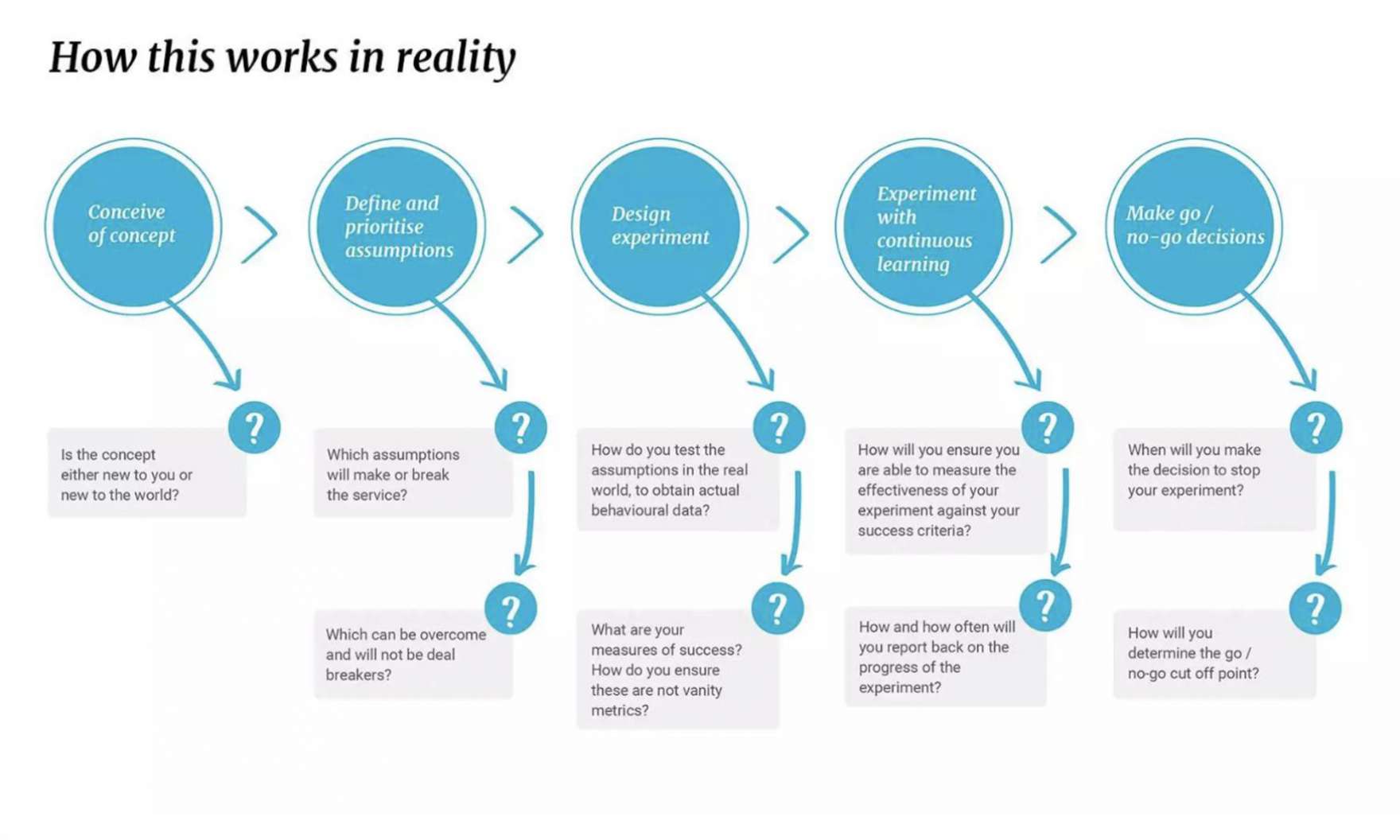 Supplemented with data on volume scenarios, estimated investment needs and potential returns and savings, service scenarios provide a good basis for budgeting towards 2021. And if one thing is certain, it is that budgets must be drawn up even in uncertain times.
The world in 6 months
What will the world look like in six months? Who can tell? CX teams and their managers / directors now have the opportunity to take a solid step towards a customer-centric organization. By using the only "truth" that everyone can support: the behavior and perception of the customer. By directing the customer-centric reorientation of short-term investment and savings priorities of the organization. By orchestrating widely supported decision-making around medium-term service scenarios, vision & strategy. 
By jumping into the gap uncertainty creates, a customer-centric organisation may get a lot closer within 6 months.