In the past, brands were built through brand communications. Today's customers don't just trust mass communication, but reach out to personal networks and social media to get informed. Brands need to connect with customers through what they do, not through what they say. In today's market, investment in servicing customers is what builds or enforces the brand.
Service experiences that stay on brand
Customers have always trusted each other more than they trust big organisations. The difference today is that they have the means online to share good and bad experiences. As a consequence, organisations must make sure that every service experience stays on-brand. This is not limited to luxury products where premium service is expected. Mainstream companies can damage their brand with poor service, or enhance their appeal with better than average service.
Use the service – experience the brand
Brands are created through experiences. A brand experience starts the moment a person becomes aware of a brand and it only really becomes a meaningful experience when people actually use the product or service. Build the brand into services and you can strengthen the brand through customer interactions such as returning goods, following up on questions, and changing a contract.
Create branded services that stand out in the market
The art of manifesting brands in physical products like cars or mobile phone is highly perfected. However, organisations in the service industry, such as banks and telecoms businesses, can improve in connecting their brand to their offer. By making the service stand out – especially in areas where service experience is poor across the sector – people will start to link your brand to your service.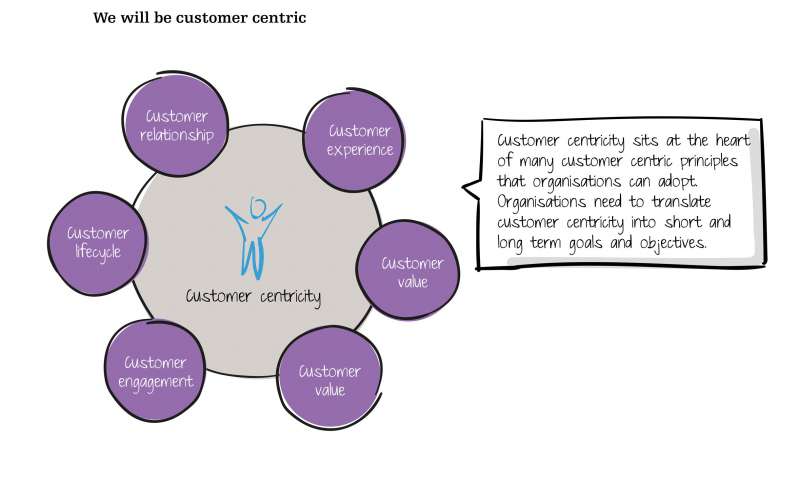 Mini story
We will be customer centric
Truly customer-centric organisations need the backing of both staff and customers, which can be built through corporate policies, internal processes and systems. Customer centricity may lead to cynicism if it fails to secure sufficient attention and long-term commitment from senior management.
Branded online and mobile experiences
The online customer experience is dominated by what the customer expects and how well the site supports in finding information, helps in making decisions or supports the sales process. Pretty branded web graphics display do not enforce the brand, but well designed tools to diagnose and resolve issues have major impact on customers' perception of the brand. The brand experience should diminish when customers access the site through mobile devices and apps.
Branded call centre experiences
When you phone a company for support and their first question is "What is your customer number?" – how does this represent the brand? Any customer recognises staff that really represent a brand value. Sometimes efficient – and impersonal – transactions are exactly what customers want from a brand, but generally customers prefer agents that believe in their organisation and have a genuine sense of purpose in their job. By making sure that brand values are embedded in training and routines, every conversation can meet the brand expectation.
Branded retail experiences
The visual appearance and physical setup of a retail environment affect customers' experience. However, more important is how a shop allows customers to experience what the brand offers.
A store must enable and promote interactions that are closely aligned with the brand values. A personal bank must offer spaces for personal communication. A helpful electronics brand must offer a great help desk. A technology brand must give you a space to interact with the technology and tech-savvy staff.
Return on service
Services that stay 'on brand' in all customer interactions easily earn recognition and trust from those customers. Staying 'on brand' is not easy, it takes serious commitment from across the entire organisation – from top to bottom. Done well – branding specific service experiences – it is cheaper than mass communication and impossible to copy by competitors. The reward for consistently setting and meeting expectations on brand values is greater brand recognition and appreciation.