By using empathy, creativity and collaboration.
We have an 'action gap' with sustainability. As reported by the Financial Times only one in ten executives feel they have an 'actionable' sustainability strategy. This article argues that this can be addressed by taking sustainability out of its silo and into the organisation as a whole. To do this we need to also move from accounting and measuring to innovation and implementation.
Organisational change has always been hard but the sustainability transition is another scale of difficulty. Sustainability leaders need all the help they can get and should be able to share the responsibility. We believe that the world of design and innovation must do all it can to enable sustainability to jump the chasm into mainstream business. We know that the challenge is so hard that it can be paralysing and that existing business models can feel like immovable objects. This is why we need the qualities of empathy, creativity, and collaboration to unlock solutions, to translate goals into action, and to speed change.  
We set out to better understand the organisational challenge sustainability poses and what is needed to speed up action. On the back of work with clients from a range of industries, collaborations with two universities (UCL and TU Delft), and expert testing of some initial insights, we have developed a framework for how empathy, creativity, and collaboration can approach the challenge, we call this the three velocities of a sustainable transformation.
Organisations need to approach their transformation to a sustainable future in three modes of action:

Understand

— Gain a deep shared knowledge of the new reality and the challenges ahead across the entire organisation. 

Accelerate

— Design and implement high-impact solutions – fast.

Prepare — Get ready for a volatile world and navigate possible futures innovatively.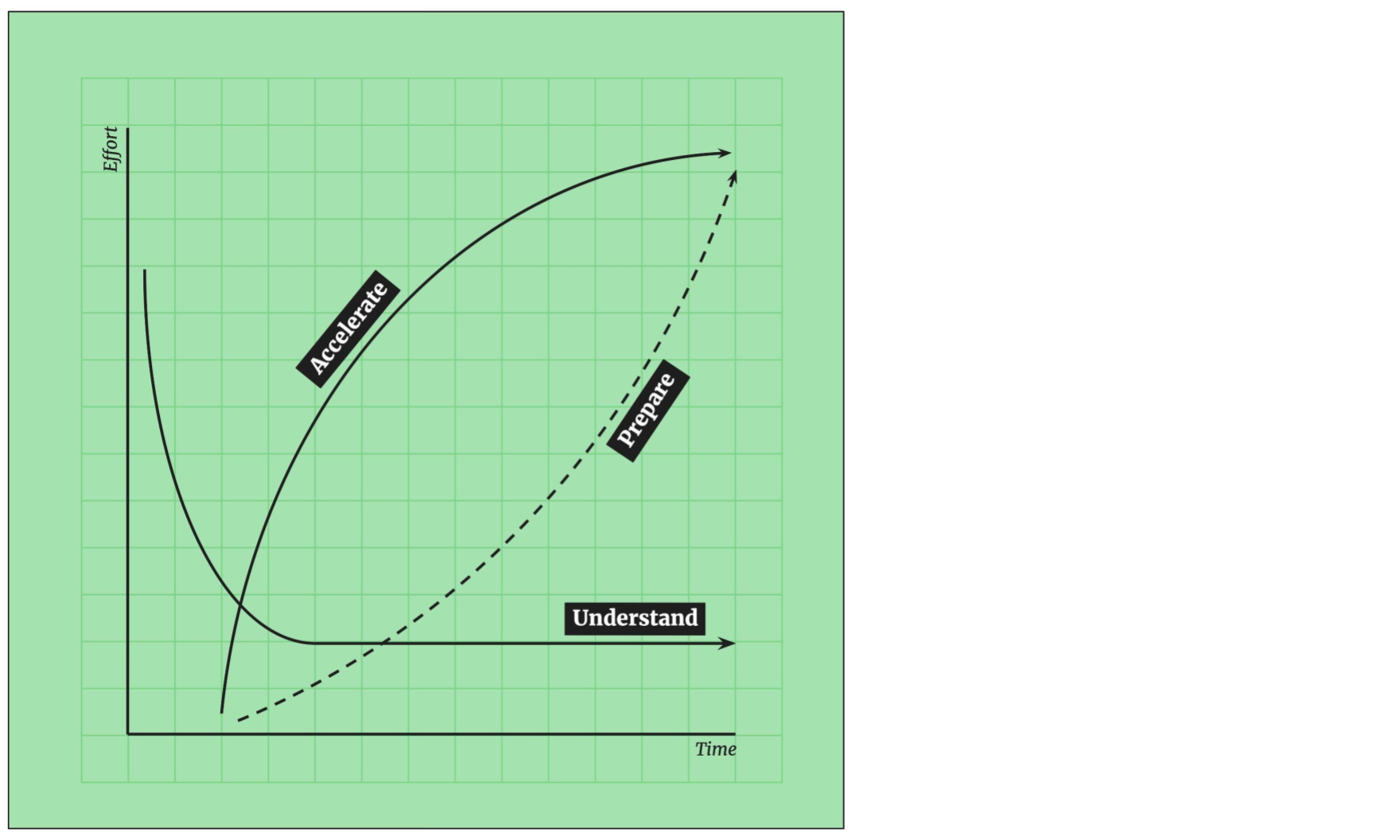 These three velocities allow organisations to tap into different energies, timescales and paces of change to be able to navigate the volatile times we live in. 
In this first article out of three, we will focus on the first of these velocities – understand. Why is it needed, what is its value and what are the key activities we propose. We will add some examples from practice and define the role we think design should play.
The first velocity: Understanding the new reality
A deep understanding as the foundation for change
Gain a deep shared knowledge of the new reality and the challenges ahead across the entire organisation and define what must be done.
The world has profoundly changed. People are no longer debating whether the ecological crisis is the result of human actions or not and companies across the world are taking responsibility for their ecological impact by pledging to go Net-Zero. Sustainability is no longer something businesses choose to embrace or not, it is imperative to remain relevant. 
This means, the time for executives to rethink their organisational approach to sustainability – from assessment to action – is now. The foundation for picking the right path is a profound understanding of:
 How did we get here — what is the ecological legacy?

What the transition really looks like for our sector? And,
How does this impact our organisation and business model?

This needs perspective and reflection. Asking these questions can be uncomfortable or even distressing as they seem to be in conflict with the current business model, the organisational architecture, its underlying physical and digital infrastructure and our mental models of how the world works. In every business embarking on this journey, there is a need for an organisation-wide mindset change and a vision for a business model that restores rather than harms. 
In a recent survey asking our clients and network to reflect on the challenges they experience in "understanding". The top two answers were:
This corroborates our experience that the understanding of the demands for a sustainability transformation is still located in a subset of the organisation. The ESG/sustainability team and perhaps some key executives and strategy people.
We can see this problem not only in focus but also in the setup of the sustainability efforts. Many organisations set a net zero goal at the board level and task a small team of sustainability specialists to baselining the carbon emission measurement of the entire operation and direct action. This leaves the sustainability team overworked and under-supported. Meanwhile the rest of the organisation is in the dark as to what they should do to contribute to reaching this goal, or directly fighting against it as they strive for sales targets. Sustainability needs to break out of the sustainability team and become a collective priority for the whole organisation.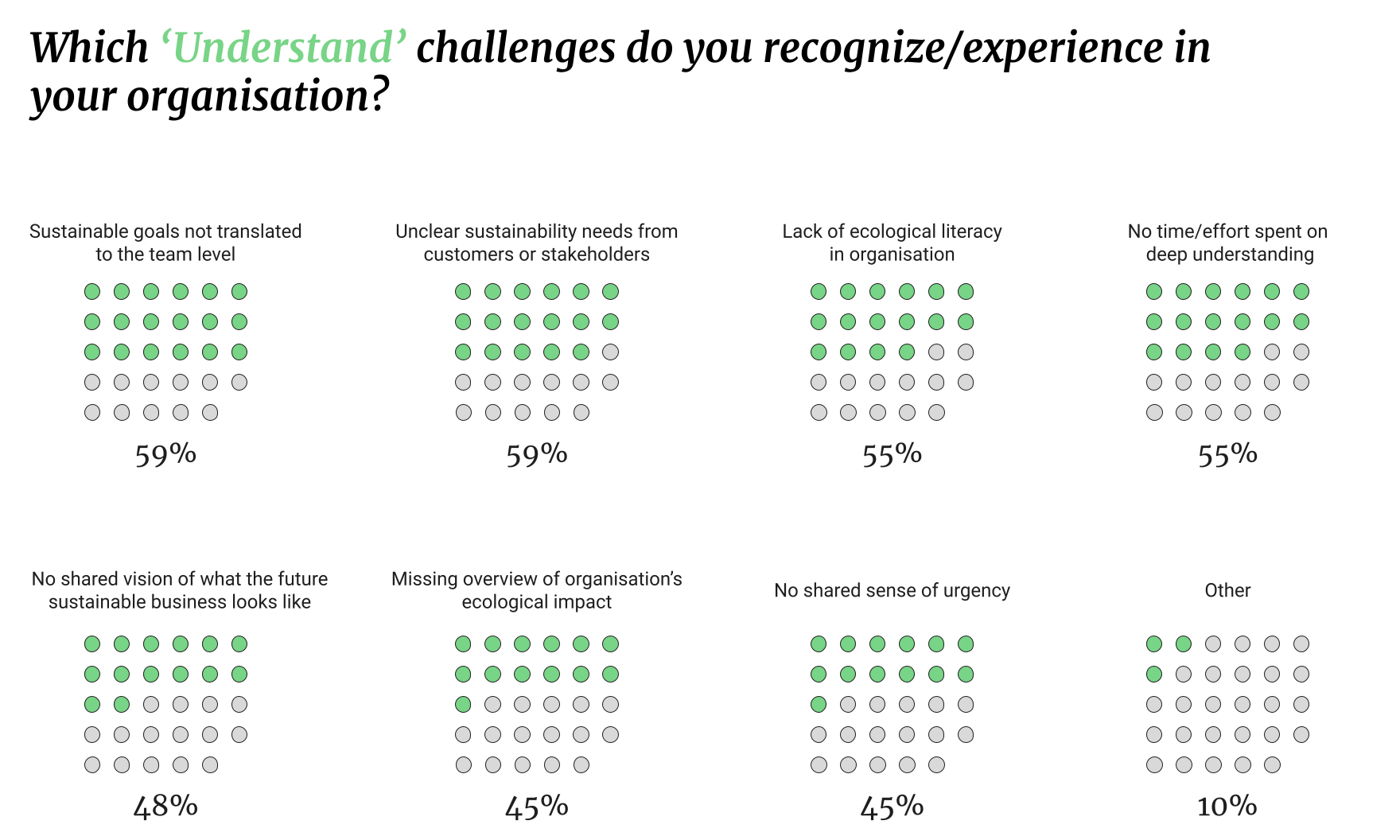 This means that sustainability is not reaching out into the wider organisation and becoming the collective priority that it must become. As Project Drawdown argues, every job needs to be a sustainability job. Connected to this is an equally uncomfortable feeling that customers and stakeholders are not part of this understanding either. They are neither questioned on their needs, abilities, motivations, or barriers to change nor taken along in the activity of understanding and reframing business value vs. impact. If a business is to make a change, taking your customer with you and gaining the support of stakeholders such as suppliers or investors is clearly critical. 
Building on this are the 3rd and 4th highest-rated answers in the survey:
These answers reinforce the point that sustainability is still in a bubble and is not the lifeblood of the business in the way that products or sales are. The challenge is how to undertake the necessary blood transfusion.  
We believe that the next essential step for sustainability is to engage the whole organisation in understanding the challenge and defining action. This activity will translate the goals from an organisational level down to teams and individuals. It should develop a sense of agency and uncover a range of solutions that cannot be developed by one team alone. To begin this engagement all employees will need to understand the nature and scale of the challenge and the change ahead. They can then develop an understanding of what is possible, probable, and preferable for the future and use this to inform their contributions to the overall strategic effort. 
In addition, the engagement required must branch out beyond the organisation to customers and stakeholders in value chains and at a sector level. Everyone involved will need to understand the situation and its implications – and mostly, what they can do to be a part of the transition.

Sustainability leader Mike Barry agreed stating that he saw companies getting clear on the challenge and the implications and needing to move into the engagement phase to get things done.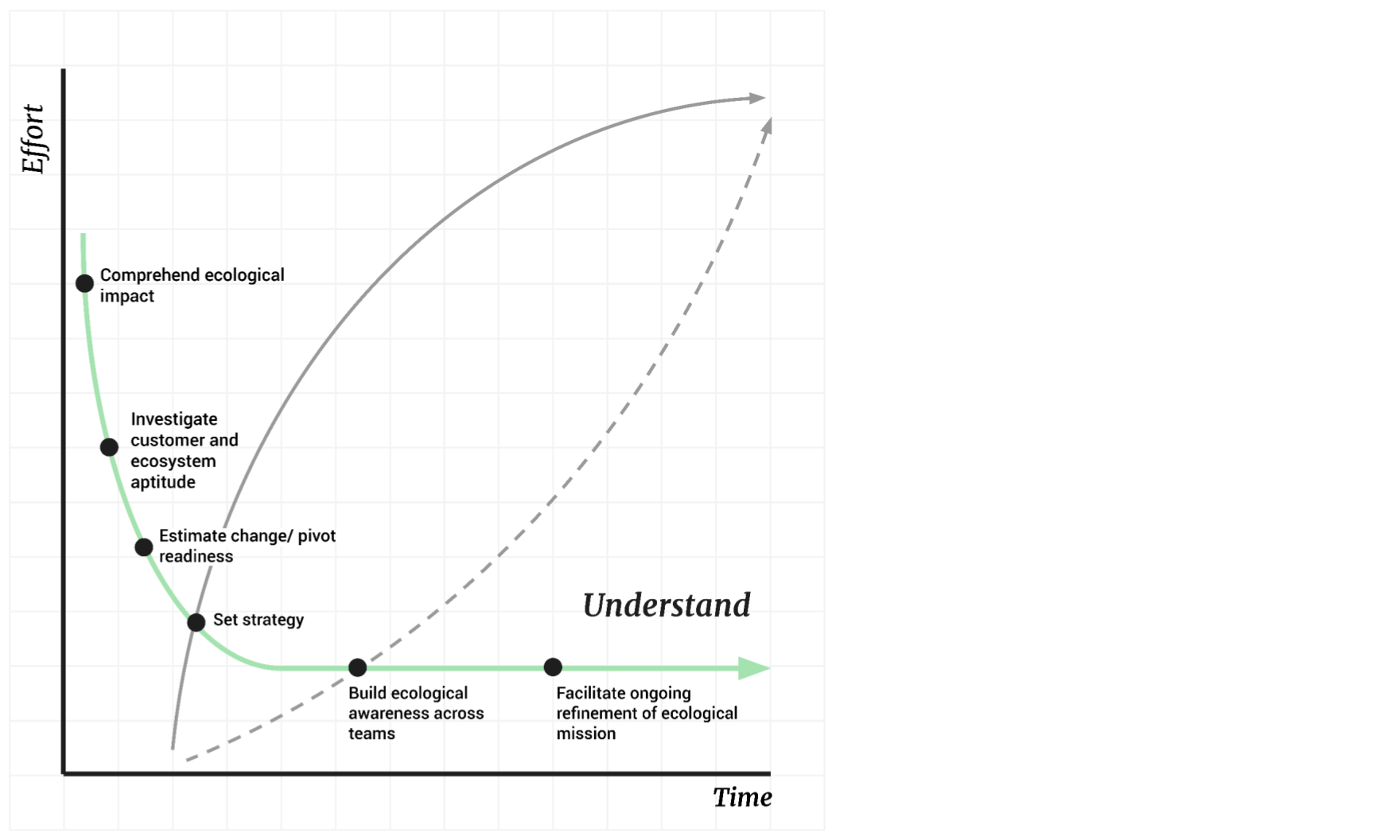 How do we approach this challenge and grow more understanding?
Doing this work, and asking these questions can be uncomfortable or even distressing. We see the need for people across organisations to tune in to this new reality together. Creating a space to learn, discuss and reflect on what it means for them, for the business, and how it must translate into action. 
Creating a safe space to engage and reflect
Firstly through engagement – staff, customers, and stakeholders need to be engaged in the transition and the risks and opportunities it presents. They need time and facilitation to translate the challenge to their roles. They will need to understand core sustainability science and its implications. Equally important is the ability to explore and be creative to interpret the strategic challenges in their roles. 
This must be done with empathy. Any change is hard and this transition is so daunting that many of us want to avoid it altogether. People need to not feel judged and to be able to express their fears.
Understanding the sphere of control, the sphere of influence, and the wider system dynamics
We believe that understanding the system and your place in it can help to understand the nature of the challenge. Then individuals and teams can work on what is within their reach and act. This creates a sense of agency without individualising responsibility.
Understanding inside out and outside in
As we said, we think that empathy is essential.  An understanding of all the stakeholders – team, customers, value chains – to know their needs and pains will help us to be more sympathetic and creative in our responses. This applies even more so to customers and stakeholders where there are greater gaps in our knowledge of their situations. All this should be underpinned by an accompanying empathy for the wider ecological systems that we are a part of and wish to come to a more sustainable balance with. 
Defining a strategy
Organisations should aim for a wide engagement with all teams and stakeholders to build a comprehensive strategy for how they will meet their sustainability goals. Ideally, a vision will be assembled from the contributions of many parts of the business to create a collective idea of the future everyone is working towards.
What does this look like in practice?
Livework achieves this by helping teams translate corporate goals into actions, priorities, and roadmaps. Our clients have been able to apply specific domain expertise to identify ways to turn goals into strategy. Alongside this, we have ensured that the team sees this understanding as an ongoing process of learning and strategic navigation by establishing communities and governance forums. 
The digital delivery team within a global logistics company wanted to understand how they could contribute to the sustainability goals of their business. They needed to understand the specific challenges for their sector, the inflight initiatives, and the role they should play in achieving corporate sustainability goals. On the back of this understanding, they wanted to define their priorities and develop a governance model for how to maintain this new sustainability focus. Livework helped them by:

Facilitating a deep dive into the ecological challenges of their sector, the running work by (sustainability) colleagues, and the commitments of the business and other leading businesses. 

Mapping how the digital team contributed to the critical sustainability impacts of the business and examining the potential mitigations.

Developing solutions to support these mitigations and prioritising them based on a prioritisation scorecard

Defining a model for governing ongoing development and review of this strategy

Building a community of practice to explore and define how their sustainability work fit into the work of the wider organisation
 Through design activities, they translated these goals into opportunities for impact. They defined actions they could take for each opportunity aligning with the company strategy. This way it became clear how they would play their role in the transition. The team went from primarily delivering on commercial business priorities to a more balanced approach where they were also designing for sustainability outcomes. 
Understand as the basis for strategic action
Three takeaways:
Sustainability must jump out of the sustainability team and into the organisation as a whole to tap into the collective empathy, creatively and collaboration required to act 

Teams and individuals should be facilitated to translate sustainability goals into actions for their domain and area of expertise scaling up the innovation effort

Attention must also be made to expanding this engagement outside the organisation to include customers, suppliers and competitors.