The onboarding experience
The onboarding process is a high impact phase early in the relationship between an employee and a company. Nailing it will provide benefits throughout the entirety of an employee's stay with a company. A good onboarding experience has been shown to offer a wide range of benefits including improved retention, job performance and employee satisfaction. Through a mix of cognitive science and service design, we have developed an approach to deconstruct, analyse and intervene to enable employees to reach their full potential within a short timeframe. A well designed onboarding experience can reduce the learning curve, setting up employees to be more productive faster, whilst increasing their level of happiness.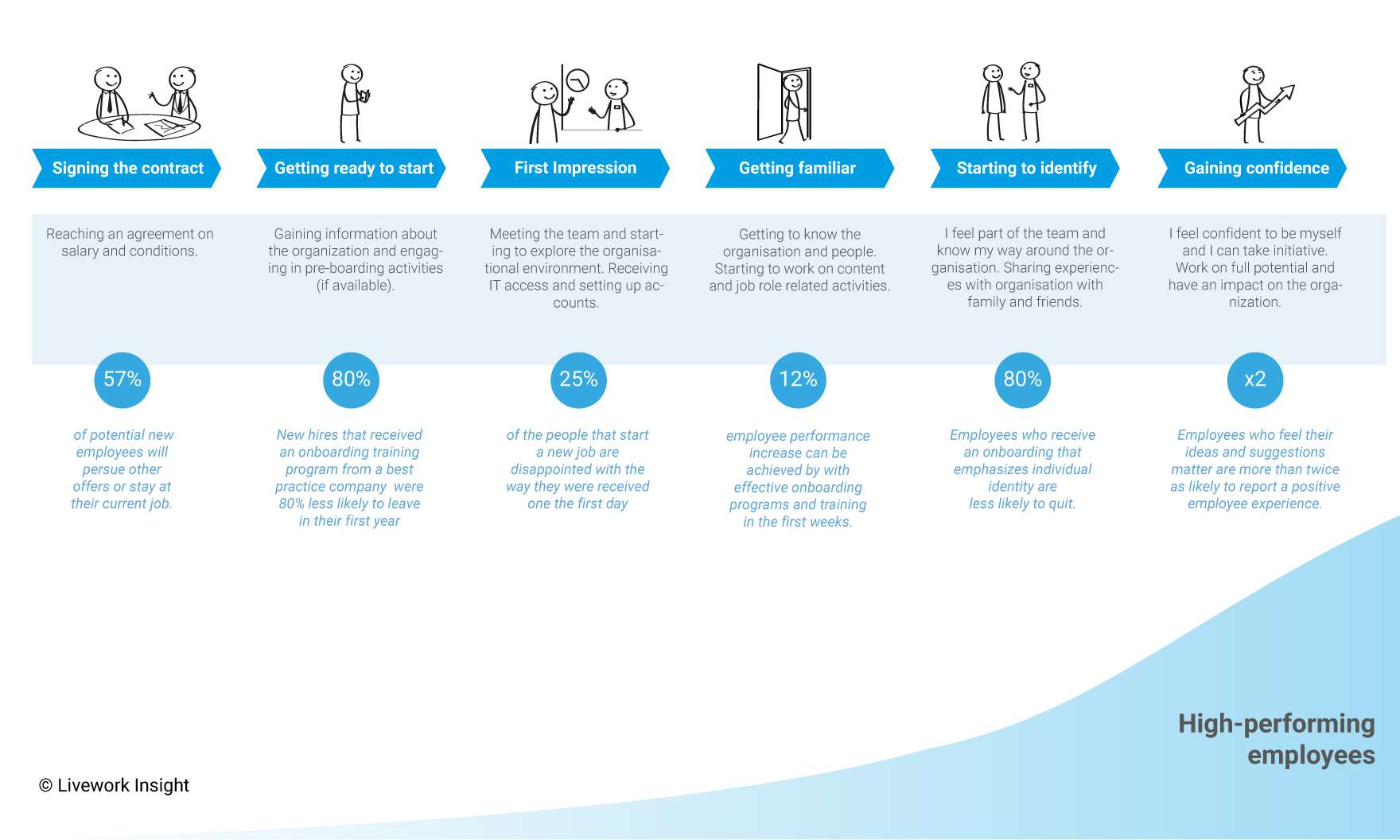 A journey towards high performing employees
The employee onboarding journey is constituted by six general phases that describe the experience from the employee's perspective, rather the organisation's. The phases are not strictly time-bound, as phases can take a different amount of time for different people. In a Silkroad survey, 70% of new hires indicated they felt fully onboarded after the first quarter, while for 17%, the process was never-ending. The definition of the phases is based on the growing depth of the relationship between the employee and the organisation: from familiarity to identification to gaining confidence. To find out more about the characteristics of the relationship with employers in the employee experience, read this recent article on the topic.
Different needs for different phases
Employees need different things to build confidence in different phases of their relationship with an organisation. Interactions in each phase are customised to desired outcomes in terms of behaviour and relationship quality. The onboarding journey has already started before a new hire even begins at work. For example, once the contract is signed, it's very human to feel some regret at other opportunities not taken. This can lead to a bumpy start. People need reassurance that they made the right choice in taking a job with an organisation. Later on in the process, once acclimatised, they might want to develop their skills so they can reach their full potential. Research shows that most employees don't reach this stage, failing to gain the confidence needed to be work to their greatest capacity.  It's important to note that this is the stage where employees start to be high performing, therefore contributing the most to the organisation.
Employee onboarding in numbers
New employees who go through a structured onboarding process are 69% more likely to be with the company after three years than those who didn't.

With the cost of losing an employee in the first year of employment estimated to be at least three times their annual salary

,

employee retention is a critical concern.

Effective onboarding programmess can improve employee performance by 11.5% according to the Recruiting Roundtable.
Onboarding: From a one-off event to an end-to-end process
It's not uncommon for organisations to treat onboarding as an event that happens in the first few weeks of employment. But it takes a long time for people to reach full productivity and gain confidence.  In fact, it might never happen if the conditions aren't there to enable it. Onboarding should extend over a longer period than just the initial employment period. It requires regular check-ins and feedback loops. Moreover, it's extremely important to consider the before and after of the employee's journey as the experience during onboarding is influenced by expectations set during recruitment. And the onboarding experience should connect naturally to personal development and training during the rest of the employee lifecycle. In this respect, across the before, during and after of the onboarding experience, consistency and authenticity are crucial to prevent people becoming disillusioned. This is particularly important with Millennials and Gen Z for whom authenticity is key.
Personalised experiences
Finally, personalisation is a key factor through all phases of the onboarding journey. This is an important element in making people feel appreciated and recognised as an individual. Millennials and Gen Z expect a personalised approach. Small adjustments can make a big difference. The onboarding process and experience should be different for juniors and seniors. Different maturity levels carry different needs and expectations that require a tailored approach. And people relocating from other areas to start new roles have additional needs. So it's important for organisations to empower and facilitate managers to tailor the process as needed.  
Onboarding is a two way street
Onboarding is not just about enabling the new employee to get to know the organisation. It's also about the organisation adjusting to the hire and opening up to new expertise. It's about facilitating contribution by allowing personal identities and strengths to emerge and be put to use. This helps to build connections and makes employees less likely to leave. For instance, establishing 2-way communication, even in pre-boarding apps and platforms, and allowing people to present themselves and their unique expertise to the organisation early on. Throughout the lifecycle empower people to contribute more, with increasing impact, as they gain in confidence. Personal contributions create more engaged, higher performing and more loyal employees.
External sources:
Edmans  (2012) The Link Between Job Satisfaction and Firm Value, With Implications for Corporate Social Responsibility

Globoforce WorkHuman Analytics and Research Institute (2018) The Financial Impact of a Positive Employee Experience

Skillfitness (2016) ONBOARDING MILLENNIALS The 3 "Must Have" strategies for recruiting, training and retaining great Millennial new hires.

Allied HR (2012) Allied Workforce Mobility Survey: Onboarding and Retention