In October we launched a customer centricity maturity assessment tool. This article will help you understand the framework and insights upon which that tool is built.
Our customer centricity framework
If customer centricity is your goal, service design should be a central part of your plan to achieve that. It is well known that design can help create desirable products and great customer experiences. Working with clients for over 19 years, we have also seen how critical service design is to the achievement of customer oriented organisations and cultures. In the past three years we have developed, tested and iterated a model to distill the essential building blocks required to move organisations towards a customer logic.
Cultivating a customer logic requires new capabilities and mindset shifts. It demands a fundamental rethinking of organisational structure, planning processes, ways of working and incentive systems. Our framework assembles these components into building blocks that together drive customer centricity. At the core of the framework is design, as we see it as a critical factor often missing in other maturity models. But design is also not the full solution. It relies on plug in collaboration with other domains. Just as you can't construct a building with one brick, you can't build a customer logic with one block. Success lies in the coordinated activation and interconnection of all building blocks.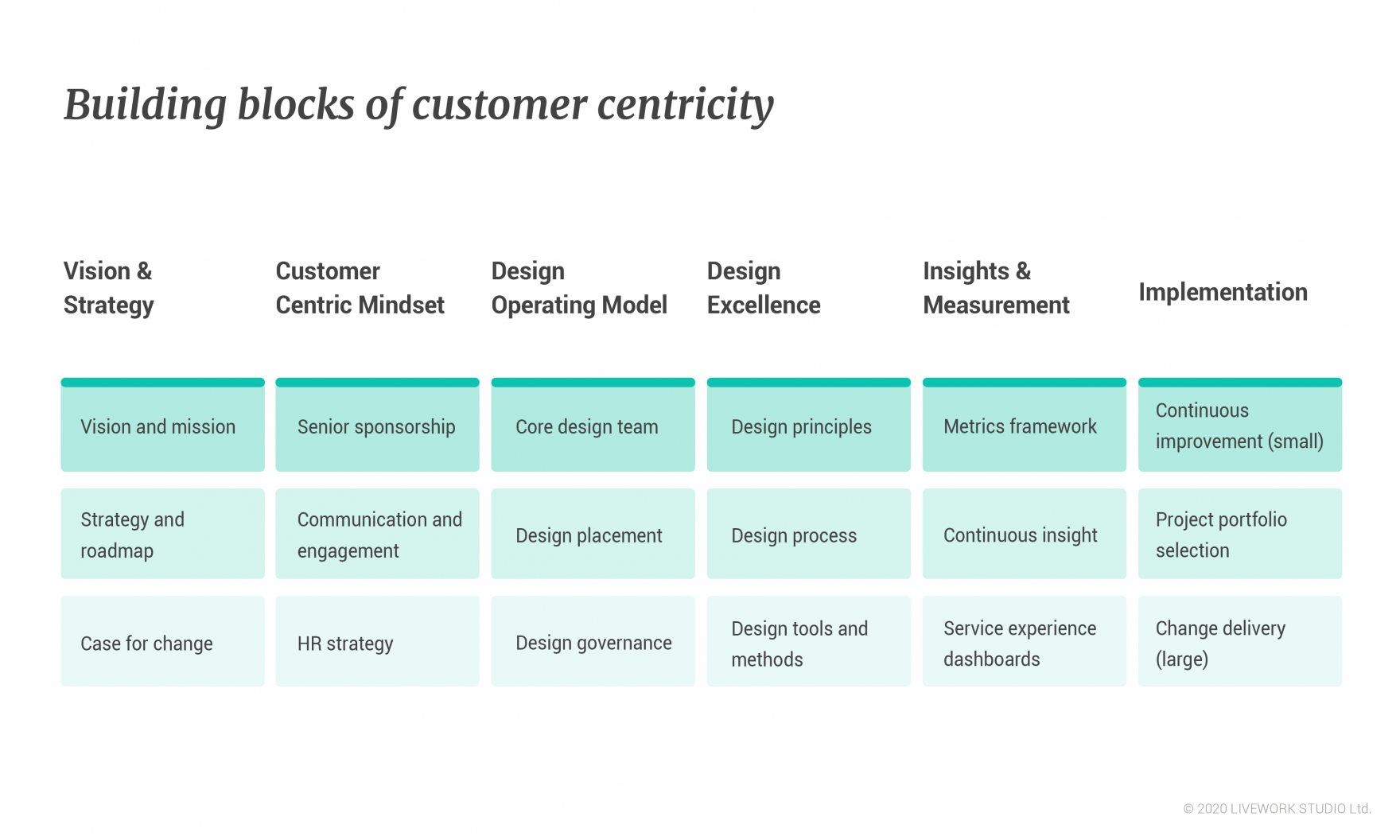 1. Customer vision and strategy: The journey starts with a clear vision of the experience your organisation wants to deliver to its customers. You should clearly outline why change is needed, anchoring your case with a description of benefits to be gained and value to be created. Having a clear strategy and a roadmap explaining how and when you will go about change will help you integrate your plans with other strategic change plans. Eventually, the customer centricity strategy should become the "lead chapter" in your strategy book.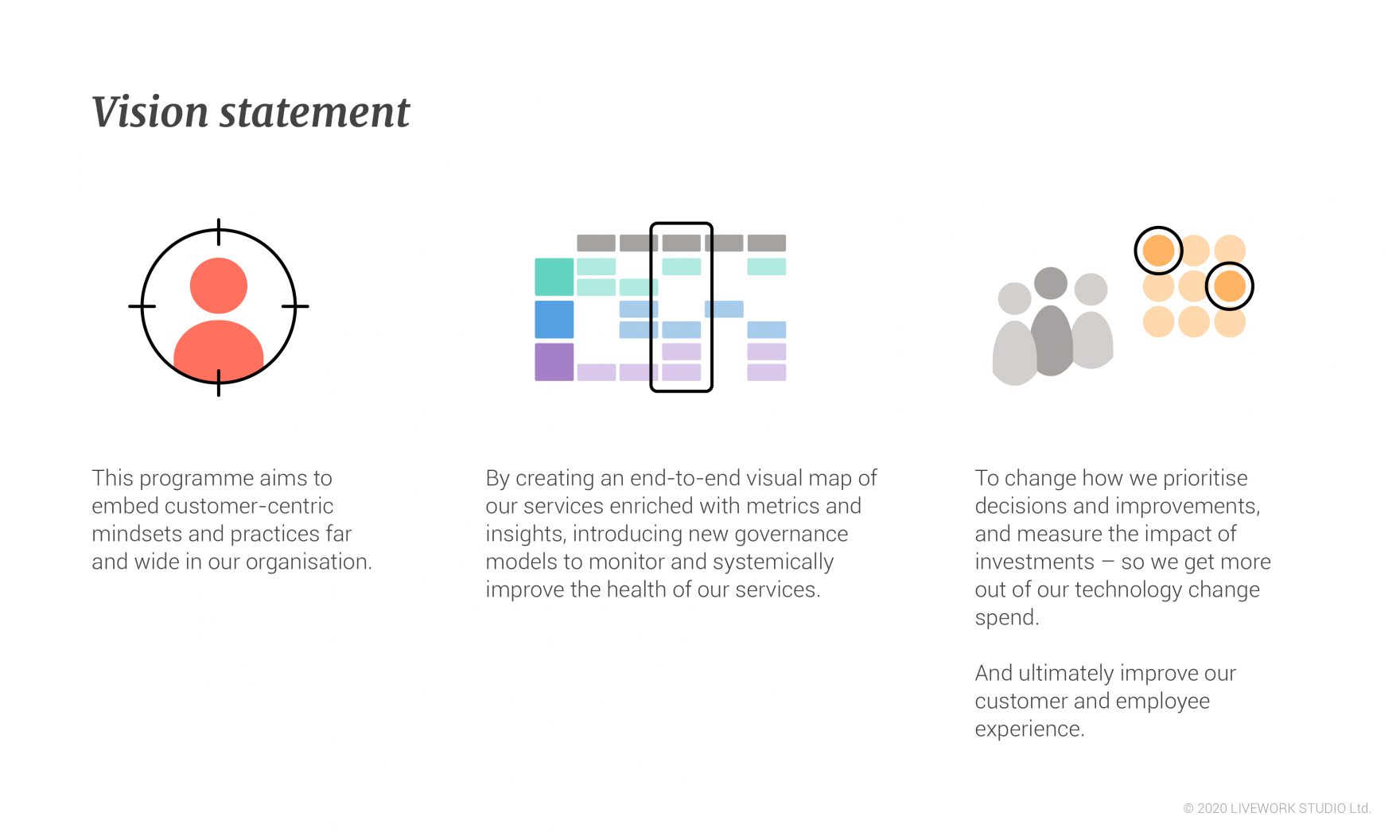 2. Customer centric mindset: This component is all about culture, which is one of the most difficult things to shift. You'll need senior sponsorship: at least one senior leader who truly believes in the importance of adopting a customer perspective and vocalises its value for the business. A transformation of this kind cannot happen solely through a bottom-up approach. Sponsors' endorsement should become clear through the projects they fund, the language they use and the success stories they tell.
Culture is reinforced through stories. You'll need a few very well crafted stories that describe the value of this way of working for different pockets of the organisation. These stories will likely be created by compelling customer insight and successful customer experience improvement efforts. They will become the backbone of your communication and engagement efforts and, as such, must appeal to key stakeholders – why should they care about this and how does it help them achieve their (likely functionally oriented) objectives?
Finally, there will be implications to some HR practices. You may have to define new roles, team structures, or train and upskill the current workforce. You will probably have to define new incentive structures that encourage cross-silo working, where outcomes are customer based rather than functionally based.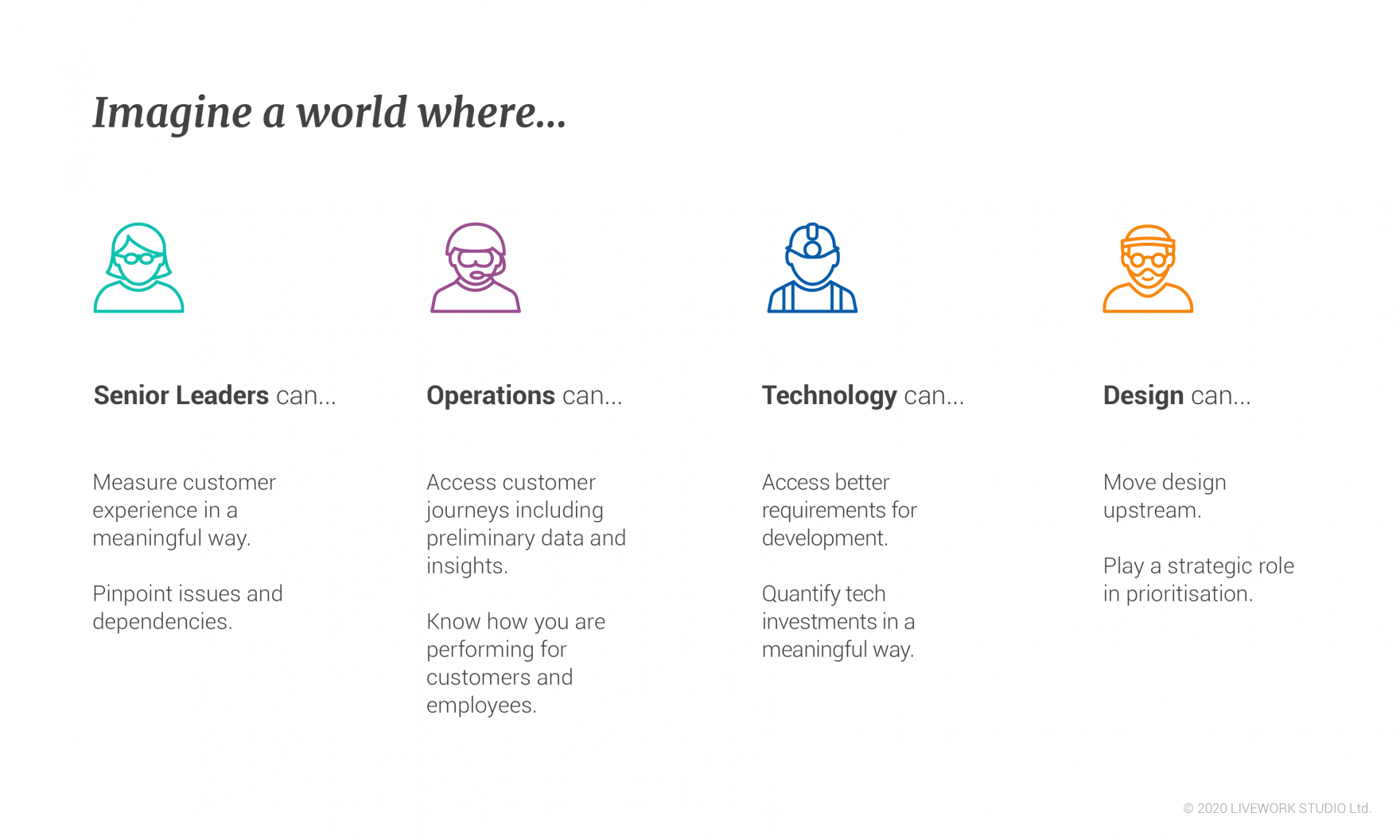 3. Design operating model: You will need to define who is responsible for the design of the customer experience – "end-to-end" and "front-to-back". The operating model should delineate who is in the design team(s), how they are positioned in the organisation, and how these people interact with other units. This last point is particularly important, as organisations tend to be arranged around functions and/or products rather than services. The design of services requires multiple functions (e.g. design, data analytics, process modelling, CX & propositions, operations, digital and IT) to work together to monitor and improve the customer experience. However, you'll soon learn that people are not incentivised, and therefore not interested, in working in such a way. This is probably the hardest of all goals to achieve: defining a model that incentivises people across the organisation to collaborate, contributing to the complete end-to-end customer experience rather than only their portion of it.
When defining the design operating model, consider specifically how and where it plugs into the wider company structure and models. You may find it helpful to think about:
Organisational Structure

 – Where in the organisation does design sit? For example, is it part of the change function, operations, strategy? Each of these functions plays by slightly different rules and is funded in different ways – design will play the rules and contribute to the goals of the function within which it sits.

Influence

– At which stage in decision making is design involved? Does design have a say in setting strategic direction? Choosing investment priorities?

Collaboration

– How does the design function collaborate with other functions e.g. data analytics, process modeling, proposition development, operations, digital teams? Do they set priorities together? Do they collaborate regularly or only via project work?

Commissioning & funding

– How does design work get funded? How are design-led projects commissioned and by whom? What is the engagement model of the design function within the organisation?

Governance

–  Who is responsible for monitoring the health of the customer experiences and/or services?  Who are the ultimate decision makers deciding priorities? What are the mechanisms to drive decision making? How will you incentivise people to collaborate for the benefit of the end-to-end experience?

Capabilities  – What are the key skills our designers need? What skills and capabilities are required in the wider organisation in order to work in a more customer centric way?
4. Design excellence: A transformation of this kind doesn't simply require design, it requires good design. Too often organisations at the beginning of this journey hire a team of inexperienced designers who aren't versed in what it takes to bring the customer to the core of organisational decision making. Unfortunately, the team often fails to create a standard for design outcomes. Strong design leadership is critical. Great design leaders know the stakeholders, politics, objectives, challenges, propositions and overall business architecture of the organisation they serve. They should be great story tellers and experienced change agents with strong leadership and influencing skills.

The design excellence pillar starts with principles that will guide any design work. It also outlines a clear design process tailored to the organisation's needs and ways of working, and a library of reusable standards. Together these tools and shared artefacts ensure that there is one agreed, best practice way of doing things which helps ensure consistent, high-quality outcomes.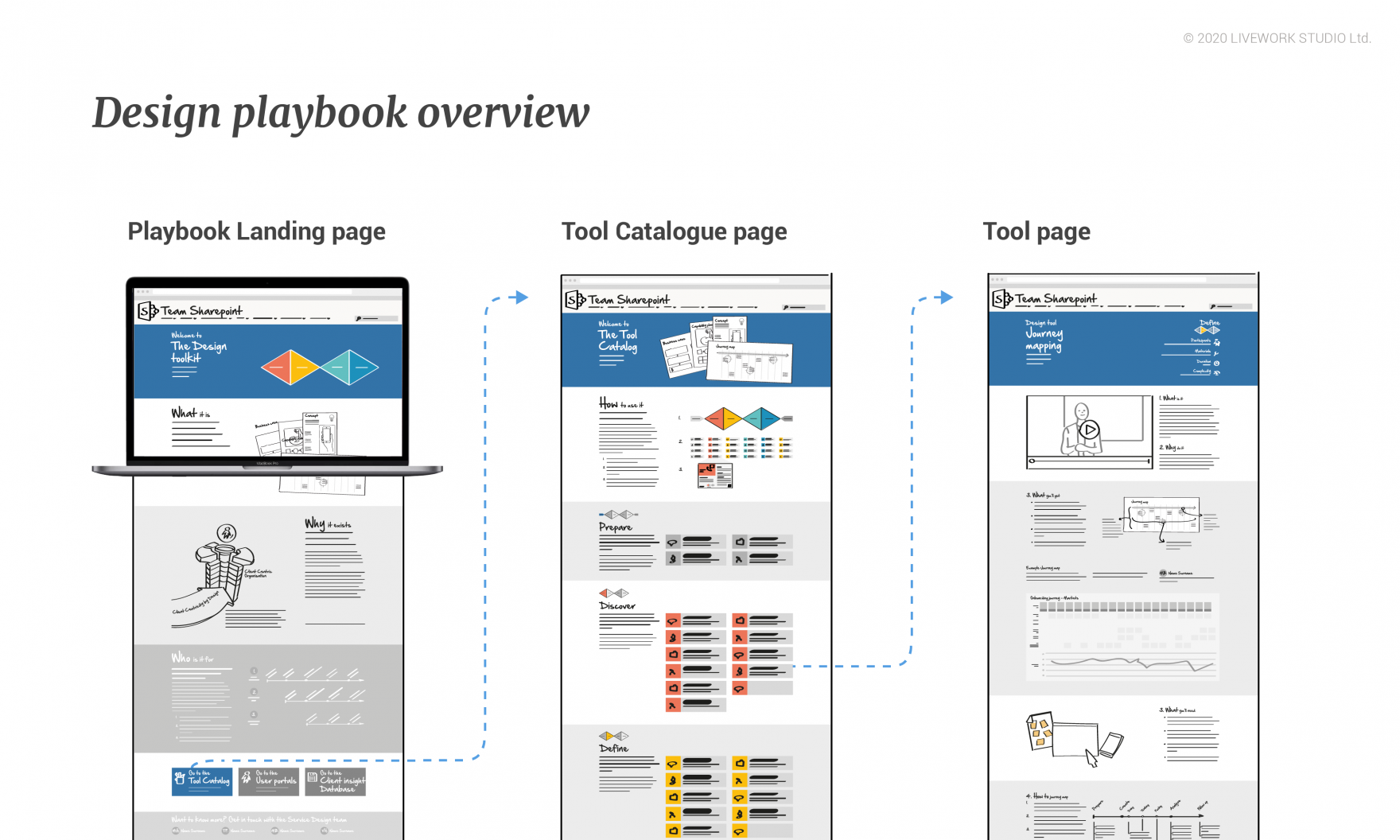 5. Insights and measurement: Customer data and insights are fundamental to facilitate informed, customer centric design and decision making. Qualitative and quantitative customer data and insights should therefore exist in a centralised location, enabling anyone in the organisation to access them. Alongside data, one of the key building blocks in this pillar is a metrics framework that outlines the customer, business, and operational outcomes you are trying to achieve and the metrics you will use to measure against them. Customer experience dashboards and other digital tools will also enable you to assess outcomes and monitor the health of your services. See an example in our Know your services article.
6. Implementation: An organisation's ability to effectively deliver change programmes and projects is critical to customer centricity. This is because you will need to continually iterate, and sometimes transform your services as customer needs, market conditions and technology capabilities evolve. You'll need to keep the customer voice close at hand, at all times. Customer experience and service design artefacts should be embedded throughout your change delivery process – from the idea stage all the way through to implementation. This pillar also considers how you choose the right projects in the first place – how loud is the voice of the customer in your prioritisation process?
Customer centricity in practice
Many organisations don't have a single, shared articulation of all the services or journeys that they provide for their customers. And often they don't understand how those services plumb into their operational layers to deliver value; nor how the delivery of those services feels for their employees. 
Our customer centricity approach will help you understand these top level imperatives. It outlines the key building blocks you need to consider as you move towards a customer oriented logic. The assessment tool can help you pinpoint the areas that need more focus in your organisation and give you some ideas about where to start.
Customer centricity is a way of life, a culture, an approach to running your organisation. It's not a team, a project or a programme, although it usually starts as one of these. It's about activating and unleashing the power (in a coordinated way) of the whole organisation towards a common purpose. It is therefore not quick or easy – as are most transformations – but if done well, worth the effort. To get started, you must understand clearly what you are trying to achieve, have ways to measure that, and get ready for the long haul.