As we find ourselves in the middle of unprecedented times going through a global pandemic, we might be quick to assume that the priorities of building and sustaining a successful business have changed. But in fact many of our clients have realised that keeping their customer at the centre of their work is vital in times like these.
With our help, adidas was able to leverage best practice from the service design industry. Together, we re-designed key business operations to become more customer-focused and identified new and improved ways for adidas employees to engage and help their customers in these difficult times.
Business resilience and customer-centricity in the face of crisis
The COVID-19 lockdown has had a profound impact on the way people live and consume. These rapid shifts in our human behaviours have important implications for retail organisations. We see an increased urgency for retailers to refocus on direct-to-customer strategies, pivot to digital-first solutions while doubling down on Ecommerce and prioritise high cost-saving initiatives despite the potential negative impact on customer experience. In some cases, CX efforts have faded into the background, although the lessons learned from the financial crisis clearly indicate that CX-focused organisations develop to be more resilient, able to withstand severe operational disruptions.
In the face of crisis, Covid taught us that business context is, and will remain, uncertain. And so our challenge was to help adidas maximise their organisational resilience and use CX to better navigate these uncertain times.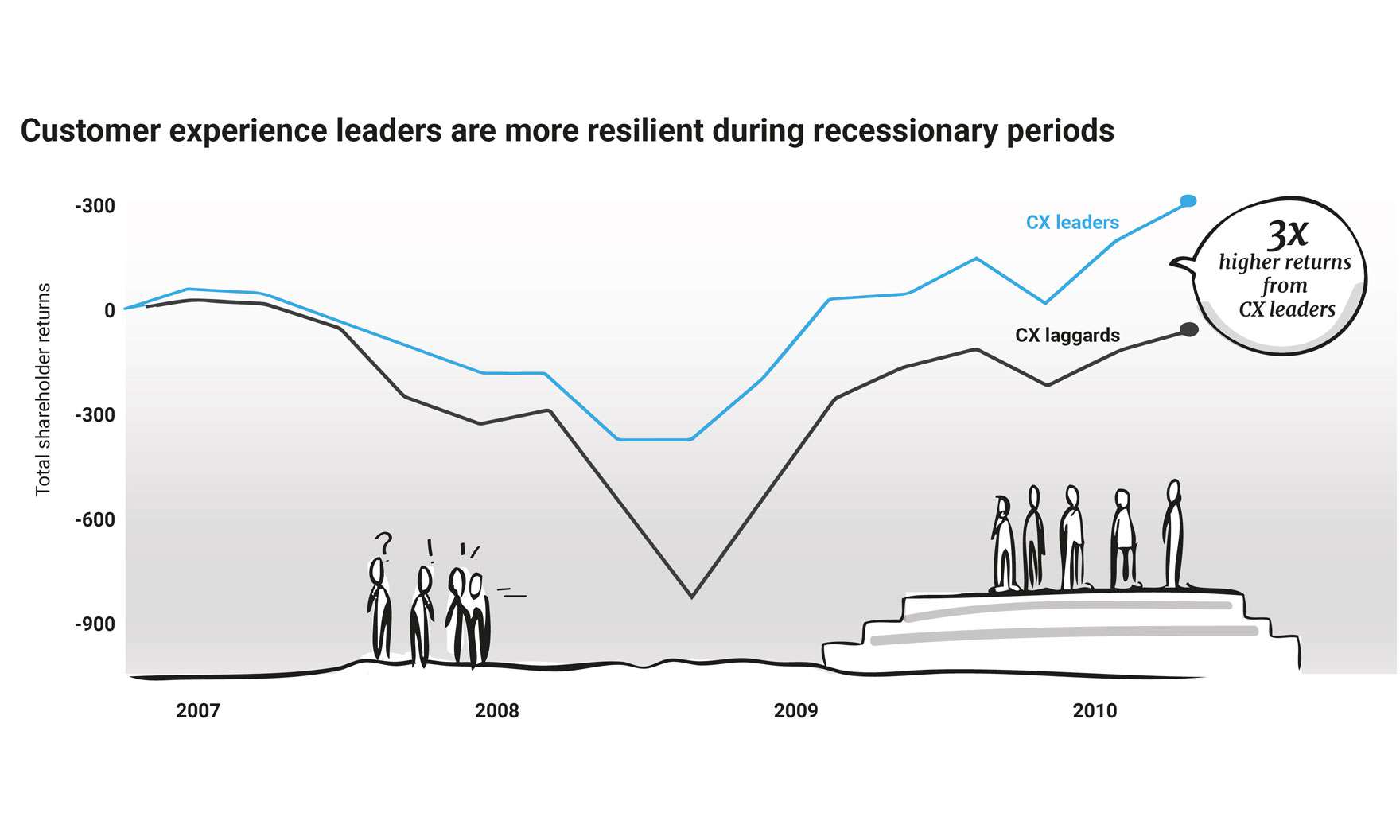 From CX as a 'nice-to-have' to CX as a crucial development step
For adidas to realise the importance of why they needed to stay focused on their end-consumer, we experimented with new and remote ways of keeping customers at the centre of their agile ways of working. We supported key product area teams (from digital returns to payment services) to understand that, now more than ever before, they had to align their product development closely with their customer needs, instead of relying on business assumptions and hypotheses alone.
Using a set of standardised CX tools (that we developed and implemented earlier this year) we enabled teams to take a pragmatic approach to CX. We involved them in remote journey mapping, blueprinting and co-creation workshops and were able to debunk common CX misconceptions of it being a 'time-consuming process conflicting with business priorities' or a 'nice-to-have'. Instead, we demonstrated the business value of CX through improving operational efficiencies and co-creating customer value propositions that directly impacted uplift in sales.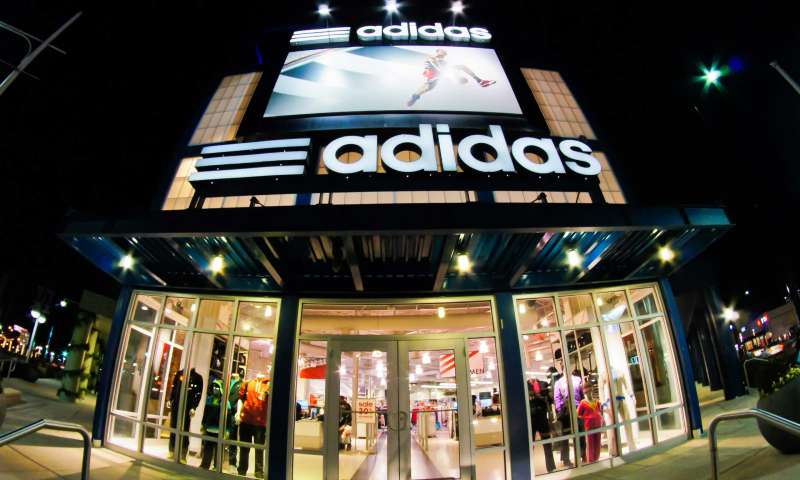 Mini client case
Helping a Sportswear giant become customer-obsessed
Adidas has grown from a German family business to one of the world's most famous brands. In order to stay at the cutting edge of style and sportswear, they're refining and developing the service they provide. We've been helping them on their journey to becoming a customer-centric (or as they would say 'customer-obsessed') organisation.
How creating common reference points by design helped us break organizational silos
Through our work, we helped the digital sales teams not only get to grips with what it means to be 'customer- centric' in times of COVID-19 but to experience first hand how CX can create tangible value, inform decision making and improve collaboration across teams.
We produced a set of service and product blueprints as a visual management tool to connect organisational silos and to illustrate different levels of organisational complexity (mapping high level business areas down to specific products and operational back-end processes). It was important for these to all link back to the customer experience so teams could understand where and how they can create improved value.
This enabled agile development teams to work more cross-functionally and to align faster on product prioritisation, based on decision making rooted in customer impact. Using the blueprints as a key communication tool, teams were able to zoom in and out of required detail and communicate complex operational planning in a more simplified and interconnected way.  Not only did this help to anchor all product improvements in the customer journey but it also avoided unnecessary duplication of work across teams.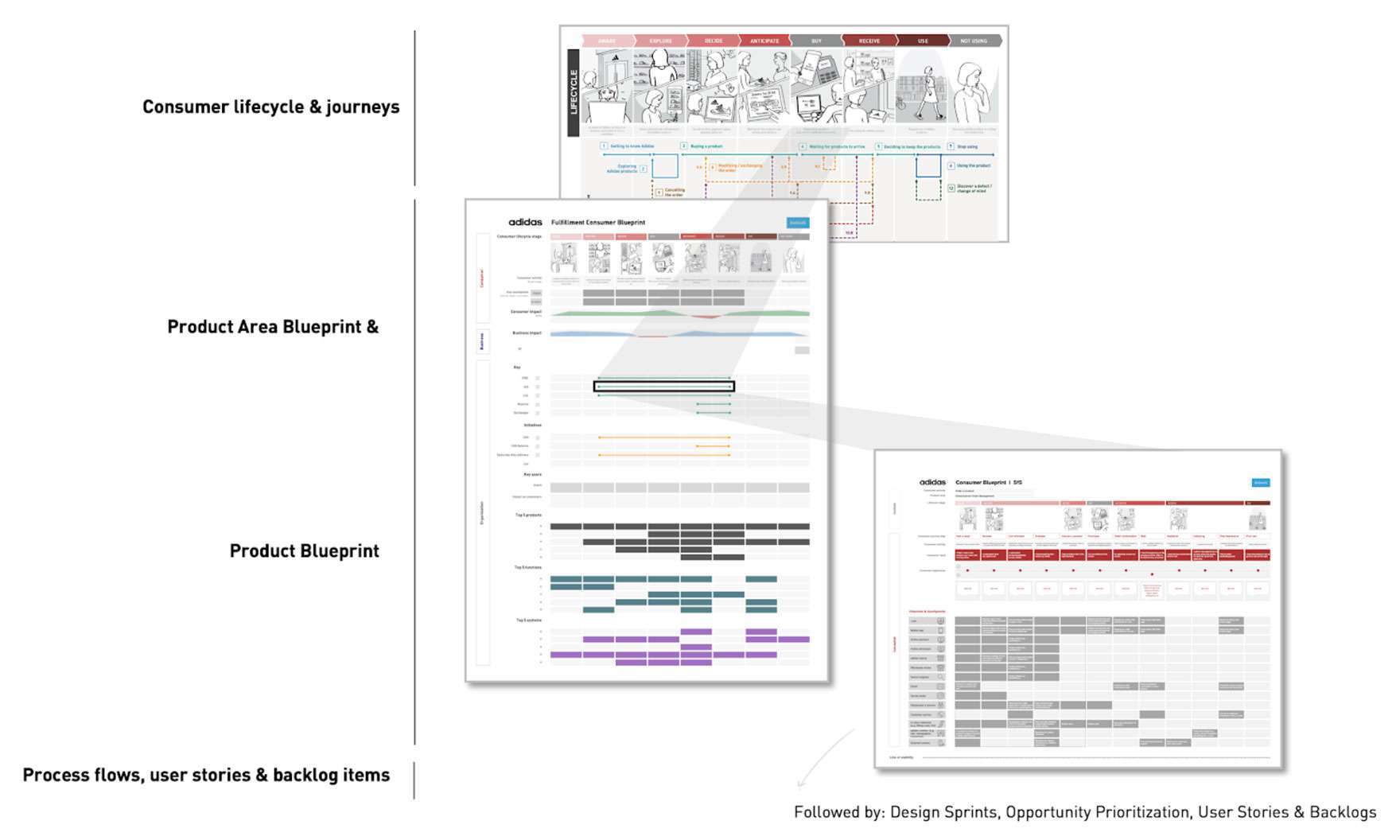 CX to drive customer & business value
Since the onset of the global pandemic, we've supported adidas in using a CX-led approach to enhance digital products and support initiatives that focus on their eCom business. Strategically, we helped them identify the most appropriate way for each workstream to make use of the customer perspective – be it through the creation of a value proposition, a service blueprint or the delivery of rapid design sprints. Operationally, our work informed strategic roadmaps, prioritisation of initiatives and alignment of cross-functional stakeholders.
By focusing on embedding customer-centricity in the way teams work, adidas did not lose sight of their customers. We gave product teams the tools and language that put people at the core of what they do. This enabled them to stay true to their customers and break organisational silos, even in the most challenging times.