Take aways
Customers appreciate a good service and are willing to pay more for it.
Good services lay a foundation for more cross-selling and upselling in future.
Customer-oriented internal processes make good services even better.
A good service itself is an effective marketing tool. It attracts new customers, simplifies experience and paves way for more businesses in future. Customers in general are willing to pay more for services that make their lives genuinely easier. A good service requires an organisation to realign its internal processes to gear more towards customers.
Attractive prices and feature-rich products don't give you a competitive advantage. Instead, customers are often willing to pay more for good services, whether it is in a business-to-customer or a business-to-business setting. In order to acquire new customers and retain existing ones, the best strategy is to get rid of barriers and sources of irritations that may drive away your customers.
Service is the new marketing
Investments in branding and marketing don't necessarily lead to more sales or customers. On the other hand, services with a customer focus can make products more relevant and generate new sales.
Most businesses appear similar to one another in the eyes of their customers. The top reason people opt for another provider is usually not pricing, but the experience with the brand or the organisation. Broken promises, limited support and misinformation are usually the culprits. Brands offering well-designed services stand out and attract new customers.
Willing to pay more for good services
If products are complex, people need help to integrate them into their lives. Unavailable or poor customer support leads to frustrations, and drives away potential customers to companies that provide a superior customer experience. The latter kind has a clear competitive advantage in most markets.
Same product, new service
For instance, a car manufacturer offers buying back the vehicles if customers stop paying their monthly instalment. This initiative boosts sales, as it taps into a market where people are concerned about economic conditions and reluctant to buy cars. This approach is innovative as it makes even the reluctant people consider buying a car. Although the product remains essentially the same, offering a different kind of service enables an active acquisition of new customer groups.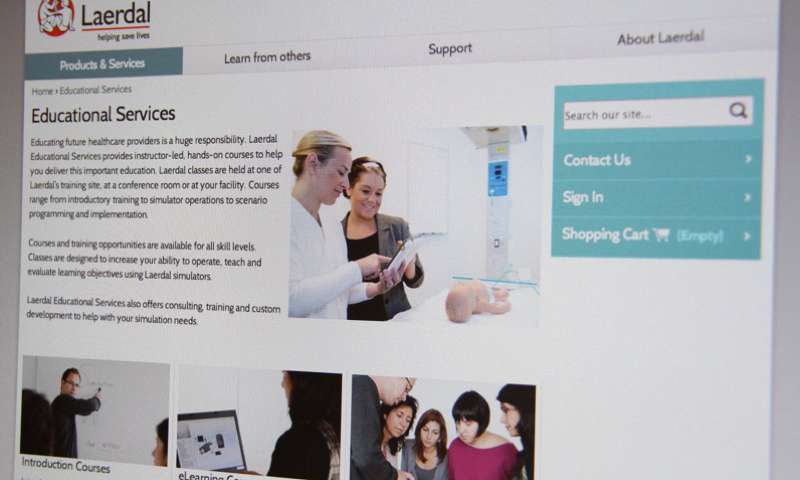 Mini client case
Leardal - Service the sale
Medical equipment manufacturer Laerdal set themselves a goal to double sales through their website. Customer research revealed that there was a large potential to achieve this goal by helping customers manage their existing portfolio of Laerdal equipment online.
Laerdal made it easier for hospitals to buy consumables, accessories, and updates on-line, securing more high-value interactions with sales staff. The result: more sales through great service.
Less complexity means more sales
Customers may leave you for piles of paperwork, misinformation or long queues. You can provide better services simply by hiding internal process and system issues from customers. That way, you create a better customer experience, and open doors to upselling and cross-selling opportunities.
Centre around customers and staff
Service differentiation is the new competitive battlefield. A bad customer service drives away customers, while a good service is a platform to attract new customers. Internal processes and systems should be centred around customers and staff. It enables you to offer services that are relevant to the people who use them, while empowering customers to serve themselves.