Take aways
A consistent experience across various channels matters the most to customers.
The priority of a business is to maximise the potential of individual channels.
Realigning channels creates better customer experience.
Customers often hop between channels. Many organisations fail to offer the best overall customer experience it could have, partly because they only focus on the performance of individual channels. The best way to go forward is to redesign the entire customer experience across channels, redefine ways to measure channel performance, and leverage on the strengths and address the limitations of each channel.
Customers experience an organisation through various channels – from visits to physical stores and websites to calls to support centres. Measuring customer satisfaction by individual channels fails to capture the full experience that matters most to customers. Therefore, rethinking the definition and measurement of customer experience is key to improving customer satisfaction and channel performance.
Channel-hopping
Research shows that customers often hop between channels to complete a transaction. They may start researching online, then contact call centres or visit a physical store. They often spend time on research more than organisations would have imagined.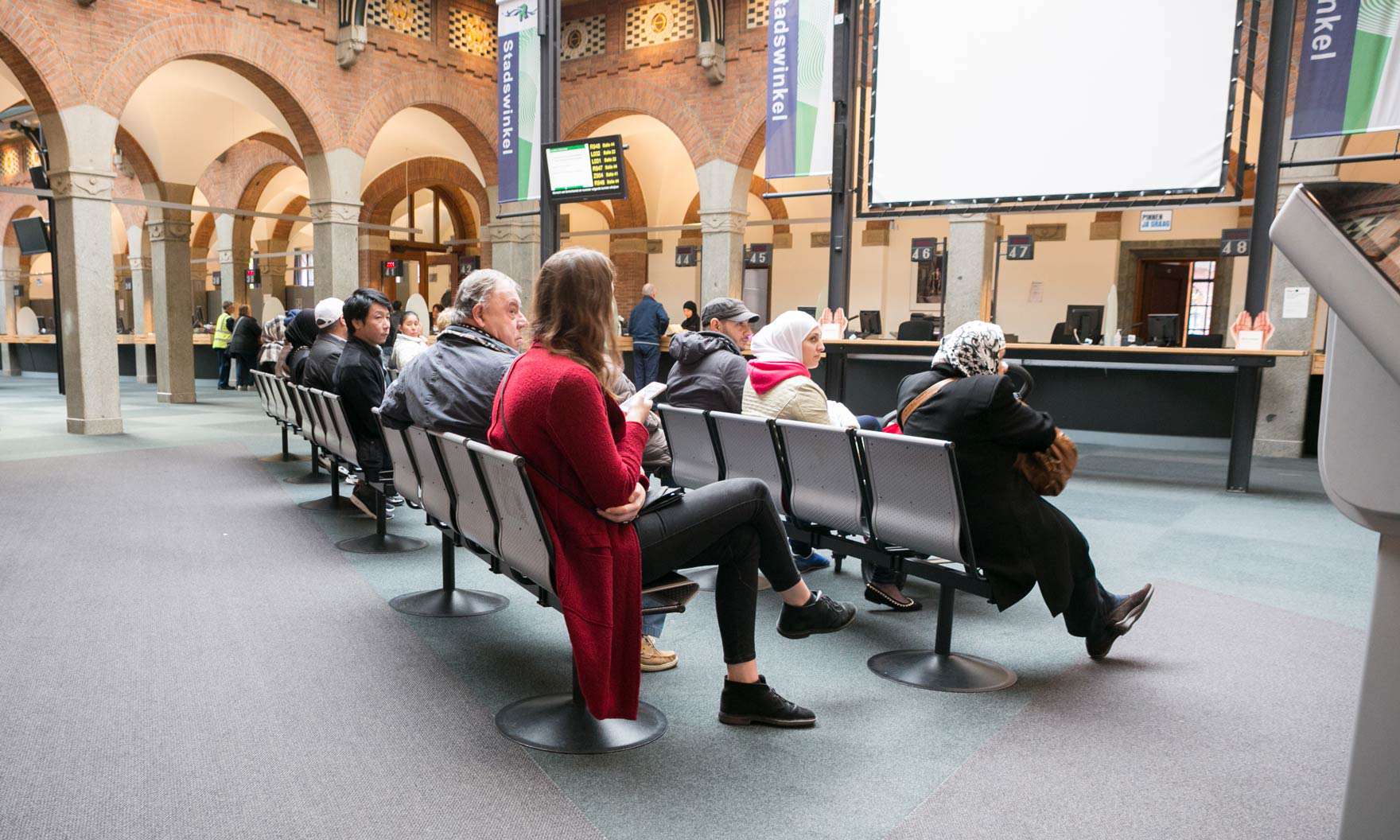 Different perception on time spent
A customer may have easily spent several hours on hopping between various channels. However, the organisation likely thinks the same customer has spent much less time on that, as its internal system only captures call handling time by call centres, say an hour, and face-to-face time with a sales staff in physical stores. Therefore, the difference in the perception of time spent has to be addressed when improving customer experience across channels.
Costly online model
Many organisations believe the online business model offers the best performance in terms of cost of sales and other operational indicators. Online self-service is seen as an effective way of shifting service provision to customers and reducing operating costs.
However, when you also take account of the maintenance costs of websites, indirect costs associated with offline channels and lower margins of online promotions, the online model could turn out a costly way to cut costs.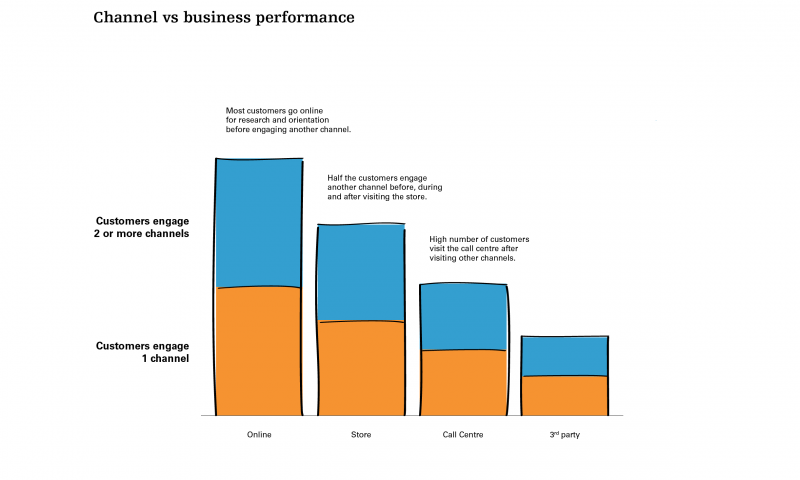 Mini story
Channel vs business performance
Businesses focus on the volume, speed and quality of their channels. How well each channel serves customers can be measured by comparing the number of customers who engage the organisation with only one channel, with the number of those who engage with at least two channels. The organisation's ability to inform and respond to customers and resolve their issues are strong indicators of overall business performance.
Technology does not help much
Intelligent routing, self-service terminals and smart FAQs are sophisticated tools that improve online experience for customers. But still, they barely reduce customers' time in achieving their desired outcome. In some cases, it makes perfect sense to encourage online customers to talk to a sales or support agent for the help they need, which helps minimise costly service failures.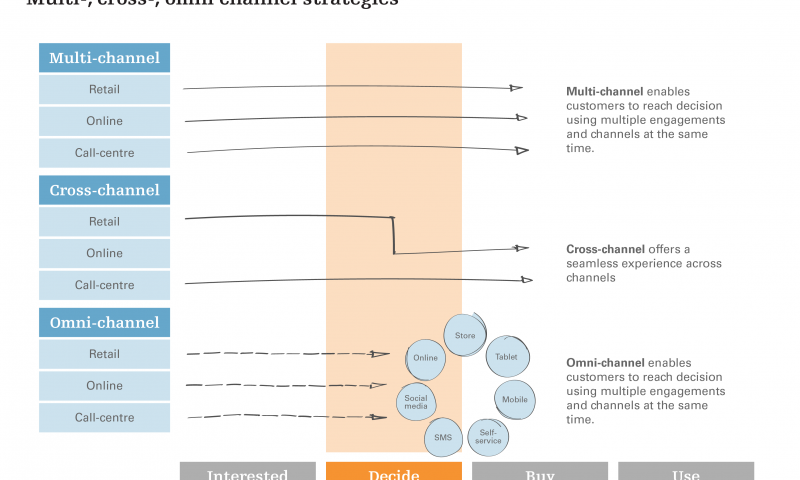 Mini story
Multi-, cross-, omni channel
Multi-channel strategies focus on engaging customers across multiple touchpoints. Often, each channel has its own strategy and is managed separately. Cross-channel strategies, however, allow customers to navigate various channels to complete a transaction. Omni-channel strategies further improve customer satisfaction and build brands by offering a consistent and integrated experience for their customers across channels, sales platforms and media.
Overall performance matters
The overall business performance is far more important than the contribution from individual channels. Mapping out where and how a channel contributes to a customer experience is more valuable than merely setting an expected win-rate for each channel. Recognising the contribution as well as limitations of each channel is key to aligning all the channels to build a better customer experience.
Realigns your channels
It is difficult to reconcile channel performance and customer experience measurement without reorganising your business. Channel KPIs help improve business processes, while experience measurement realigns channels to better meet customer needs. Therefore, designing a customer experience with measurements that are independent of channels helps lower customer-serving costs and increases win-rates.