Most of the popular measuring tools of internal performance are not designed to bring you closer to your customers. A service design approach helps bridge that gap, by linking internal KPIs to the customer lifecycle, and generating actionable customer insights from the data you have. This approach empowers organisations to respond and mitigate service challenges and minimise incidents, therefore boosting bottomline.
Most management control systems analyse and aim at improving internal performance. What is often missing is the link between internal objectives and external customers. Service principles help fill that missing link.
When internal performance indicators are linked to key phases in the customer lifecycle, which is what service principles are about, organisations have a better knowledge of when, where and how to improve their business. It is important to find out which services matter to customers, and focus on improving these areas. Service principles enable a customer-focused internal assessment and help lift the business's bottomline.
Customer-focused performance indicators
Business rules engine, advanced analytics and reporting capabilities are gaining popularity in measuring and improving internal performance. These tools focus on mostly process optimisation, financial control, error reporting and handling. These capabilities impact the customers but often indirectly, and they don't really improve their experience.
A service design-based solution is to measure internal performance according to the key phases of the customer lifecycle. These phases include contract/buy, first use and change of use, which are all pivotal to the experience of customers. These are the focal points with which strategic or operational performance goals can associate.
For instance, customers are open about signing up for self services, especially during and after the contract phase. Customer-focused performance indicators are then able to ensure staff to introduce the service to customers, help them create accounts and properly use it, and ensure the customers are satisfied.
Set the right performance indicators
Service principles can significantly improve the front and back stages of a business, by giving clear direction on how to interact with customers. These principles provide a context to set the right performance indicators, and enable the business to provide high quality service consistently.
For instance, a principle of "customers must leave the shop with an awareness and ability to use the self service" sets a measurable objective, without locking any department into just one single process or performance indicator.
Validate assertions, not create assumptions
Tools and capabilities that mine, manage and report customer data are not sufficient. In order to truly understand the context of customer behaviour, you still need an outside-in perspective. You can interview and discuss new ideas with customers, such as how to improve customer on-boarding. That enables you to assess the potential impact of the ideas based on customer and transaction data. This way the data can validate assertions, instead of creating assumptions.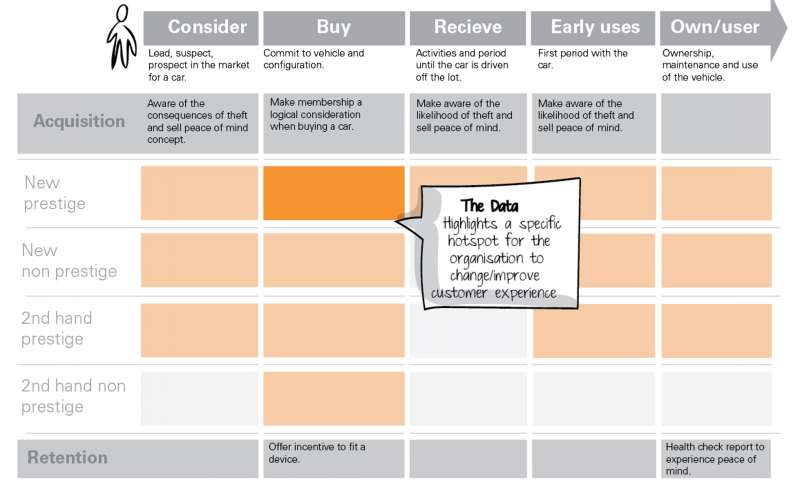 Mini story
Data + customer context = valuable insights
Organisations collect loads of data about their processes and customers, which help them identify customer patterns and behaviour. However, this data is not very helpful unless we also know the context that gives rise to these patterns. We can create a heat map that puts the data into the context of the customer lifecycle, which helps us identify problems and make informed decisions.
Well-timed advice vs real-time analytics
Not all customers want real-time analytics as much as you think. They are useful in optimising time-sensitive processes and resources. But from a customer perspective, regular updates and recommendations are often more valued than reports of every operational event. Therefore, for business-to-business and business-to-customer customers, there are always opportunities to offer well-timed performance-based advice, instead of constant alerts and reports.
Empower, respond, mitigate
Internal performance measurements are often overly complex and detailed, but still do not provide meaningful input to improve customer service. Linking internal KPIs to key phases in the customer lifecycle generates actionable insights, instead of just recording performance. Service principles empower organisations to respond and mitigate many service challenges and minimise incidents.