Business leaders recognise that creativity makes ideas desirable. The challenge is to combine creativity and business practices. The art is to get them working as one. Good business cases transform desire into value but it is piloting in the real world that can truly validate ideas and concepts. Success awaits those who do it right – over and over again.
Understand the customer experience to create concepts that will work in the market
Organisations frequently underinvest in design early in the development process, and then look at design to salvage a great business idea. Creating a feasible and viable business concept requires a coming together of business acumen and creative skills. Understand the customer experience, visualise the systems that make it possible, and let business rigour be a compass – concepts that work in the market will follow.
Design for people
Businesses are finding out that their organisational structures and processes become increasingly complex. They also recognise that often customers are the only ones that are really seeing the bigger picture. Understanding the customers experience enables businesses to see their organisation from the outside in. Adopting an outside-in perspective leads to choices that really matter to people.
Design methods enables the art of seeing what makes the human experience tick, and transforming this insight into solutions that satisfy needs and excite. When the human perspective is strongly present from day one, the organisation is shaped to deliver exactly what customers want.
Design for the business
Great business ideas often fail because they are poorly communicated within the organisation. Design methods can offer effective tools to clarify, communicate and convince ideas inside a business. Strategies that speak visually gain extra power. Visual concepts, ideas and solutions inspire more and carry further.
A design approach helps to convert complex situations into clear ideas – ultimately enabling businesses to create more elegant solutions to complicated problems.
Add creative excellence
Design thinking enables businesses to try new creative approaches such as visualisation, and rapid iterations of potential solutions. A design approach also encourages an openness to learn and fail early. These approaches often bring teams beyond the obvious rationale to truly innovative results that carry human value and build emotional connections to customers.Fundamentally creativity is a collaborative activity. Design methods are a great catalyst to release the creativity of the organisation.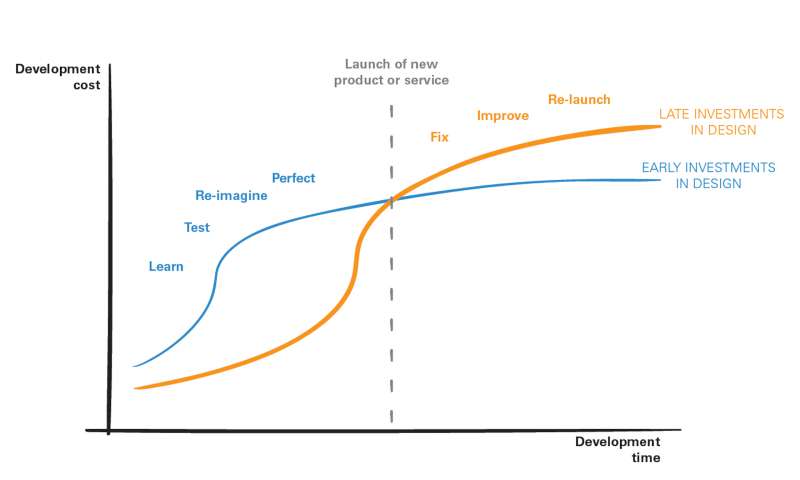 Mini story
The cost of designing too late
Research shows that active design investment early in the a development process significantly reduces costs after launch.
Businesses that integrate design methods from day one are more likely to get it right the day they launch a new process, product or service.  Design thinking benefits customers, and benefits the business.
Test in the real world
A business case is just that – a case. To make an idea a successful reality for customers and for the business, it needs to go through various prototypes and pilots in the real world. Design offers techniques to test experiences with customers from day one – from quick and rough paper prototyping to full-scale pilots.
Design and test early, quickly and cheaply. It will reveal the small details that can topple a big business idea.  It will also reveal hidden opportunities for innovation. To ensure a successful launch, validate concepts with customers and staff and create proof that it will work in practice.
Invest in design, reap quicker benefits
Research shows that when design is intro introduced late in the development process, it leads to major business and process improvement costs after launch. Let the human perspective guide the way in developing new concepts and ideas. Create a concept that actually fits in people's lives. Align internal processes with the customer experience. Bring propositions to market that perform and excite from day one.