Businesses invest billions in designing, developing and launching products. Many [mistakenly] forget to pilot the full experience with real customers and staff. Focus groups don't fully capture and understand the desired customer experience. Involving the customer early in the development cycle allows for valuable adjustments to products or services.
Avoid launching products and services before they're ready
Market pressures frequently force organisations to introduce new products and services before they're ready for customers. The focus is often on getting the product technically ready by a certain date and accepting the consequences of an unprepared organisation launching an immature product – a wasteful and unnecessary approach.
Market pressure, internal pressure
Many initiatives, projects and businesses are launched without real feedback from (potential) customers or input from staff. Organisations prefer to launch early to capture a larger share of the market, and ignore the risks of launching an immature product. The cost of post launch fixes and course adjustments are often taken for granted or seen as operational costs.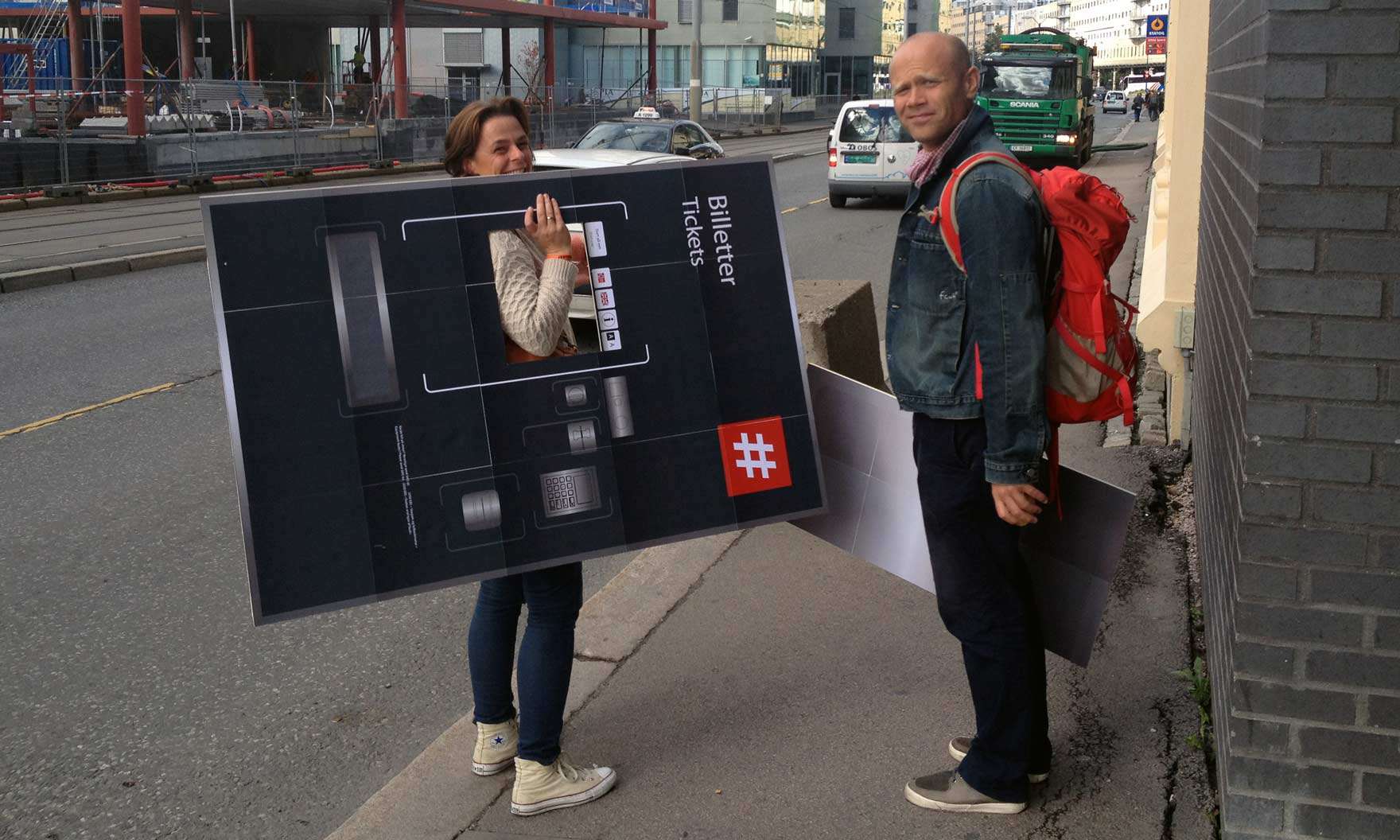 Make ideas tangible - early
Innovations that look great in theory often fail when they finally reach customers. Turning ideas into a visual and experiential format is the first step in reducing risks. It enables an early understanding of practical challenges and it facilitates the process of getting input from others. Ideas that can be seen, touched and heard inspire more than a thousand words. Visual prototypes are standard for products, but not for services. The good news is, prototyping services can be easy. Prototyping allows you to test propositions early, cheaply and quickly with colleagues and customers that will be using the service in their daily lives.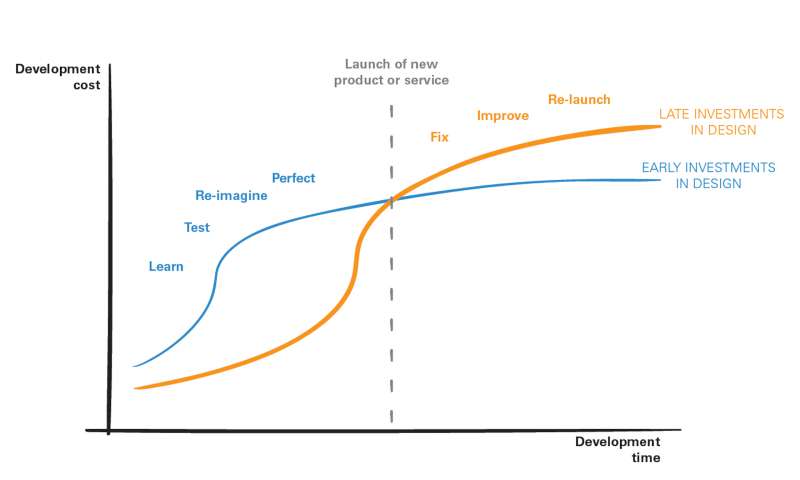 Mini story
The cost of designing too late
Research shows that active design investment early in the a development process significantly reduces costs after launch.
Businesses that integrate design methods from day one are more likely to get it right the day they launch a new process, product or service.  Design thinking benefits customers, and benefits the business.
Validate concepts with customers and staff
In many organisations decisions around new product or service concepts are based on market research data, business cases and intuition. By validating concepts early with customer facing staff, customers and general public, you can learn and adapt quickly. Piloting with real customers in real situations is a powerful way of understanding the customers' behaviour instead of soliciting opinion. It also helps to identify gaps in the internal organisations' procedures, processes and systems.
Pilot to learn
Pilots and customer trails should be built into the overall development cycle. Especially services that involve many internal and external parties do not reveal their complexity unless put through real-life use. Products can be tested but services need to be piloted. Pilots should be setup to maximise learning by following different service scenarios. This approach reveals the real challenges for customers and the organisation and creates space to explore potential and unexpected opportunities.
Fail early
Service pilots and customer trails do not have to be executed at a massive scale to provide valuable insights. The objective is to capture the common service breakdowns, which account for the majority of customer complaints and dissatisfaction. Understanding these failures and designing ways to prevent them, leads to higher customer satisfaction and less customer incidents when going to market.
When piloting, it is important that customers experience the real (future) service, even when backstage processes and systems are not in place. Creating some temporary processes to support the future service in the context of a pilot, exposes gaps in existing processes and systems.
Validate early or pay later
Capturing customers' actual experience of products and services is an excellent way of obtaining meaningful insights before launch. Pilots should be set up for an organisation to understand customers' actual behaviour instead of opinion. They give businesses an early understanding of gaps in the internal organisation, processes and systems. Real-life pilots can be the difference between success and failure when bringing services to market.