Customers care far more about their returns and refund experience than we often seem to think: 96% of customers who have had a positive returns experience would shop with the same retailer again. Compelling research reveals that improving the overall customer's returns experience has the potential to save substantial consumer service costs related to returns per year.
Motivated by the possibility at hand, adidas asked us to help them seize the broader business opportunity and help them identify new ideas for digital returns, that on the one hand could optimize operations and on the other, create a returns experience closer to customers' expectations.
Using customer-centricity to create high impact and cost-saving digital returns solutions
From a customer's perspective, the returns and refund process is a simple step in their retail journey. But from an operational viewpoint, the service is complex and highly dependent on many internal and external processes. We began by helping the teams to better understand the end-to-end returns service experience. This highlighted a key challenge around knowing which improvement will make a real difference to the customers' experience in the first place. Also, aligning diverse teams (from Digital sales solutions, Digital to global markets) to develop new and improved high-impact sales solutions, was another perceived obstacle to successful cross-functional collaboration.
Merging CX Into Agile
Co-creating an initiative blueprint on Miro (a remote collaboration tool) gave the cross-functional teams a shared understanding of the customer's end-to-end return journey, bringing together expert knowledge and spotting opportunities to improve the overall experience.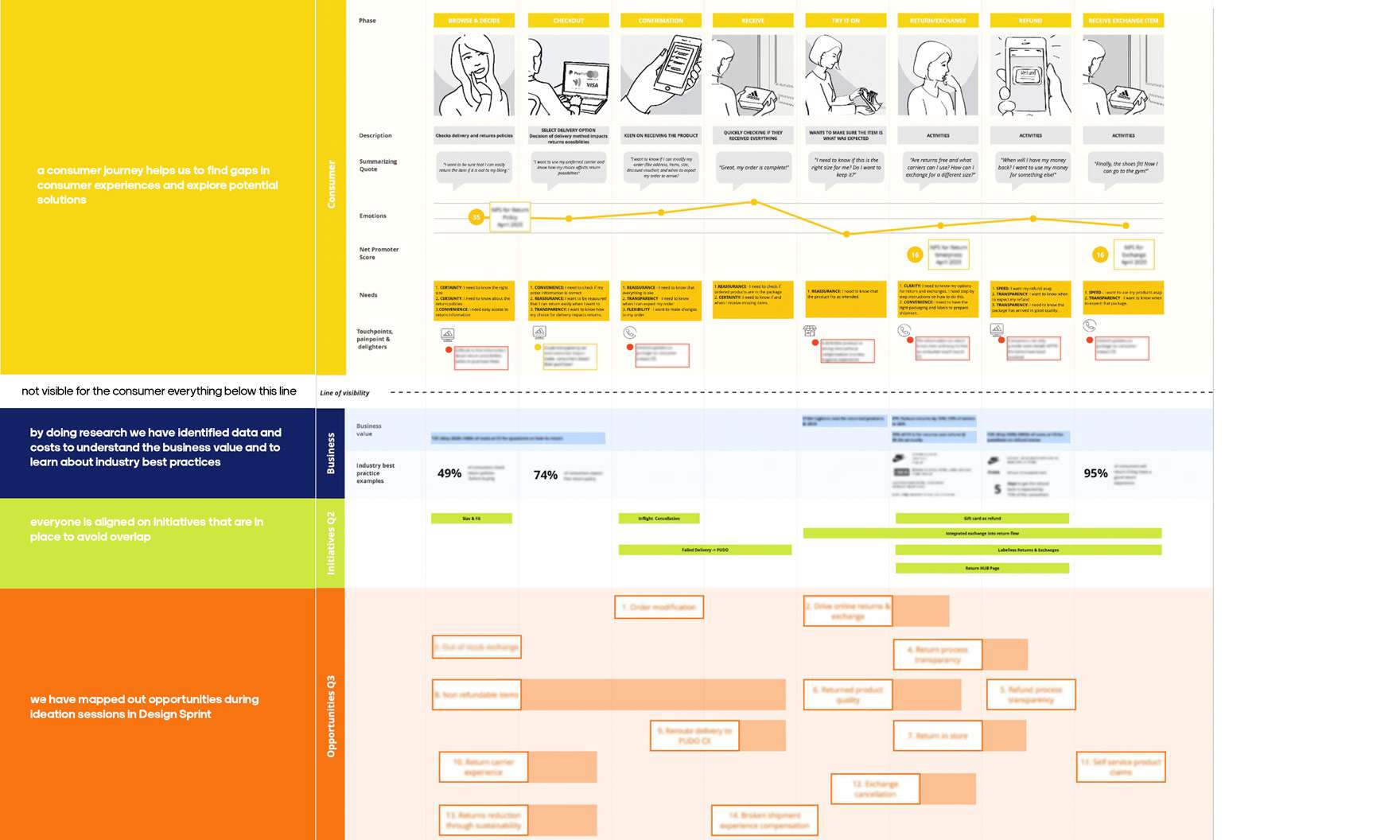 Once we identified and synthesised 14 opportunity spaces, the team defined the top two in detail and rated them based on viability, feasibility and desirability. Running two rapid design sprints allowed the team to reframe the problem, let go of preconceived ideas and expand the potential solution space for more innovation. 
After going through various ideation sessions with the team, ideas were conceptualized and prototyped. The prototypes were tested and further refined with real adidas customers to understand if these improvements would answer to consumers' needs.
A smoother customer returns experience and more effective ways of working
The design sprints resulted in 40 ideas for improvement of which the best ones were selected for prototyping. The emerging prototypes were validated with customers in short cycles of user testing. Based on the feedback, the team prioritised the proposed improvements on their roadmap.
By taking a human-centred approach, we have not only helped to increase alignment, collaboration and creativity between various business functions and their key market areas but enabled the team to come up with improvements that impact operational efficiency and cost savings, at the same time as delivering real consumer value.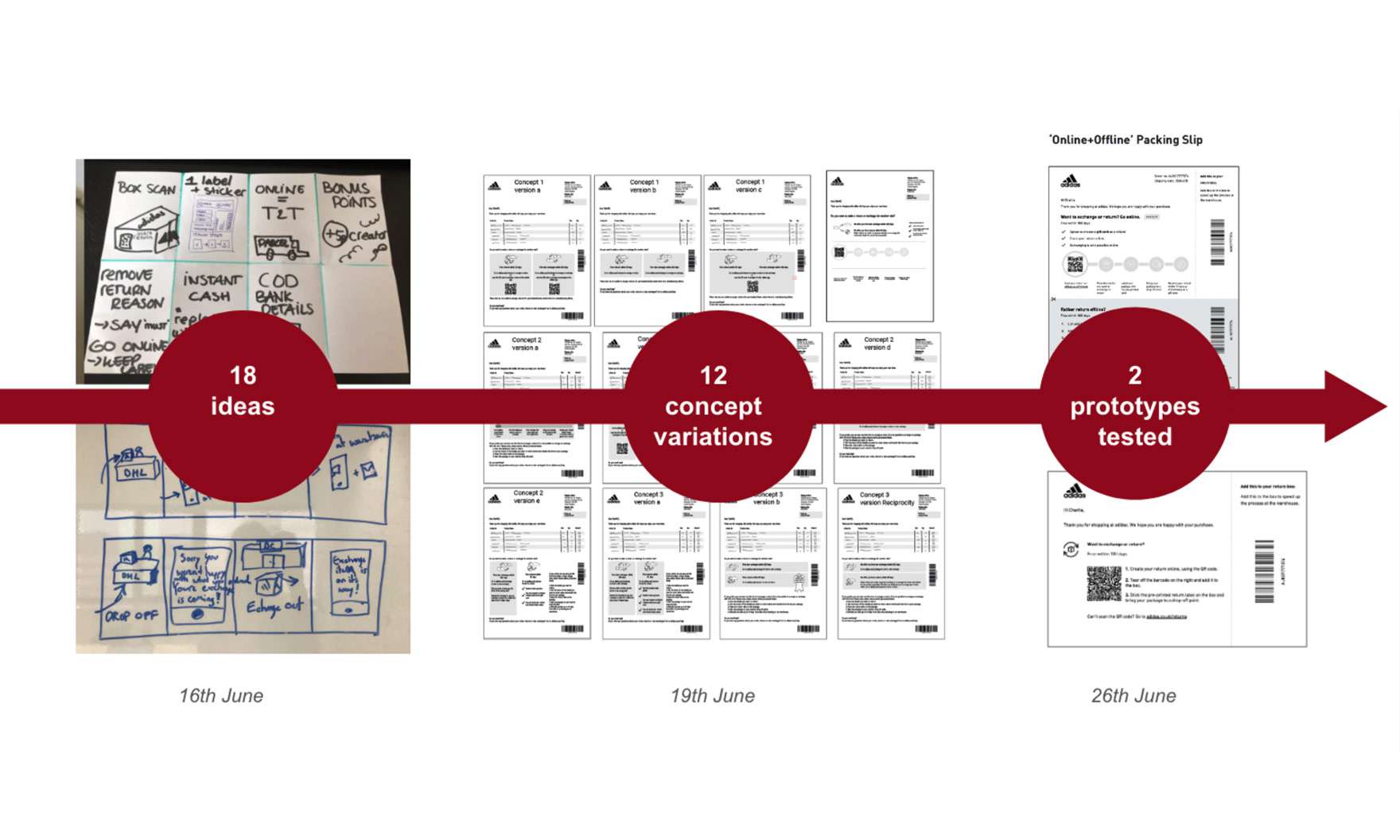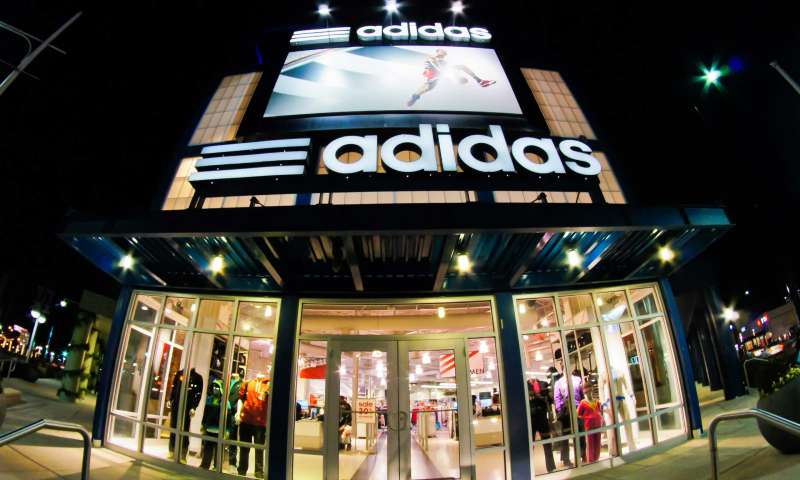 Mini client case
Helping a Sportswear giant become customer-obsessed
Adidas has grown from a German family business to one of the world's most famous brands. In order to stay at the cutting edge of style and sportswear, they're refining and developing the service they provide. We've been helping them on their journey to becoming a customer-centric (or as they would say 'customer-obsessed') organisation.