How service design and digital solutions can shape a labour market which works for everyone
Continuous change in job markets has been driven by automation and sharply accelerated by COVID. Nesta's own research suggests there are six million adults in England working in roles likely to change radically or disappear entirely by the year 2030. At the same time, the Confederation of British Industry estimates that 9 in 10 workers will need to be retrained or learn new skills over the next decade.
In this context, the Department for Education and Nesta Challenges recognised the potential for artificial intelligence and other tech to revolutionise how online learning and careers advice could be delivered. They also saw a risk as, without focused investment, these cutting edge solutions could fail to meet the needs of those most at risk of seismic shifts such as automation. For example, adults without a degree in sectors such as manufacturing, retail or logistics.
Focusing on change itself to build adaptability
This led to a focus on awareness of changes to jobs: the majority of workers do not believe that automation will affect their job, with a particularly low awareness of job changing among lower skilled workers (Onward, 2019).
COVID-19 has accelerated these changes, and is forcing us to rethink how we work, how we learn and how we can support people to transition into secure, long-term employment. Increased use of teleworking, e-commerce and other online tools is driving an increased demand for digital skills (OECD, November 2020). 
Even at the very beginning of the pandemic, 36% of high-level executives across the world said they were accelerating investment in automation because of COVID-19, as employers in the retail, manufacturing and logistics sectors looked for ways to maintain productivity while complying with social distancing requirements. (OECD, November 2020).
What might be needed?
In a rapidly changing environment, it's crucial that everyone has the tools and information they need to understand their local labour market, and has the opportunity to learn the skills they need to thrive. Whilst there's a wide range of labour market data available, which can provide rich insights into the types of skills and roles which are in demand – solutions that make this information accessible and useful are greatly needed. Launched in late 2019, the CareerTech Challenge Prize called for solutions that proactively engage workers most at-risk, and give them straightforward, actionable and local recommendations.
Can service design help?
At Nesta Challenge's request, service design agency Livework spent nine months working with CareerTech Challenge innovators to apply a human-led service design approach in their projects. 
Service Design is a discipline characterised by human centricity, it prioritises the human experience. It is also a co-creative process, facilitating multi-stakeholder collaboration towards shared goals. 
A big aspect of service design and design in general is the ability to reframe and envision based on real world evidence and lived experience. As designers, we value getting to the root cause of problems to ensure we are solving the right problem before we move into solving the problem. 
Envisioning, in turn, allows us to work towards a shared goal and bring it to life before building a solution. We do this by prototyping and experiential learning, taking our prototypes to users and beneficiaries. We explore and co-create together, delivering outcomes that serve real needs and not assumptions. 
Finally, contrary to some common myths, design is a highly structured and contextual process, which helps drive an evidence-based and needs-based process and document the rich insights that it produces. Structure and process consistency makes insights and learning actionable to deliver real world solutions and provides context.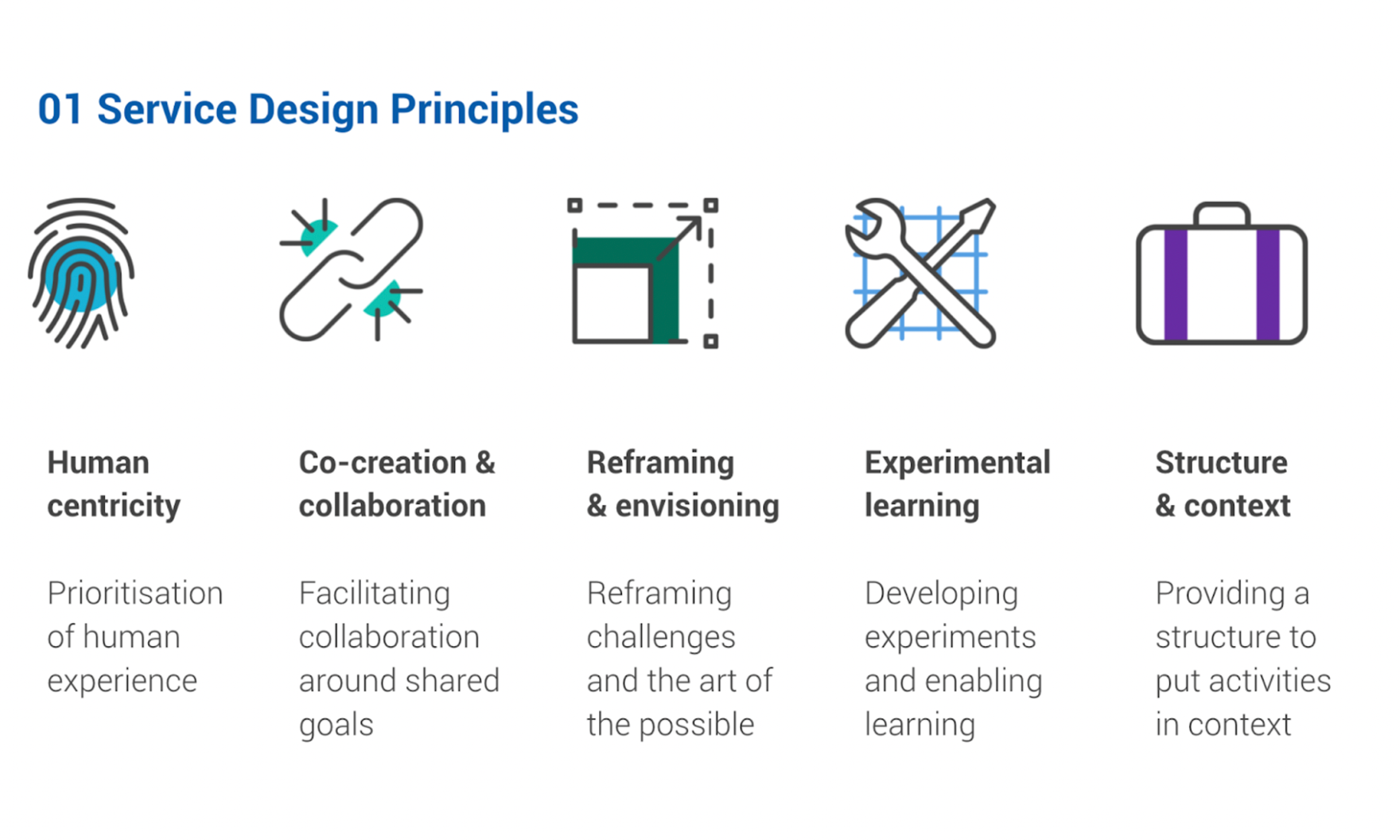 How did the practices of service design support outcomes?
As innovators embarked on the specific challenges of the CareerTech Challenge, they often dealt with new users in a new and complex pandemic environment. Going back to qualitative research and trying to understand this new cohort's context, values, rituals, routines, specific challenges and needs was key to reflect on what they needed in the context of their lived experience. Checking and validating their riskiest assumptions by going back into qualitative research was instrumental in ensuring that the direction of travel was the right one for their new users. 
Innovators used storytelling extensively to then translate complex concepts and beneficiary needs into concepts for future solutions. At the same time, a large repository of insight from research was emerging. Experience journeys and blueprints helped innovators map out a shared view of those user experiences as well as the different enablers they would have to put in place to serve their needs. 
Using journeys to think about the service experience not only in their digital service, but also before using it and once they have left the service was a powerful way of building a solution that truly aligned with their needs in the context of their life. Journeys also proved a valuable tool to explore the needs of other ecosystem stakeholders, like funders, institutional clients or distribution partners. 
Innovators de-risked their concepts by rapid prototyping, not only at the user interface level, but also at the value, concept or adoption levels. This led to a number of 'aha' moments during the support period driven by learnings attained during low fidelity prototyping sessions, role-plays, experience prototypes and interviews with institutional partners. 
This approach also allowed innovators to develop tangible concepts faster and collect feedback from them vs having to build digital prototypes to collect early feedback. 
Service design principles and practices have provided an effective platform for social innovation to come closer to its beneficiaries and stakeholders. 
The mindsets and toolsets of the discipline embraced by teams as they explored the best fit for their beneficiaries have proven equally powerful to explore the needs of institutional partners and the viability of their business models.
Next time you are faced with addressing complex human challenges in a changing world, consider the principles and practices of human centered design and service design to achieve better outcomes.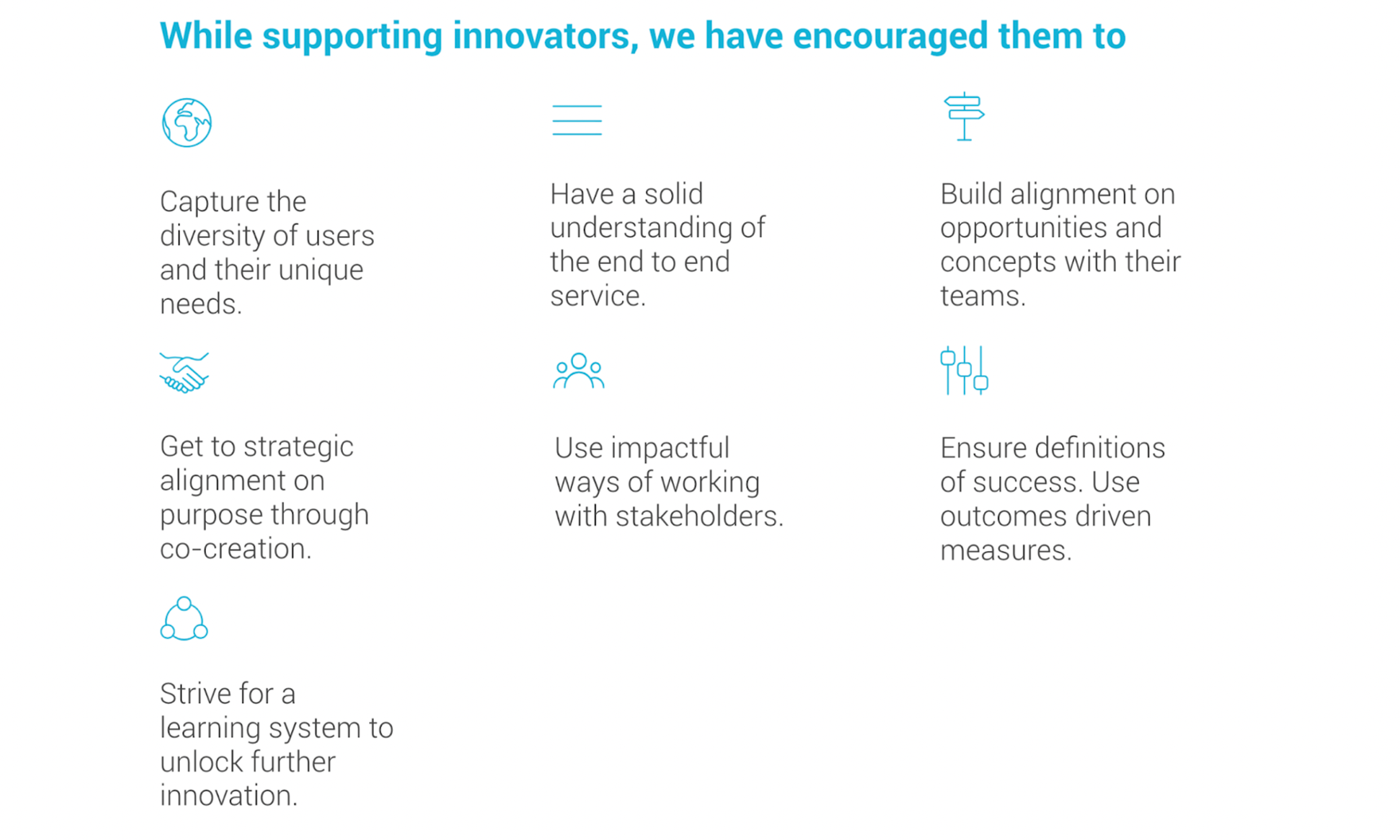 Resources of interest:
In the recording of The Changing World of Work Event, Designing Tech for the Future of Work you can see Livework Studio service designers Anna van der Togt and Clara Llamas presenting the service design journey they underwent as non-financial support partners to CareerTech Challenge innovators.