The only way to really know both your customers and your service is to see things from their perspective. This will not only show you your service from a different angle, it will reveal what customers need, what their lives are like and how your service can make more of a contribution. This opens the door to break-through insights that can significantly improve your service, customer satisfaction AND business performance.
Listen to your customers and then listen some more to learn
It's amazing what you can achieve by watching and listening. This is the first step in creating customer value and it's an eye-opener, revealing things you can never learn just by talking. Things that are simple for you will seem complicated to customers and things that are obvious to them will be new to you. Providing customers with the three most common ways of using a product can save customers a serious amount of time, without any additional cost or effort for the business.
Those wonderful customer surveys and reports (I never read them)
A customer who received a monthly report from one of our clients told us it was great and she had no issue with it. We asked how she used it and discovered she hadn't opened the last five reports. It turned out it required too much work and additional analysis to be useful in her busy life. We redesigned it – putting high-priority items first – which helped decision making across the organisation. The new report created a new revenue stream for our client.
Customers are not just service users
Most organisations use customer data to track operational KPI's such as service time, sales volume, production defects. By watching service user's behaviour, you can take the next step and start thinking of them as customers. This means not only focusing on operational issues such service failures or ease of use, but working on more abstract things like value for money – which drives purchase and repeat purchase behaviour.
Learning from customers and keep them
An automotive service client of ours had a retention problem: customers dropped off after the first subscription to their car security service. As cars declined in value customers quite reasonably felt the service value declined too and that service and cost should reflect this. By recognising this, the business aligned its offering to customers' expectations and communicated better the cost and irritations associated with having a car stolen. This not only improved the relationship with customers, but kept them loyal.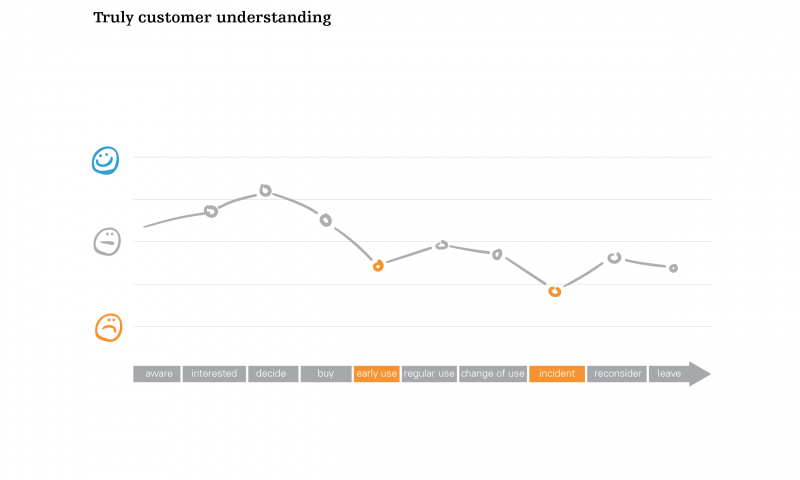 Mini story
Truly customer understanding
Being aware of negative experiences of customers is not the same as truly understanding them. Some of the root causes of customers incidents can be hard to find without direct customer input or involvement. An incident is not just a failure of a service but is in fact a misalignment between customers' expectations and an organisations' performance.
Understand customers in their context - not your assumptions
The biggest step is to understand the wider context for customers. For example, you can see insurance in the context of buying and owning, energy in relation to running a home or a hotel room in the context of a business trip. Do this and you will see how your service fits into people's lives and how their needs and expectations are coloured by experiences in completely different sectors. Such key insights highlight opportunities to increase the topline as well as the bottomline – even in competitive markets.
Let your customers' experience guide your investments
The customer context is a network of relationships, with your business and numerous other actors and factors. This might seem complex, but mapping your customers' experience, can simplify things both for you and the customer. You can find the key places to intervene and make better strategic decisions to create customer value. There are also plenty of opportunities to achieve quick wins that improve internal performance while at the same time build the relationship with customers.