For a long time, most employers regarded punishments and rewards as the only ways to get employees to do their job. But a new perspective has been taking shape in the last decade, one that looks through a more human lens. Employees are starting to be seen as people with needs, goals, aspirations, and emotions. If we want these humans to be our employees, we need to make it worth their while, and installing a ping pong table is not the way to do it.
The business impact of a well crafted Employee Experience
Employee Experience (EX) is, in essence, a framework to design for engaged employees: people who work at an organisation for other reasons beyond their salary. Engaged employees have a positive impact on the organisation, and have been linked to multiple business outcomes [1]:
Easier to recruit employees

Increased employee retention

Improved employee efficiency 

Improved customer experience
Organisations that are outperforming their competitors on these critical dimensions are ultimately more profitable, strengthening their position in the market.
A study by Jacob Morgan, author of The Employee Experience Advantage, showed that organisations who were rated as having "excellent EX" outperformed all other organisations significantly [2]. This was reflected on various dimensions, such as having twice the average revenue and being listed six times more frequently on rankings like "Linked-In's most in-demand employers". The study also showed that it doesn't matter whether your organisation is big or small. Regardless of size, organisations with excellent Employee Experience had 4.5 times more profit per employee than other organisations.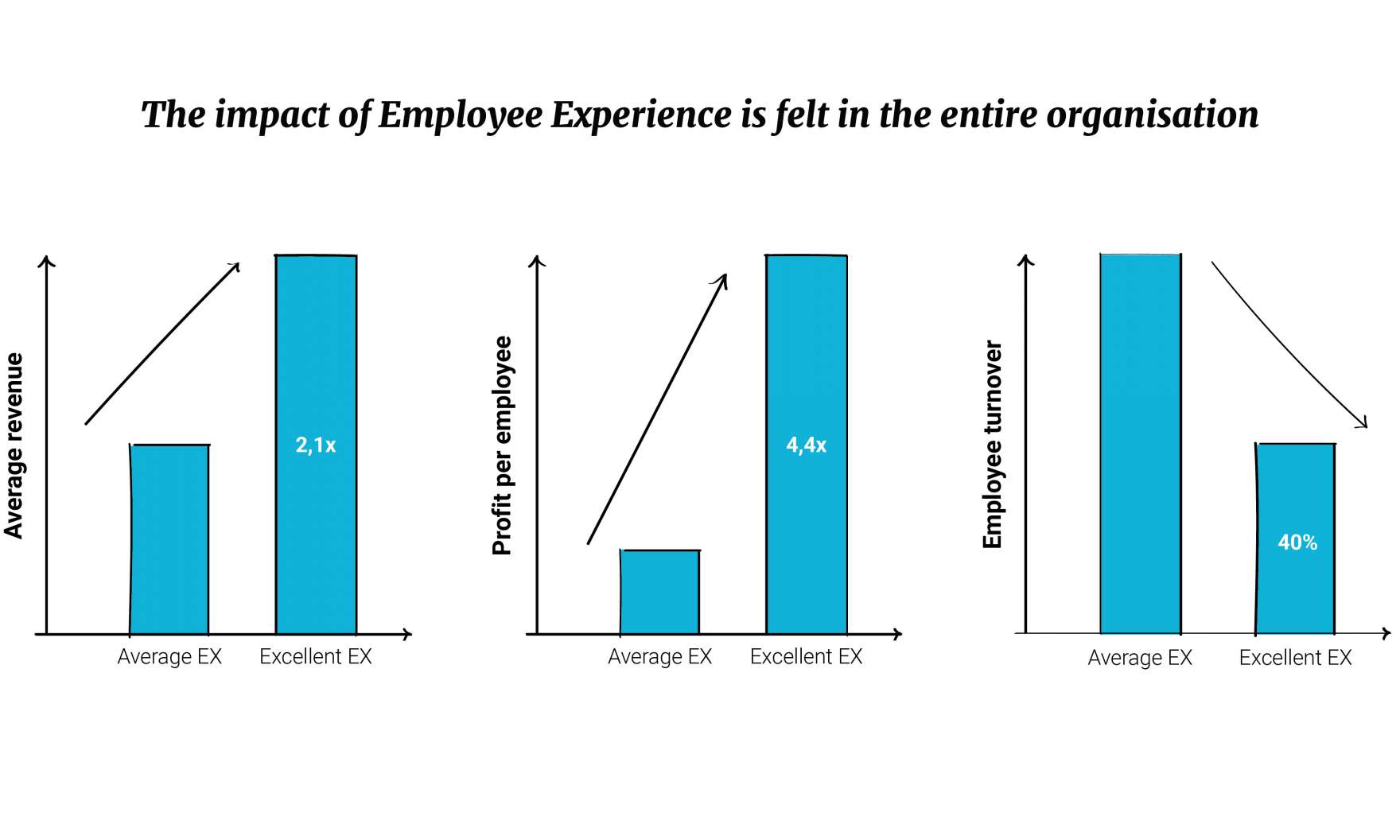 Engagement vs. Experience: involving employees from the start
You might already be familiar with the term Employee Engagement and wonder what the difference is between that and Employee Experience. Engagement and Employee Experience are similar, as they both aim to create more engaged employees. But, they differ in how and when people are involved. Typical engagement methods include surveys that measure how happy people are about previous situations and changes that were made. Employee Experience methods, such as qualitative interviews and co-creative sessions, are employed before implementing any interventions. This means solutions are fit for purpose, since their values and opinions can be integrated from the start, instead of measuring effectiveness after the fact.
Three steps to create excellent Employee Experience
The first requirement for Employee Experience is of course that the value of EX is understood within the organisation. Based on our research, once that's established, creating excellent Employee Experience is a three-step cycle.
Plan the desired outcomes
Determine which aspect of the complete employee experience to focus on first. For some organisations, the onboarding process should be redesigned. For others, it could centre on the way feedback is given.
Defining the right approach
While every organisation needs to design for their unique context, there are some aspects of EX that are generally applicable to all organisations. Select the particular mix of interventions that will work for your organisation.
Measuring impact
By creating a baseline and continually measuring and reflecting, the organisation can learn how the designed interventions are impacting EX. This, in turn, helps to reflect on the desired outcome of Employee Experience. The cycle then continues.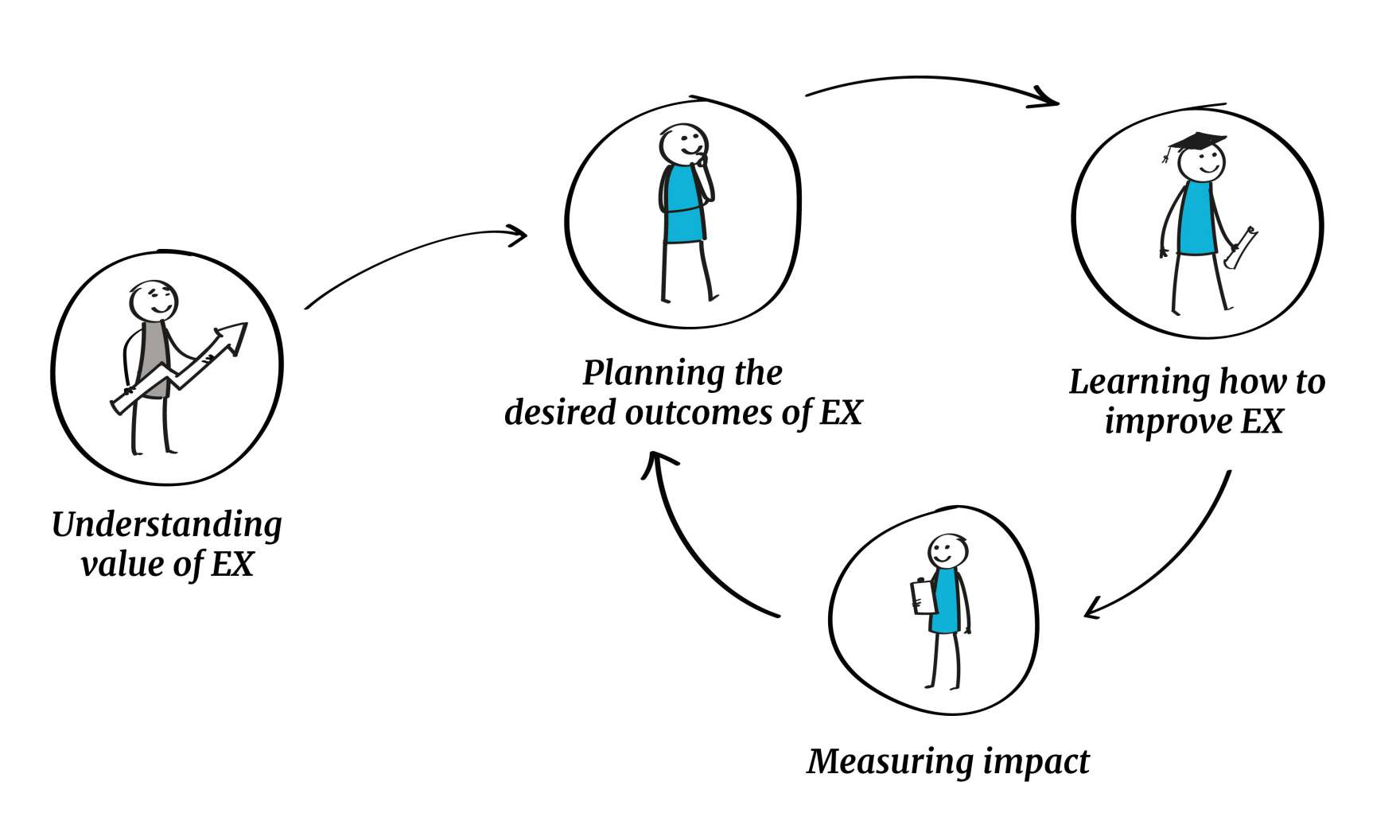 The EX pyramid
It can be overwhelming at first to work on Employee Experience, since there are so many factors involved. The EX pyramid is a framework that creates focus. To develop the pyramid, Livework analysed several theoretical models and collected insights from client projects. The EX pyramid shows that organisations need to satisfy five employee needs: Safety/Security, Recognition, Connection, Growth and Work/Life harmony. The needs in the most fundamental levels, e.g. Safety/Security, must be sufficiently satisfied before employees care about satisfying their needs in the next level. Excellent Employee Experience comes from the right approach to all five levels. The EX pyramid can be used to plan new interventions and also to interpret and understand existing experiences. For example, there is often a drop in engagement after an organisational transformation or a merger because it shakes the foundation of the pyramid – Safety/Security.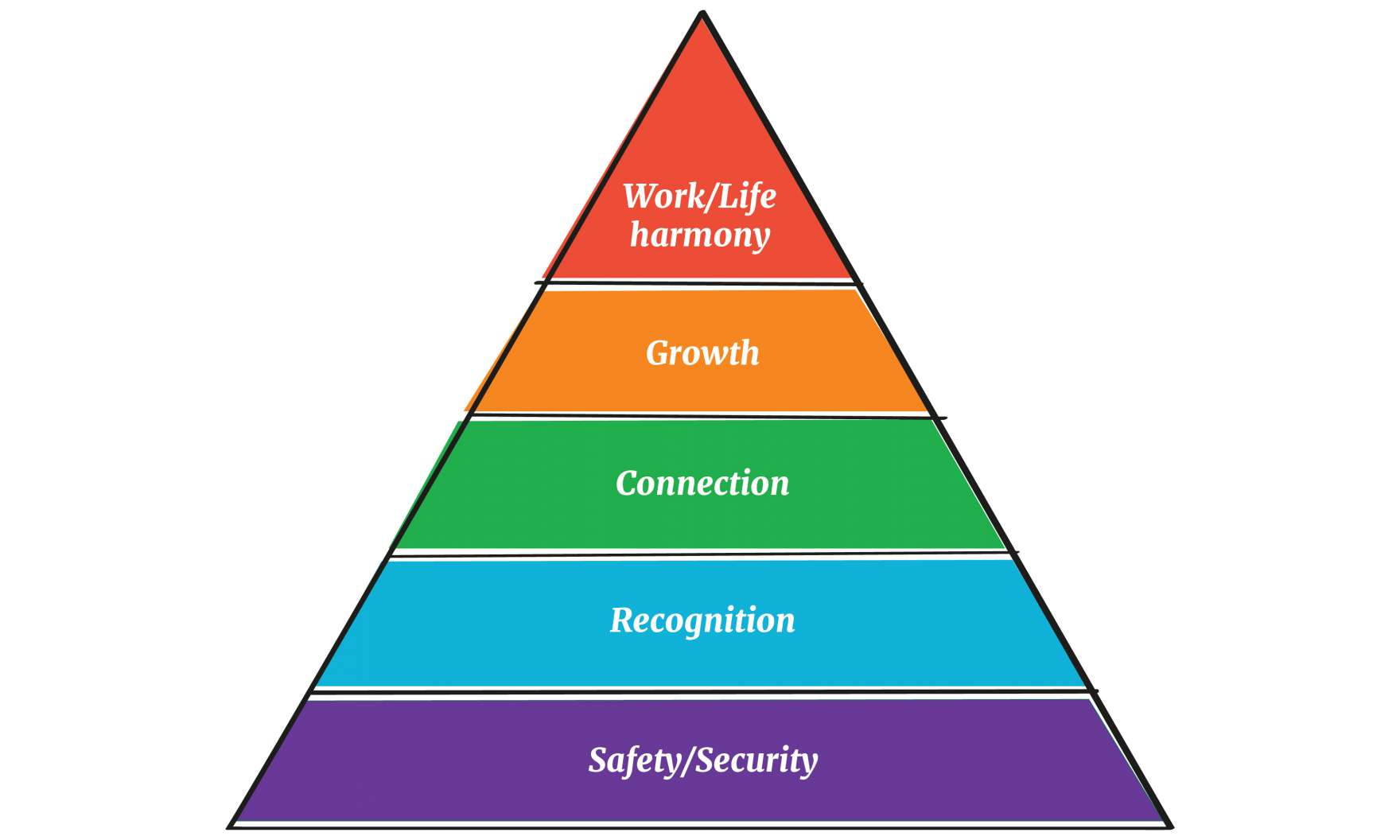 A framework to support strategic decision making
The EX pyramid provides a framework to analyse your Employee Experience and make strategic decisions on how to improve it. You can prioritise solutions and interventions by learning which needs are currently unsatisfied.
When people experience a lot of uncertainty in their jobs, installing a ping pong table is not going to improve their experience. In fact, it will probably lead to frustration and a worse experience. Instead, it might help to organise a session where staff can talk to their CEO, receiving answers to their questions – a Safety/Security intervention. 
Livework has collected over seventy best practice examples of Employee Experience interventions (see best practice interventions below). All of them relate to one of the levels of the EX pyramid. Once one level of the pyramid is prioritised, the best practices serve as inspiration towards fitting solutions. In this way, the pyramid helps organisations avoid mistakes. 
Design for your employees instead of copy/pasting
It's clear nowadays that Employee Experience is important. The competition for talent is tough, and it might be tempting to take a page from a competitor's book to keep up. But to really distinguish themselves, organisations need to listen to their own people. Stellar Employee Experience examples can serve as inspiration, but blindly copying them will most likely result in frustration because they aren't designed for your particular context. If you find it daunting to decide where to begin, just ask. Your employees will be able to tell you. They know better than anyone what will create a positive experience. If that's a ping pong table, it's a ping pong table. But it just might be something else.
Three best practice interventions on Employee Experience
Want to know more about this topic? Read our article 'Employee engagement: A salary is not all people work for', on how to engage with your employees through relationships. Or zoom-in on a high impact phase, the onboarding process: 'The perfect start with your employees'. 
References
[1] Kompaso, S. M., & Sridevi, M. S. (2010). Employee Engagement: The Key to Improving Performance. International Journal of Business and Management, 5(12), 89–96. https://doi.org/10.5539/ijbm.v5n12p89
[2] Morgan, J. (2017). The Employee Experience Advantage: How to Win the War for Talent by Giving Employees the Workspaces they Want, the Tools they Need, and a Culture They Can Celebrate. Hoboken, New Jersey: John Wiley & Sons, Inc.
[3] Maslow, A. H. (1943). A theory of human motivation. Psychological Review, 50(4), 370–396. https://doi.org/10.1037/h0054346