Customers are becoming much more aware of digital technologies and are adopting new ways of engaging organisations at a much faster rate. The challenge for organisations is no longer just about being digital, it's now essential to keep up with the rate at which customers adopt new technology and crucially the speed in which the competition are using digital technologies to capture the attention of customers.
Digital is not just for "tech" firms
As digital continually evolves there is still a perception that only innovative technology companies play in this market. This thinking can result in initiatives for change being sidelined to those with a focus on technology.  The changes required to help the  organisation evolve to become more fluid, relevant and personal are forgotten. The same older, lengthy processes which worked well in a transactional world, are applied to a sphere where customers now have limited patience, and much more choice.
Meet customer expectations using digital
Customers expect organisations to recognise them regardless of what device they're using and are confused when they find that they're dealing with representatives that have no knowledge of their movements between channels.  What should be a seamless experience becomes frustrating as previous details need to be re-entered multiple times . Understanding where and how customers want to interact enables organisations to remove inconsistencies, enabling a personalised and seamless experience across channels and devices.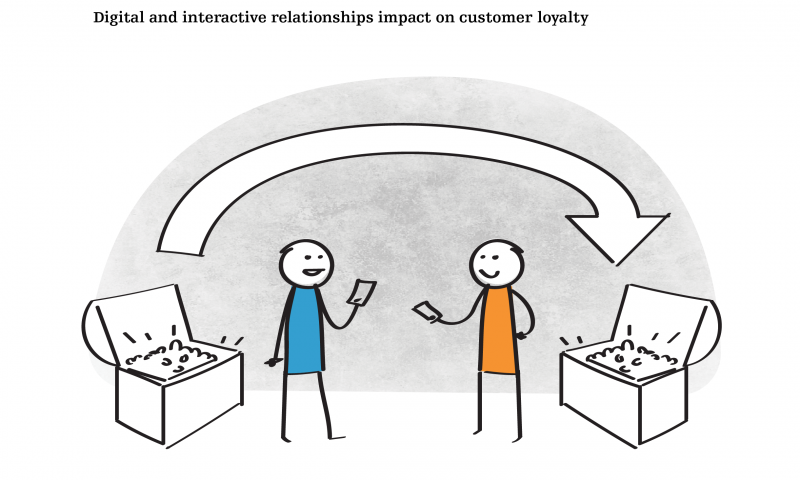 Mini story
Digital and interactive relationships impact on customer loyalty
Internet and mobile devices have changed the usage of online banking services and have completely changed customers' daily lives granting mobility and instant, easy access to banking services. They've also changed customer relationships which have become more interactive, digital and less personal. While close contact, long term relationship and more personalized advice is critical. Customers become less loyal. Customer engagement, loyalty and satisfaction are under serious pressure.
Help customers overcome decision anxiety
Digital can leave customers feeling disconnected, with almost no way of contacting the organisation when key decisions need to be made. Complex decisions previously resolved by a face-to-face interactions, are now replaced with a website or mobile app. Knowing where customers are across their digital journey enables organisations to provide an on-going engagement with them, helping build confidence, as they navigate the new terrain of digital.
A business view on the benefits of simplicity and transparency
Customers now expect to be able to buy and manage their products online, but are disappointed when their purchases are segregated, separated and difficult to manage. Legacy organisational structures designed around products result in duplication and inconsistent interactions, adding to further customer frustration. Moving to a customer first mentality, breaks down historical barriers, bringing a holistic approach to how offerings are delivered. Enabling organisations to gain efficiencies, whilst offering better service to its customers.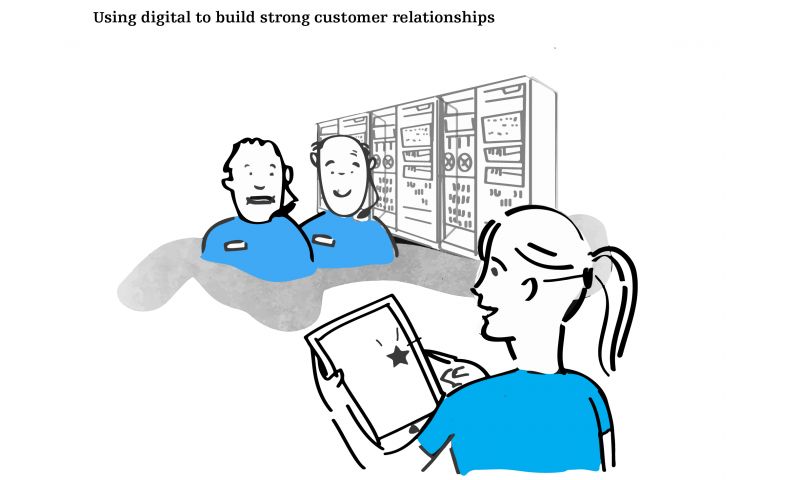 Mini story
Using digital to build strong customer relationships
Customers are surprised when a digital experience almost second-guesses them, and almost understands what they need before they do.  Using the data captured across the digital eco system starts to build a unique picture of customers, which enables organisations to create highly personalised interactions, creating those "Ah Ha" moments of insight. This leads to greater customer satisfaction, and stronger relationships.
Overcome the low speed and high cost of change
The improvements and creation of digital capabilities are often seen as a technology only requirement. Significant time and effort is put into analysing existing technology, when the changes that would have made the difference may have been much simpler, and less costly. To improve and create value-adding capabilities, digital must start with customers first, and then look at what aspects of the organisation need to change, ensuring digital capabilities continue to evolve and remain relevant to customers.
A good digital experience is expected but the human touch is still important
Adding a human touch to digitally delivered services provides a welcome return of human beings into the digital experience.  Through the deep understanding of where customers are, and when interactions are required, organisations can provide familiar, reassuring experiences. This ensures each interaction is more personal, enabling the organisation to connect more smoothly with the outside, and build anticipatory, unobtrusive services, which provide advice and support to customers when and where they need it.
Digital businesses can win and retain customers
The new digital customer is more informed and frequently ahead of the curve, when it comes to how organisations' products and services should be enhanced or reimagined.  Understanding these behaviours and the things that customers truly need, enables organisations to make meaningful connections between people and technology. Putting the customer at the heart of the organisation and listening to feedback can not only win customers, but also maintain satisfaction in existing ones, by delivering the things that matter at the right place and time.