Introduction
Covid-19 has altered the way we live and work in fundamental ways. We believe service design has a unique contribution to make through:
 Reframing problems into opportunities to grow forward;
Co-creating and collaborating to make this happen;
Experimenting with rapid prototyping and quick iterations.
As we scramble to adjust in a period of intense uncertainty, we have a unique opportunity to slow down and reflect on how our world, our lives and our work will change from this point. At Livework we believe that, when we emerge from the crisis, the world will be very different. We want to be a catalyst, helping build strong, inclusive communities, services and organisations that transcend human-centricity to pave the way towards truly sustainable ways of living and working. In this forced and sudden acceleration towards digital coexistence, we have identified three urgent topics: digital resilience, digital collaboration and digital leadership.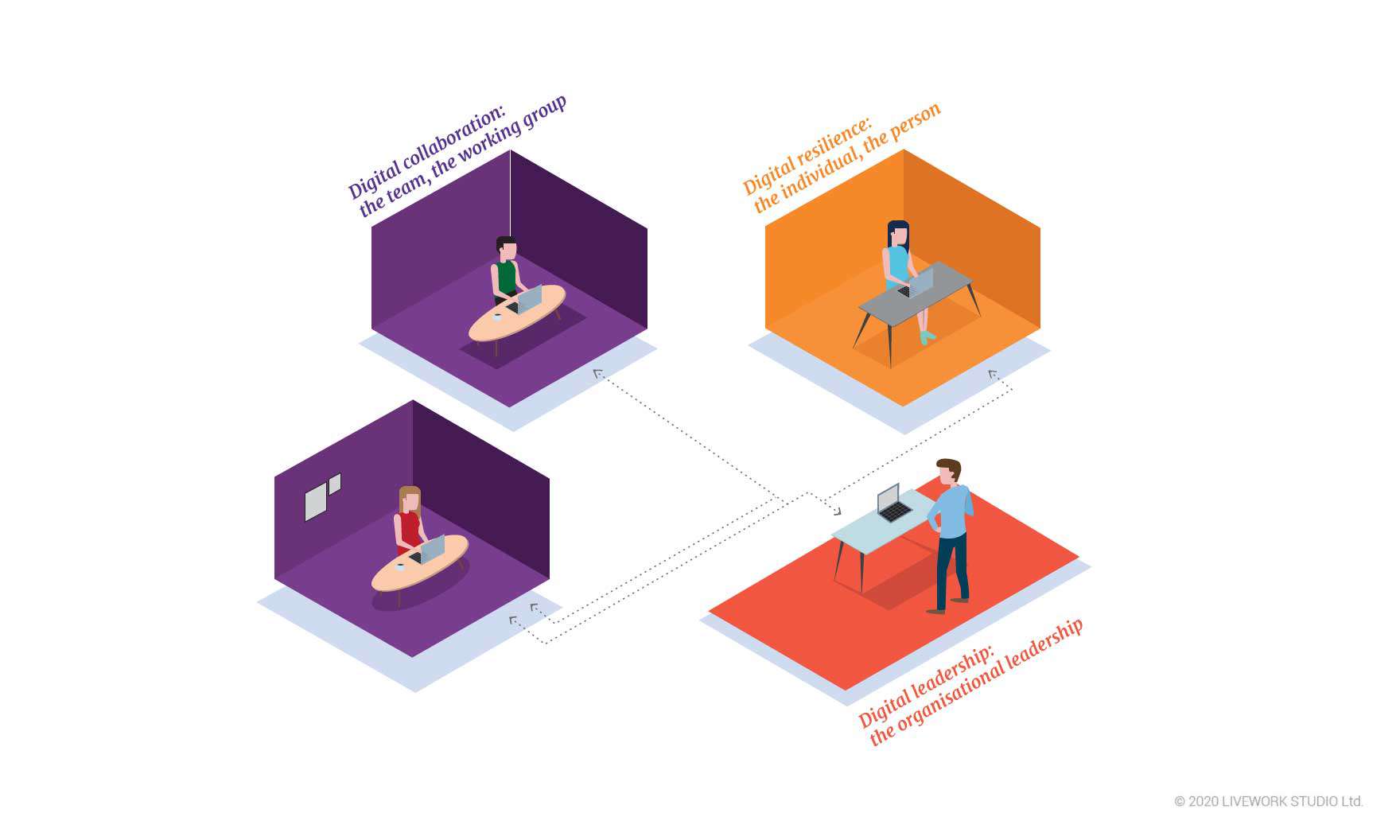 1. Digital resilience
As individual workers, our daily life has taken a massive turn. Our work and life context has transformed overnight. We need to quickly adjust and maintain our productivity, while working with uncertainty and in confinement. This requires mental resilience, to cope with the situation, but also digital resilience as an ability to shift work and meetings into the digital domain. On a positive note, this shift appears to be democratising the social politics teamwork brings, and making it easier to connect with colleagues outside of our bubble. Three fundamental needs for people in their jobs are feeling safe, being recognised and feeling connected. In normal circumstances, these needs can be challenging to fulfil, but we now need to make a more deliberate and determined effort.

What does it take for people to do work that feels meaningful, when working in physical distance from their teams?

How can people explore the opportunities of the current situation?

How will this differ based on our individual circumstances and personalities?
Our clients are asking us to work closely with their people, to help them adapt to change. Being drawn towards opportunities, we see solutions where others only see problems, and focus on making change for the better. Challenges aside, we can now shape our working day to our liking: for example taking a long walk around our neighbourhood in the middle of the day, or schedule time for focused work without the interruption of a colleague. For our clients this means we're supporting them in the realm of coaching, purpose giving, skill development, enabling contribution and smaller team dynamics.
2. Digital collaboration
Our daily routines and our ways of collaborating have been shattered. The situation challenges us, as we need to increase the human connection that we took for granted when working in the same physical space. As we go about fundamentally altering our daily routines, we find incredible opportunities to revise and improve our ways-of-working. 
How are we going to stay close to our customers? 

How do we strengthen, develop or sustain our company culture?

What new processes, methods or ways of working are required?
We are able to react quickly, helping our clients to navigate the complexities of the sudden remoteness. In the past days with our clients we have built on our design ability for experimentation, recreating many of our engagements in virtual settings. Being creative about how we stay in touch is crucial now, and people have enthusiastically jumped in, collaborating from their homes with focus and renewed enthusiasm. Teams have been able to work on blueprints, digital ethnography and interviews, synthesis and sense making sessions and even virtual coffee and sparring breaks. 
3. Digital leadership
As business or organisational leaders, we confront a unique situation. The old focus on planning and control, that was still present in many organisational environments, does not work in a world that is inherently uncertain. Instead we dare to challenge that thinking from a design perspective. More than ever, we need to walk in the shoes of our clients and employees and acknowledge uncertainty. We need to tackle questions such as:
What do we prioritise and where do we focus now?

How do we regain profitability with our core business? 

How can we adapt to new markets with new value propositions?
Service design enables organisations to thrive in a state of flux and ambiguity. Here, service design helps by turning the vague and abstract into tangible and concrete outcomes, while working with volatility and incomplete information. We enable business leaders to make key shifts, create and effectively communicate new strategies and focus on what really matters.
Conclusion
Service design can help you adjust to this new situation through its key characteristics of reframing problems, co-creating solutions and experimenting. With a focus on digital resilience, collaboration and leadership, we are able to tackle the challenges of Covid-19, while exploring the opportunities.
This piece was written by designers collaborating remotely from three countries. Writing by: Suzy Hogg, Clara Llamas and Rosa Storm. Contributions from: Julia Schaeper and Frithjof Wegener.
Get in contact