In the increasing urgency for companies to align their innovation efforts around sustainability, service design will play a key role. It can drive the design of customer centric circular business models and, through guiding the enormous transformation they're facing, empower organisations to deliver on their sustainability agendas.
From the trenches: 20 years of service design
Over the last two decades, many of our clients' challenges were directly or indirectly part of their sustainability agenda. We've helped them replace products with lower footprint services, design for more sustainable customer behaviour, increase adoption of low carbon technology, and establish circular product-service systems. In all these instances, we think it's safe to say: design has a lot to contribute to sustainability.
Why sustainability needs design
The sustainability challenges we're facing are typical wicked problems: the kinds of problems Kees Dorst frames as being open, complex, dynamic and networked. 
Take a relatively straight forward sustainability initiative that one of our clients is working on: bring old sneakers back to the store so they can be used to manufacture new sneakers. This requires new collaboration across the value chain, including extra tasks for retail staff, as well as changes in consumer behaviour, business value analysis, and product design.
We see a key role for design (along with many other disciplines) in tackling these problems. More than ever, Marty Neumeier is right: these are the kinds of problems you cannot manage your way out of, you have to design your way out of them. But a sustainable contribution from the field of design will require a foundational shift.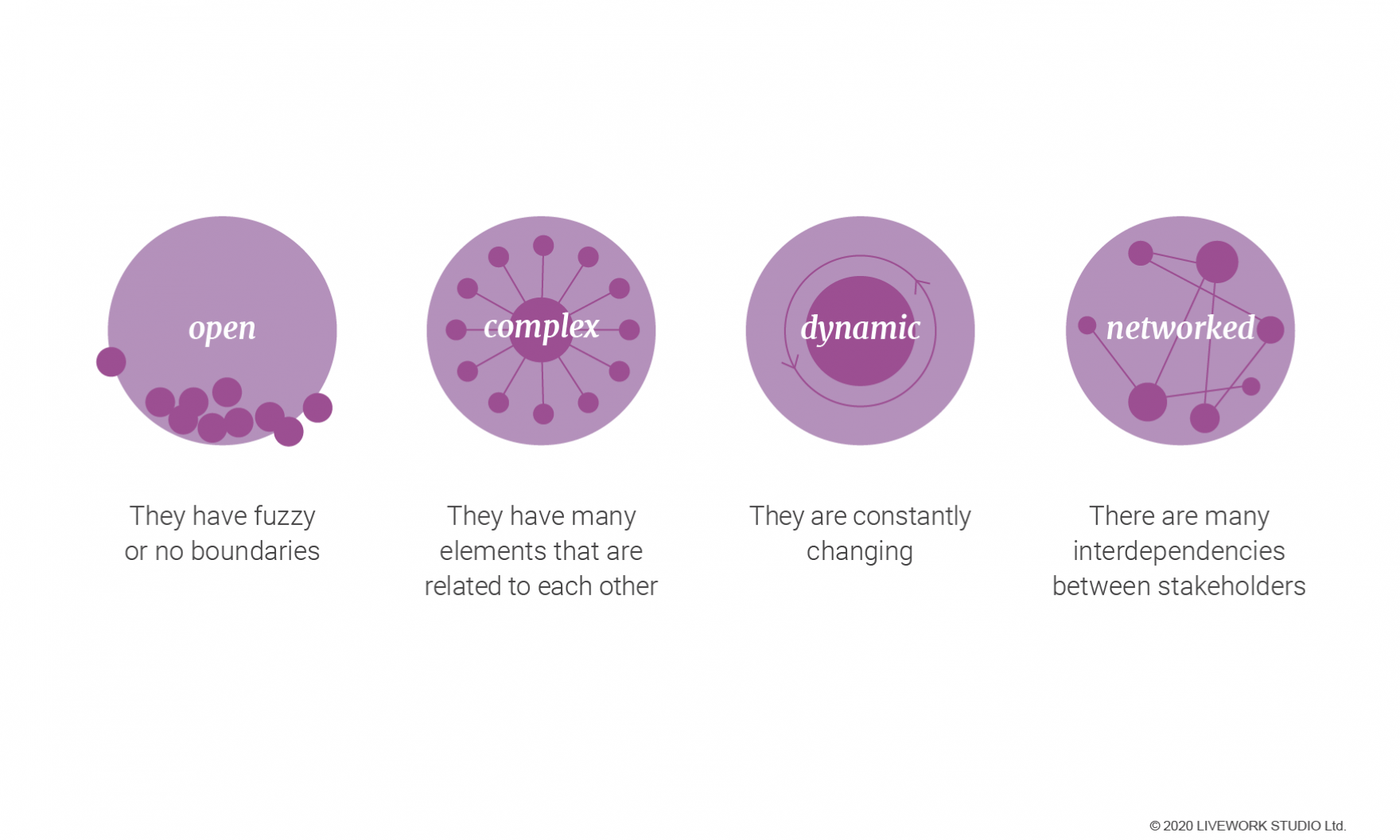 Reframing design's mission
Design, at its worst, contributes to a lot of crap that uses up resources and quickly occupies landfills. With better intentions, design has also improved resource efficiency and lengthened lifespans. But in order for design to perform at its best, and to meet the responsibility of tackling sustainability issues, it needs to step up and reframe its role. IDEO once defined three complementary perspectives to ensure good design: desirability, feasibility, and viability. The thinking that worked for a very long time was that good design leads to products that people love (desirability), that can be manufactured to fulfill their role (feasibility) and that make the company some cash (viability). Obviously, our current challenges demand a reframing of this view. But let's not throw the baby out with the bath water. These still hold up as long as we reinterpret them to support a more sustainable design contribution.
Desirability: the customer view.

This has to move from designing for individual needs to designing for the collective. Sometimes what an individual wants is not what society or the planet needs. Design needs to take a stance and adopt a broader view. For a parking service in London, we looked at the needs of the individual driver as well as the needs of the borough to balance everyone's requirements. 

Viability: the business case view.

Let's move from designing for short term profit to designing for long term triple bottom line, with a more sustainable view of growth. Viability is not about the economic prosperity of the company alone but about the economic prosperity of the ecosystem the company belongs to. For a large automotive brand, we looked at business models beyond the product purchase to move them away from that single interaction.

Feasibility: the former technology based view.

This has to move from 'can we make it' to 'should we make it' and from 'can I make it' to 'can the ecosystem sustain it'. For a building company we looked at partnerships with service providers to build a collaborative network.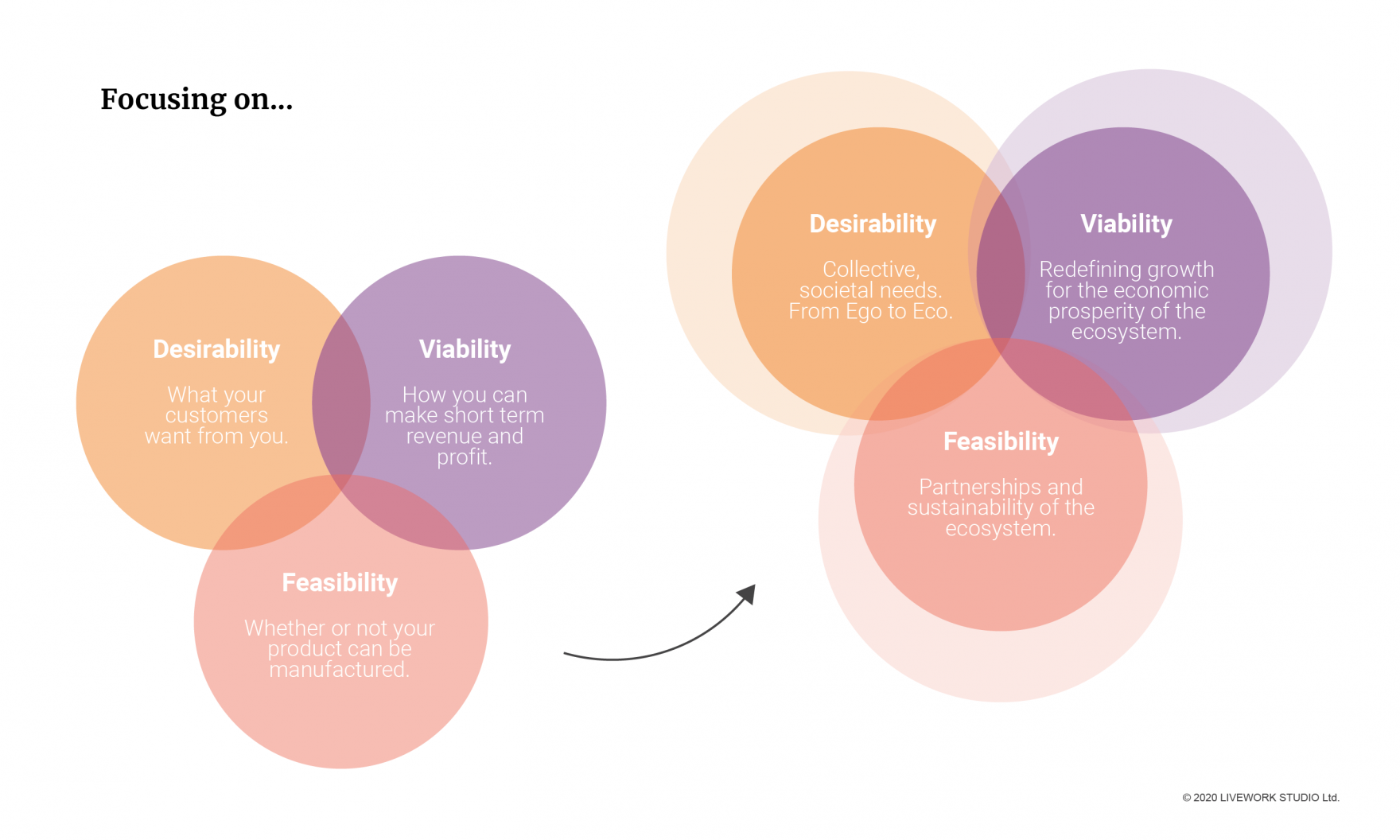 Designing for Sustainable Futures
The value design can bring to creating Sustainable Futures is in its ability to foster collaboration across silos and create short term successes in uncertain conditions. It's in the tools that allow for exploration and experimentation and in its creativity that allows us to imagine and build better futures. But where and how should design participate in creating sustainable futures? We see three key areas where designers must step in to lend a helping hand.
At the user level, sustainable innovations often require new behaviours from consumers, as well as other stakeholders, that need to be designed for with care and understanding of behavioural patterns. Behavioural design, when used beyond nudging people into buying stuff they don't need, is a great vehicle to allow people to naturally adapt to the new realities that our planet demands from us.
At the customer level, new sustainable technology requires a keen understanding of customer contexts and adoption patterns. Technology only does what it should do if it's embedded in a well designed, customer centric ecosystem. When creating customer journeys, what we often design is how people and systems interact. In the case of low carbon technology, designing these interactions with care will be crucial for the successful adoption of these technologies.
On the business level, circular business models require creative, collaborative approaches to co-creating value between manufacturers, service providers, logistics partners, and consumers. Our clients cannot do this alone, but partnerships are hard to forge since they require a shared vision, trust, solid legal agreements, and shared ways of working.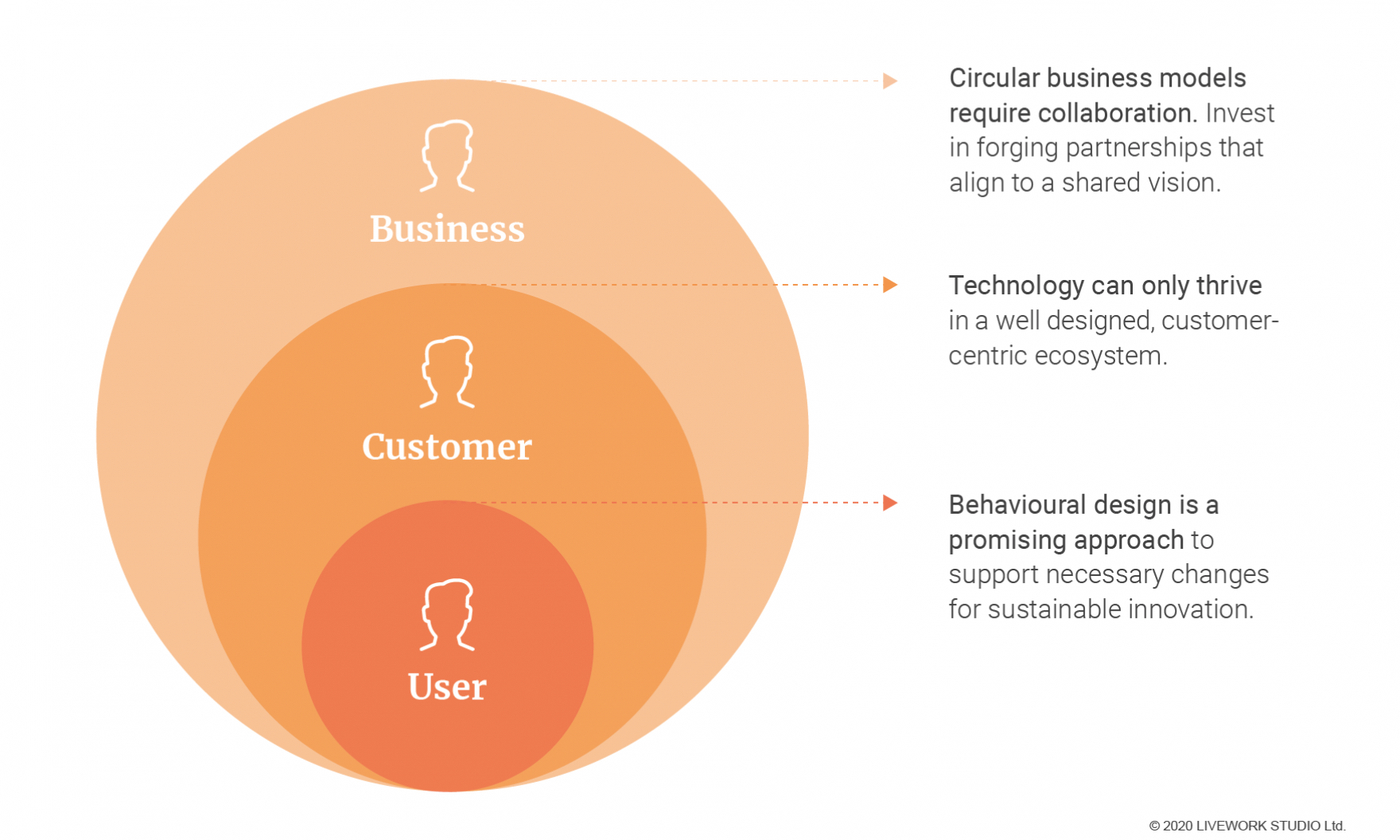 Sustainable futures require impactful organisations
If you want to develop and deliver innovative and sustainable products or services, you'll quickly realise you can't do that without redesigning parts of your organisation. You have to rethink your purpose, goals and metrics, capabilities, roles, and responsibilities. You can't just design a sustainable product or service and hope it sticks. You have to design the organisation that's capable of delivering and maintaining it. Design led organisational change and capability building have been a big part of our most recent work. (Expect an article on this from us in June of this year.) 
Sustainable change is a two sided sword. It will always require merging previously separate entities: organisational structure with customer impact, long term change with short experiments, and outside-in with inside-out perspectives. 
Design is at its strongest where those opposing forces meet: in making ambitions a reality, making strategy operational, and turning sustainable vision into measurable impact.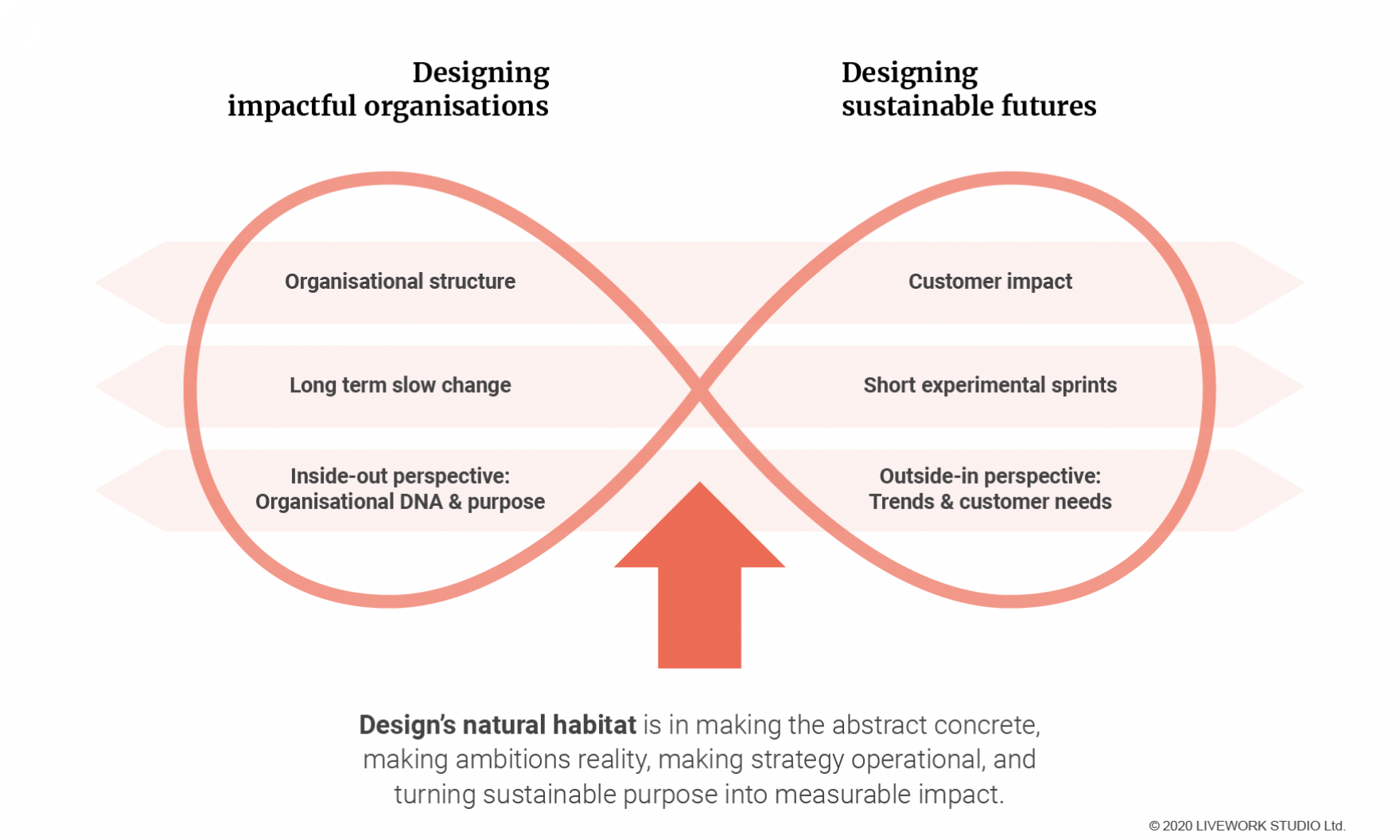 References:
Kees Dorst, Frame innovation

Marty Neumeier, the designful company