A low-carbon economy is possible *. The solutions are already with us, but speed is of the essence. We need to do all we can to drive adoption of a multitude of low-carbon solutions.
Low-carbon solutions are often focussed on the technical challenges but are primarily human in nature. The challenge is to help individuals and businesses transition to new ways of meeting their needs with low or no carbon emissions. This transition depends on rapid change in many areas. All of us adopting new ways – faster. No matter how great the solution, without a path of adoption, it will fail to deliver its potential fast enough.
Can we design for faster adoption?
Innovators in many industries and sectors are developing more and more low-carbon products and services. They want to create a cleaner, greener future.
Many great solutions are competing with or struggling to replace established high-carbon alternatives. It is essential that we look beyond the technical challenges and also solve the challenges of adoption and transition. Are we supporting customers – individuals or organisations – to switch from the tried and tested? Can we better design the process of considering, acquiring, implementing and using a new solution? Can we speed adoption by design?
Jumping the chasm
Studies of the process of adoption can help us understand how to speed progress. Adoption can be broken down into five key stages. The greatest challenge all innovations face is 'jumping the chasm' from early adoption to the market majority and sticking there **.
Building on some pioneering research we have identified four key barriers to adoption of low-carbon solutions ***. Knowing what these barriers are, enables us to understand them in more depth and actively mitigate against them to drive faster adoption.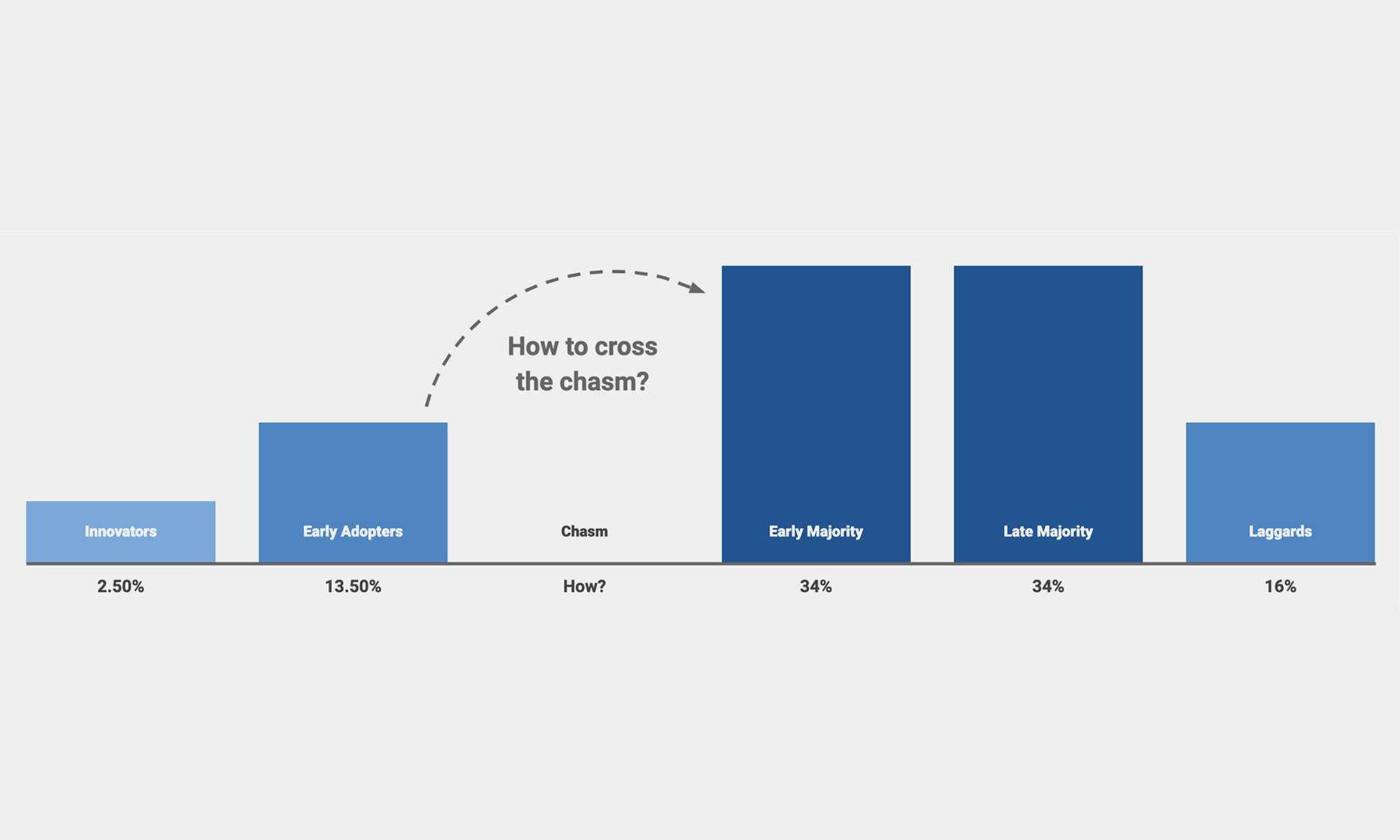 Practical barriers to adoption
Often customers do not have the understanding or know-how to switch to new solutions. They may not be aware of them or they may struggle to understand a new technology. It is necessary to fill the capability gap for them. This can be done by providing value-adding services that address this shortfall. These services are designed to help customers consider their options and select the right solution for them. They can then help to deploy the solution effectively and continue to get value through its lifetime.
Motivational barriers to adoption
Low-carbon may be on customers' agenda but is often not a top priority for the majority of customers who are busy enough with their own business or personal priorities. Most individuals and organisations have short term needs and challenges that they weigh up against their concern for climate change. It is essential to look for ways to connect the low-carbon solution to the customer's other priorities. If we can add value to the customers' more immediate priorities we dramatically increase the relevance of our offer.
Maturity barriers to adoption
New solutions have less mature networks of suppliers and partners to deliver and support them. This can make it harder for customers to find help and to trust that the solution is reliable. We need to build the new ecosystem for solutions, not just develop them in isolation. We must show customers that they will be part of dynamic and robust new networks and communities to address this concern.
Financial barriers to adoption
Existing solutions often benefit from favourable financial conditions due to maturity and scale factors. Financial mechanisms to enable customers to overcome cost barriers are often necessary. Solution providers may need to work with finance partners to address this barrier. Ideally finance solutions should also increase the lifetime value by helping customers keep track of savings and optimise performance. This can be done more easily today with smart digital and data services.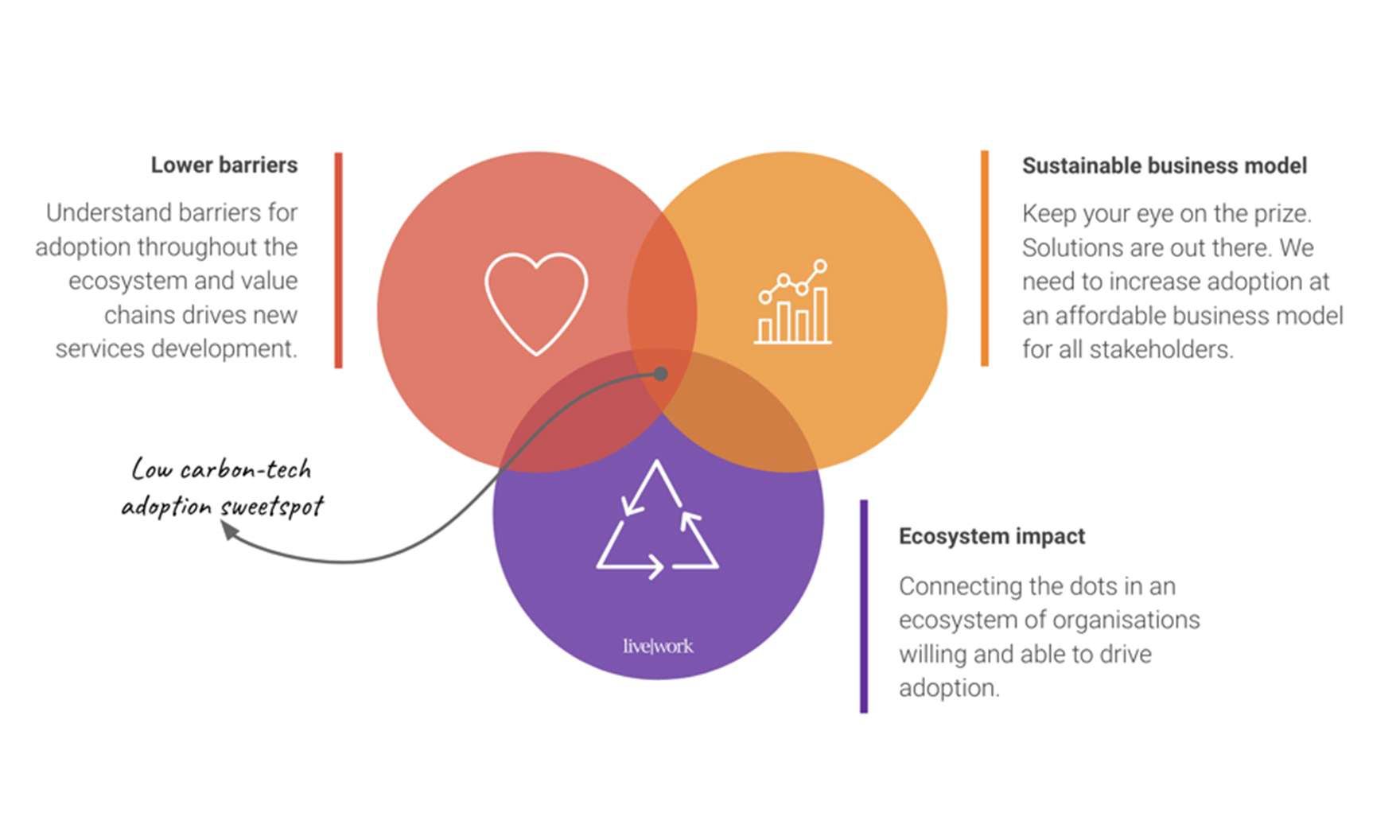 How to approach this challenge
These four barriers can be addressed by understanding how they manifest for your specific sector and solution. Businesses with low-carbon solutions must engage with their potential customers and partners to understand their perspectives and needs. This understanding will enable the development of measures to help customers overcome the barriers and adopt your offer.
Overcoming these barriers requires services designed to help the customer at each step of the way. These services will be required long before the customer acquires the solution. They help them make their decision, plan their transition and perhaps also to finance it. Moreover, these services will also be needed to help customers get the most out of the solution over its lifetime – and thereby the lowest-carbon emissions.
Low-carbon solutions need services that support customers and address the barriers to adoption. Services need designing for the specific context of your customers in your sector. Solution oriented firms may not have the expertise to undertake this work but service designers do and are ready to play their part in a speedy transition to a low-carbon economy.
References
* For further reading on this topic see Bloomberg New Energy Finance https://about.bnef.com/
** Crossing the Chasm, Geoffrey Moore. 1991
*** Lowcarbonworks – Unlocking sustainable futures. Reason et al, University of Bath, 2004 http://peterreason.net/Papers/lowcarbon_insider_voices.pdf