We use behavioural science to understand customer behaviour and intervene at key moments to guide people towards desired outcomes. By implementing behavioural interventions at discrete moments we can have a profound impact on business outcomes.
Customer behaviour is unpredictable and often irrational
Most business processes are designed based on the assumption that customers make well thought through decisions and act accordingly. But they don't. Often customers don't behave as organisations want, or expect them to. The majority of customer behaviour seems unpredictable and irrational as it gets done in "autopilot" mode. 95% of the time the subconscious mind is in charge of people's actions.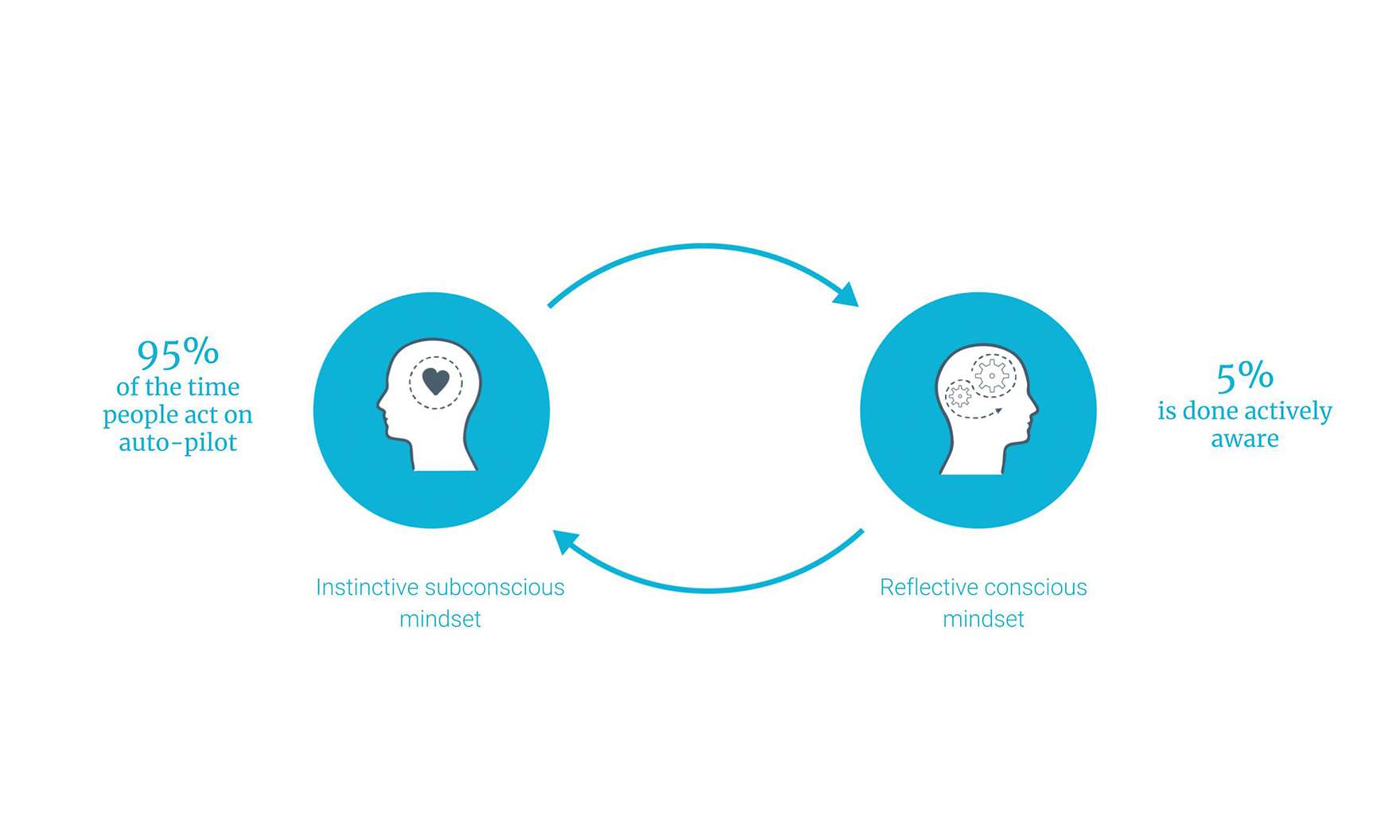 Behavioural interventions can change unwanted customer behaviour by influencing people on the conscious and unconscious levels. By incorporating the right type of behavioural interventions into (existing) channels and processes, we can quickly achieve a lasting impact on behaviour.
This article outlines Livework's approach to leveraging behavioural principles to understand, predict and influence customer behaviour. By integrating insights from service design, cognitive science, behavioural economics and business, we have crafted an unique collection of behavioural interventions that will create value for your organisation and the people you serve.
Scroll down to find out more about the approach, possible outcomes and research.
Behavioural Interventions generate quick business value
Organisations are increasingly keen to influence customer behaviour. From energy companies that want people to switch to renewable energy sources, to healthcare organisations that seek to encourage healthier lifestyles. Next to these big behavioural change challenges, many service organisations struggle to optimise customer behaviour in complex ecosystems. Optimising customer behaviour is especially important in a service environment, as customers are heavily involved in operational processes and value delivery.
Behavioural interventions can support organisations to:
Streamline their operations: Customers often do not comply with operational processes – e.g. they miss their scheduled package delivery, don't pay their taxes on time, litter on the streets and start queuing at the boarding gate long before the plane has arrived. It's very cost and time intensive to design for these non-adherence behaviours and deal with the consequences. By strategically inserting behavioural interventions, in back and front stage processes, we can improve user compliance and enable efficient service delivery.
Activated customers: As the vast majority of people's actions gets done in "autopilot" mode, they make mistakes and either do not understand (or process) essential information – e.g. people make typos, fail to notice a red light or simply don't understand what you're asking of them. Understanding behavioural patterns and inserting interventions can help organisations to make customers aware during, or completely eliminate, error-prone situations.
Accelerate adoption: Getting customers to adopt new (digital) channels, self-service systems and ways of working is generally a slow process, as it requires a change of routine behaviour. – e.g. people need to learn how to do mobile banking, use self-service supermarket checkouts and adapt to new procedures during safety checks at airports.  A fast migration of these routine activities requires a profound understanding of your customers' patterns of thought.
Behavioural interventions are small and quick adaptations to existing channels and touchpoints but, when applied strategically, they result in great business impact. If customers are influenced at the right time and in the right channel, it can drastically change business outcomes, with a few small tweaks.
Influencing behaviour on a conscious and subconscious level
Behavioural principles and cognitive patterns describe at a high level how the majority of people will behave under specific circumstances. For example: Customers are very likely to blame the system when something goes wrong with a self-service interaction. This can be explained by the "self-serving bias" – people generally attribute success to their own doing while any type of failure is thought to be caused by the system.  By combining these principles with existing user data and qualitative customer insights, we are able to understand the causes of unwanted behaviour and identify where and how to change it.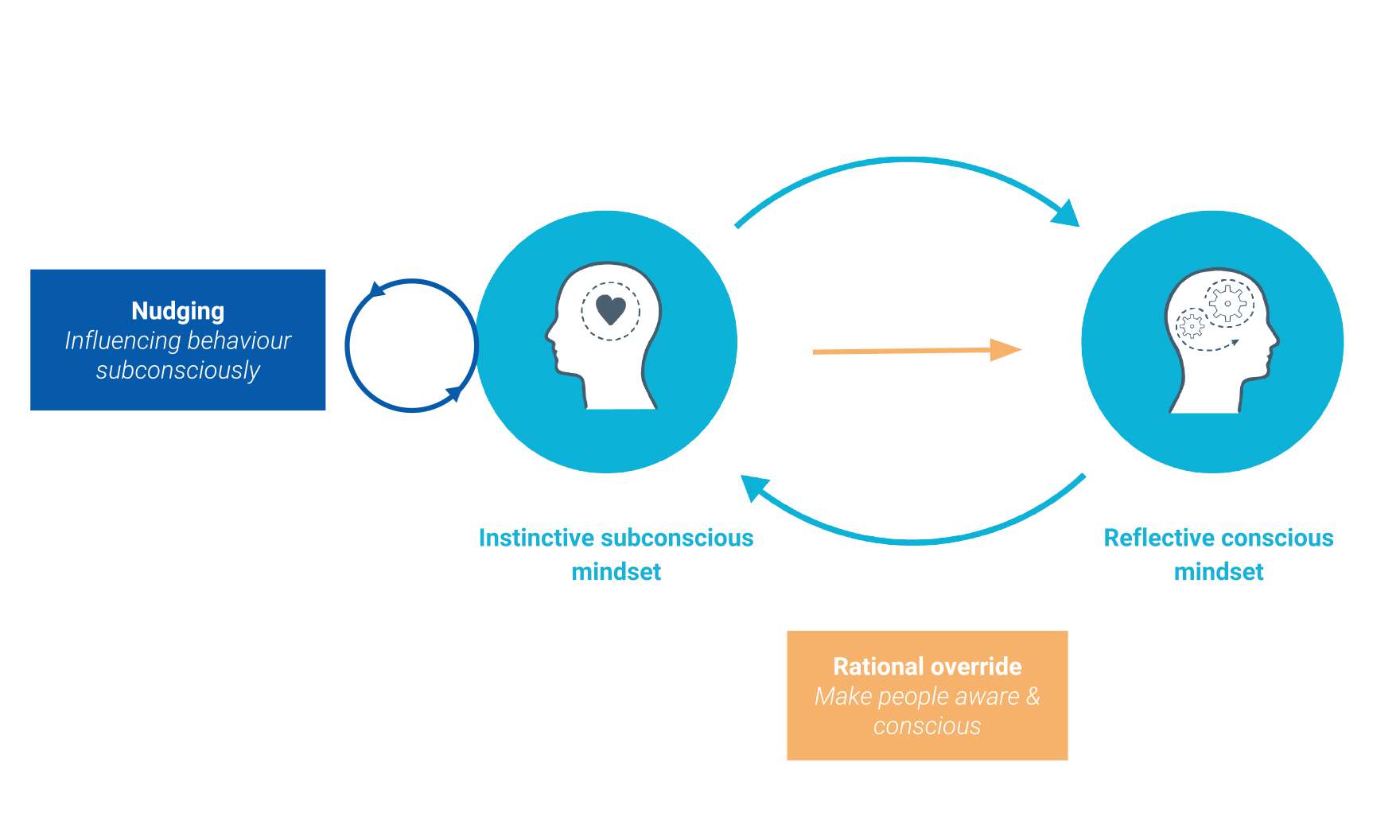 At Livework, we change unwanted customer behaviour by influencing people in two ways:
Nudging: by stimulating specific elements of the subconscious mindset we can direct people to a desired action.
Rational override: micro moments of friction disrupt mindless automatic interactions and switch people to the conscious state.
Aside from the well-known nudging theory, we have introduced the rational override as an alternative type of behavioural intervention. In a joint research with the Delft University of Technology we have demonstrated that to achieve lasting impact on behaviour change it is essential to not only focus on nudging, but to get people in the right mindset and ensure they're engaged at the right time. With the introduction of the rational override we have developed a unique approach that was published (you can find the research paper here) and presented at the international Design Research Society conference in Limerick.
Please read our article "Nudges aren't the holy grail of behaviour change" if you want to know more about rational overrides, and why they are crucial to changing customer behaviour.
Go to article
How we create lasting behaviour change
Customer behaviour is complex as it is influenced, modulated and shaped by multiple factors. In order to understand these factors we established a proven approach. An overview of the approach, and how we applied it to reduce fraud in travel insurance, can be viewed below.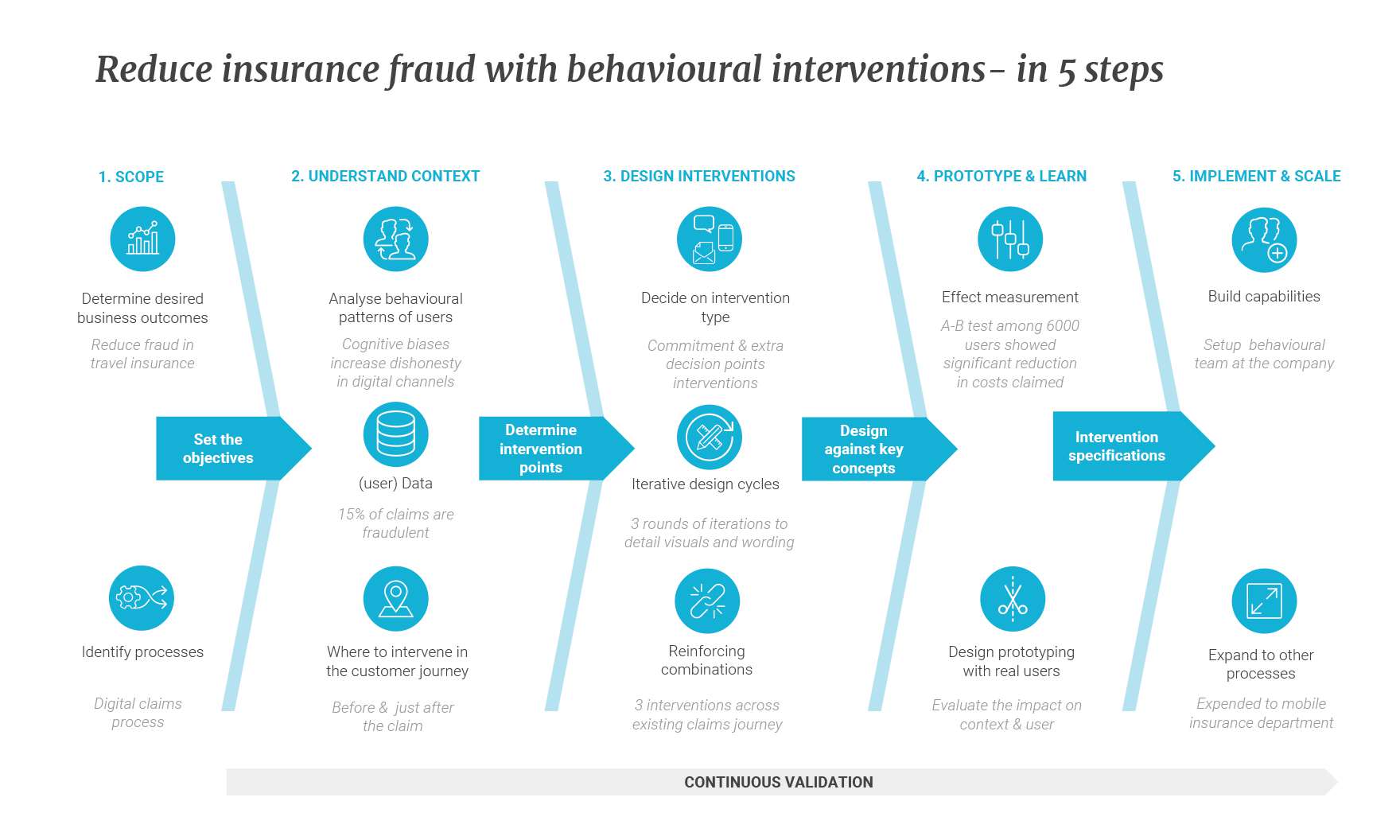 In the section below, we will discuss three key elements of our approach and use several client cases to illustrate our best practices. The mini cases show our work in action across multiple domains and specific contexts.
We don't only influence behaviour subconsciously, but make people conscious at crucial moments in the customer journey: Our experience in the service industry illustrates that nudging interventions are not suitable, scalable or sustainable across all service scenarios. In some situations it's necessary to implement a bit of functional friction so we can override the subconscious. This switches customers to the conscious state of having to make a decision. Although friction is generally perceived as a barrier, some situations (as illustrated by the mini case below) require a micro moment of friction, carefully built-in at the right time.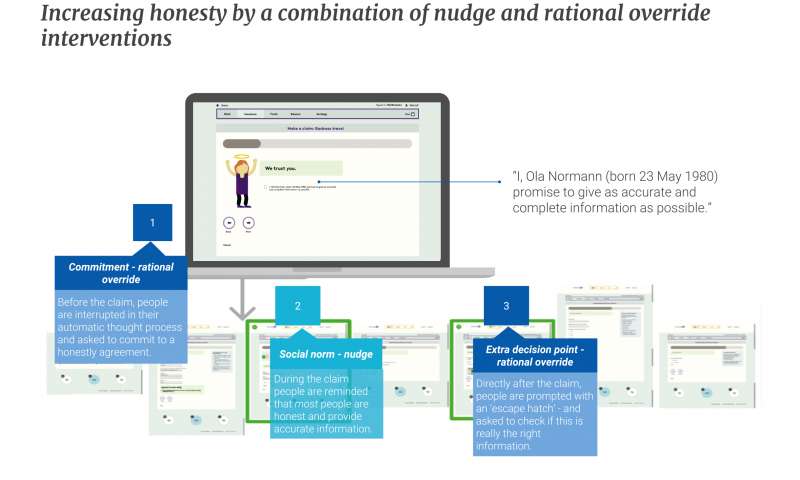 Mini story
Increase honesty during a claims process by making people more conscious
Around 10-20% of the customers that fill out a digital insurance claim aren't entirely honest. As there is no human interaction involved, it is easy for people to cheat a little bit and not damage their own positive self-image.
Livework significantly reduced fraud in the insurance claims process by inserting reinforcing combinations of nudge and rational override interventions. By letting customers (1) commit to an honesty agreement before the claim, (2) highlighting social norms during the claim and (3) providing an 'escape hatch' after the claim we improved the overall customer experience and reduced dishonest behaviour.
 There is no one magical solution to change behaviour – the trick is to find the most effective combination of interventions: As behaviour is dynamic and develops over time, we go beyond singular, one-off interventions to maximise lasting behaviour change. To do so, we implement the right combination of interventions to either speed up (nudges) or slow down (rational overrides) the user's momentum. They can be inserted in existing channels and take on different forms. Hence, we reduced the number of unsubstantiated complaints at a national railway company with a combination of interactive, physical and digital interventions.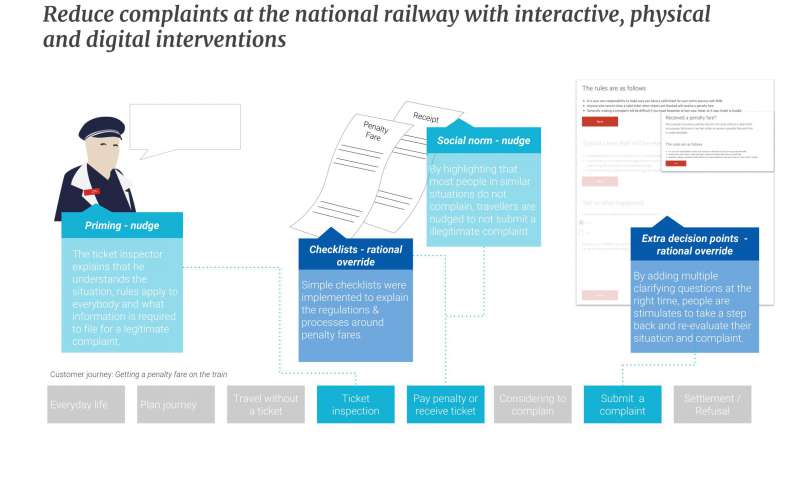 Mini story
Reducing customer complaints during a digital transformation
A national railway organisation struggled to understand why so many travellers submit unsubstantiated complaints after receiving a penalty fare. We combined behavioural insight with qualitative and quantitative customer data to understand why this undesired behaviour arose during the implementation of a new digital ticketing system.
Various nudging and rational override interventions (in both physical, digital and interactive forms) were implemented at crucial touchpoints in the journey that improved customer satisfaction and reduced unsubstantiated complaints.
We don't copy/ paste solutions. We create tailor-made interventions that fit the context and the needs of individual users: Based on validated intervention strategies and relevant insights about the context, user and process, it's the designers' craft to integrate them and apply it in novel ways. Many service providers simply copy nudges from effective existing examples but that's not a guarantee of success. Behaviour change is a tricky thing – the devil is in the detail. Great interventions incorporate the effects of the unique context, situation and even individual-level difference in behaviour.  When the data is available it's even possible to create personalised interventions that go beyond the common 'one-size-fits-all' approach.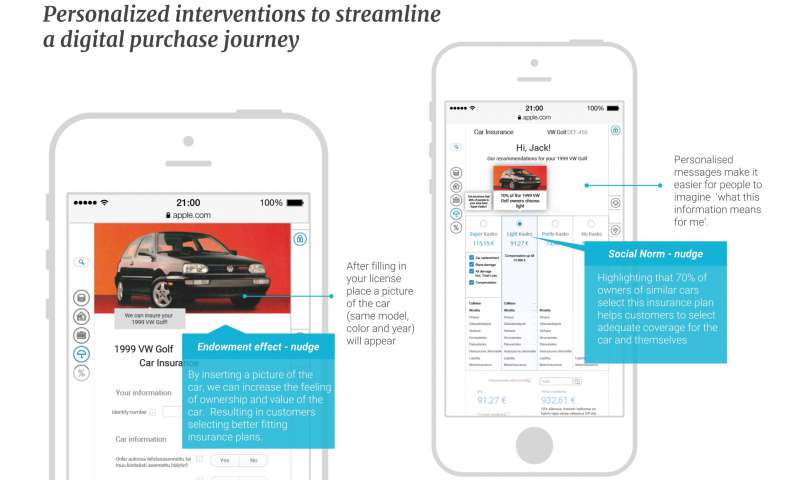 Mini story
Personalized interventions to streamline a digital purchase journey
Determining how much car insurance you need can be tricky. People need to ensure they have adequate coverage for the car and themselves - but stay within their budget. Livework helped an insurance company by inserting personalised behavioural interventions in the new digital purchase journey.
Interventions were created to offer a streamlined experience to reduce customers that switch to other (offline) channels, increase completion times and improve people's decision making. In one of the interventions, potential customers were presented with a picture of their car (same model, colour and year) as soon as they typed in the license plate. The picture helps to increase the feeling of ownership and perceived value of the car -  resulting in customers selecting better fitting insurance plans.
Get in touch
With almost 20 years of experience in service design, we have helped many organisations to understand their customers behaviour and design the right services for them. In the last 2 years we have experienced the power of infusing design with a refined mix of behavioural economics, consumer behaviour and psychology. We are continuously developing and upgrading our approach with universities, behaviour change experts, our designers and leading clients. And we are always on the lookout for new opportunities and challenges to tackle.
If you would like to know more, if you're curious about what kind of behavioural interventions we use, or want to know if this could be a solution for your problem get in touch with Anne our behaviour specialist at anne.vanlieren@liveworkstudio.com.
Get in touch