The era of traditional banking products is changing as companies like Fintech & other established technology firms enable customers to take greater control of their finances. As the connected customer becomes more demanding, banks are striving to try and win this technology race. A fully thought-through digital service is now expected as the norm by customers. For banks to remain relevant in customers' lives they must be able to provide the right combination of interactions with people and technology across all phases of their financial lifecycle.
Customers' lives move and change fast - banks need to keep up
Banks have traditionally structured themselves around a static set of products, which are controlled by the bank. Branch designs and even the actual technology have been designed to deliver a set of products in a certain way. The new financial customers' lives are more fluid and changing at a far greater pace. When customers need their bank to act quickly they find themselves stalled by product complexity and red tape, leaving customers frustrated and feeling disconnected from their bank.
Relevance does not always equal technological innovation
From making online payments to contacting the branch via video, the amount of choice in how to interact with a bank is increasing. Some of this profusion of choice may leave customers wondering how and why it's relevant in their lives. Connecting to customers doesn't always require a technology change. Removing a procedure, or making employees more visible to customers, can be more effective than simply providing a digital capability. Understanding where the right changes are needed provides banks with the necessary agility to keep pace with customers and their competition.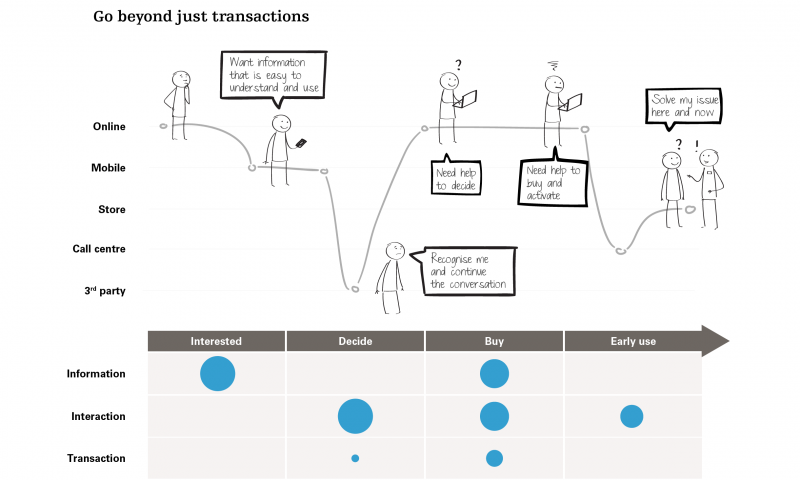 Mini story
Go beyond just transactions
Banks are looking to automate more basic banking services within branches, such as withdrawing and depositing cash and paying bills. But banks have yet to fully grasp the opportunity provided by new technology to improve customer experiences and engagement. Understanding the key interactions points enables banks to rethink the way their properties and services are designed, providing an opportunity to leverage new capabilities to drive up the services provided to customers.
Customers still value human interactions
Research shows that customers prefer to go into a branch to open an account – they still value human interactions. Through the push to win the technology race banks have neglected the other channels, which customers really value. Being the best is not just about having a great online service. Banks need to deliver a consistently good experience across all channels, including making full use of their staff to provide the much needed human-touch.
Banks failing the experience test
Banks are weighed down by overly complex technology and processes that fail to deliver the Smartphone-type experiences customers expect. The connected customer does not want to have to fill in endless forms if they lose a debit card. They expect their provider to not only provide the tools to order a new card, but also be able to deactive the lost card themselves. Understanding needs like this enables banks to provide a framework and experience for customers to take control of their finances
Experiences are not just about customers
While banks push new digital technologies to the customer, employees are often left behind, leaving customers confused as to why staff have no oversight or understanding of their digital journey. Out-dated technology and processes leave customers feeling disconnected and in some cases better technically equipped than the staff. Research shows that when there is an incident, customers first impulse is to visit their bank, which means employees must be equipped to deal with all scenarios – and also in some cases be ready with an answer before they arrive.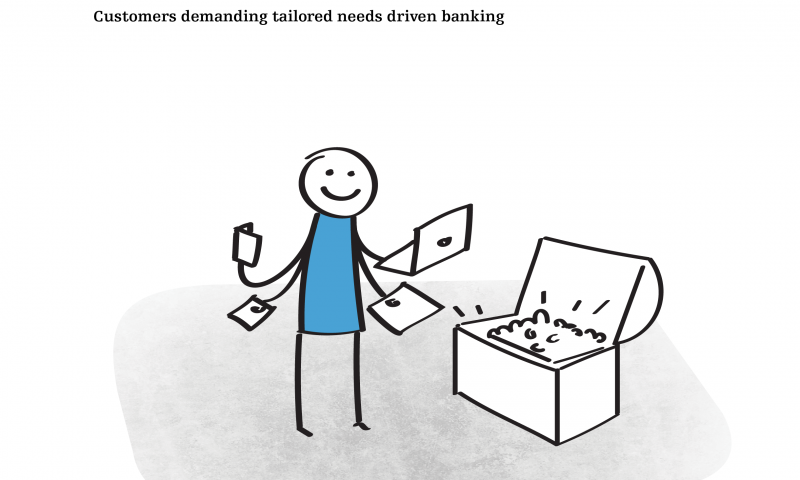 Mini story
Customers demanding tailored needs driven banking
Whilst the growth of digital is providing convenience, nearly 51% of customers still value the personal contact and service available in branch. Being relevant in financial services is no longer about favouring one channel over another; it's about giving customers new engaging services and choice, which fits their lifestyle, technology skills and needs. Understanding these needs and aligning the right capabilities enables banks to provide tailored services based on each customers individual needs.
Designing experiences that go beyond the product
With so much choice available to them, customers are opting for a quality experience over cost and product features. They want their bank to provide a set of capabilities that enable them to conduct their business faster. Understanding and designing these experiences well, ensures the balance between focused advice and speed can be achieved. This will enable banks to provide the services customers really need, regardless of channel.
Designing the customer experience should centred on finding and focusing on relevance
Customers are now looking for banks that allow them to take control, but are also there to provide sound advice at critical junctures in their life. Banks and their employees need the right processes and tools to manage and exceed these growing expectations. Focusing on where the right capabilities need to be enables banks to deliver the outcomes that make the biggest difference. Through using highly targeted information architecture banks can remove redundant policies, and improve existing capabilities to deliver the consistent and focused experience which customers now expect.