B2B buyers are no longer accepting delays; they now expect their suppliers to provide the same seamless experience as they receive in their B2C lives. This shift is causing a change to the traditional buying and selling model. To win in this new market place, organisations have to focus on understanding their role in the wider lifecycle – this enables all suppliers to plan and make decisions together and ensures the right things are delivered to meet buyer and customer needs.
Business built on industrial supply chain models
Traditional supply chains are not setup for the flexibility and simplicity today's buyers demand. Governance, physical footprints and inflexible processes have been put in place with the aim of delivering goods and services as consistently and efficiently as possible. The capabilities needed to unlock the value of digital are often not understood due to a model, which has been designed around a traditional buyer relationship rather than a connected eco-system.
Delivering a seamless experience
B2B customers expect richer, more personal, B2C-like experiences but are left confused by out-dated approaches and complex products. When support is needed, it is often unclear who is responsible for what aspect of the service due to the number of processes involved. To deliver a true digital experience requires an understanding of where digital abilities are needed to simplify across all aspects of the lifecycle, ensuring a seamless experience is delivered.
Transparency is key
Flooded with more information than ever, organisations in the B2B world struggle to "see" and act on the right information. As more offerings and choice are brought to the market, the pressure to provide internal visibility as well as external transparency across the entire eco-system increases. Understanding where information is needed across the entire lifecycle provides full transparency to the end customer and creates greater visibility among partners, which enables collaborative decision-making closer to the customer.
Meeting the end-customers' ever-changing needs
When end-customers purchase a service or product they don't consider how many businesses it took to create it – they just expect it to meet their needs. Obstacles in seemingly simple activities from the customers' perspective, such as placing or changing orders, can result in a domino effect across the entire B2B chain, causing delays from one supplier to another. In most cases the end customer is not known between businesses, due to a buyer and supplier only relationship.
Understanding key customer interactions
The amount of choice now available means businesses are forming opinions, learning specifications, building requirements, and narrowing down their options, all on their own, with minimal influence from the supplier. Understanding all the key interactions across the entire lifecycle ensures suppliers can start to interact at the right times and provide information and support much earlier in the purchase process, regardless of channel.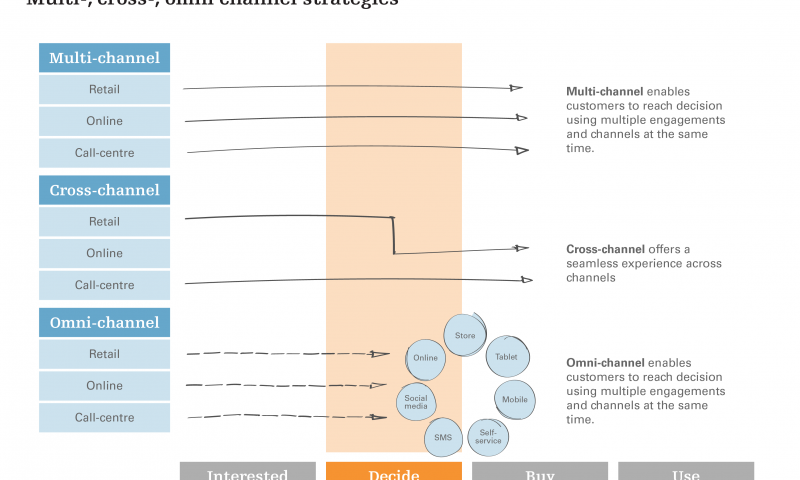 Mini story
Multi-, cross-, omni channel
Multi-channel strategies focus on engaging customers across multiple touchpoints. Often, each channel has its own strategy and is managed separately. Cross-channel strategies, however, allow customers to navigate various channels to complete a transaction. Omni-channel strategies further improve customer satisfaction and build brands by offering a consistent and integrated experience for their customers across channels, sales platforms and media.
Moving towards an ecosystem of buyers, suppliers, partners, end-customers
Wining in the digital B2B world is no longer about one supplier delivering to one client – it requires all companies involved to collaborate in providing a solution to the end customer. Moving from the traditional model to a connected community of buyers and suppliers, organisations will be able to work together to deliver customer experiences that add value, provide a level of transparency as well as consistency across the entire eco-system.
Understand the bigger picture
B2B customers are in more control than ever before – they now expect the same friendly and online experience as in their B2C interactions. To win in this transformed market place, B2B organisations must embrace digital capabilities and understand their role across the entire lifecycle. Collaborating with the right people at the right time enables the delivery of an experience that matters and accelerates competitive advantage in a crowded market place.